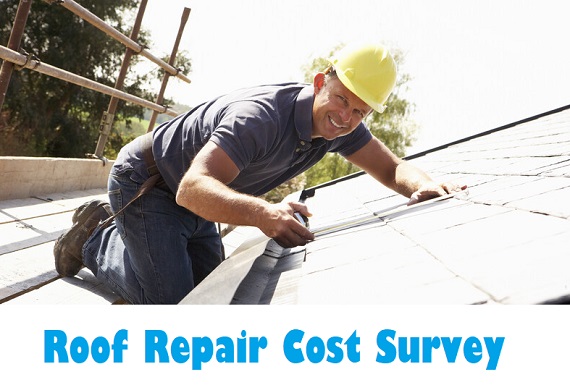 Hi folks,
lately we did a quick Roof Repair Cost Survey with some roofers. There has been a lot of storms in recent months and some roofs have been damaged so we wanted to get an idea of the minimum cost involved in carrying out a simple roof repair job. We asked some roofers to give us a rough estimate of what it would cost to repair or replace a roof tile that has blown off. We also asked them to give any advice or suggestions to maintain a roof in good condition and prevent tiles from getting loose and falling off?
Here are a sample of the replies we got below:-
Jason from Kildare: to replace a slate that has been blown off would generally cost around €80. While a person is doing the job make sure check other slates around it to make sure they are tight also make sure the felt and timber lats underneath are in good condition, otherwise leaks will occur in the future and of course take pictures to show customer.
Also some advice for the owner of property is to always get guttering cleaned every year and also keep an eye on roof for any wear and tear. If an owner has a leak in the roof or notices any damp, get it sorted immediately otherwise it could lead to further damage.
Check attic for any problems and also light coming in. if there is light coming in then there is a problem with the felt and tiles. Always keep an eye out for loose tiles, it can cause severe damage to the property, for example cars, glass roof conservatories and anything below.
Always get any rotten timber replaced before installation of upvc fascia. If not this will cause problems in the future.
Noel from Athy: The house type and location would determine price. For a single story would be 100 euros. Maintenance on manufactured slate is minimal. It's the natural slate that usually come loose and fall off unfortunately.
William from Laois: There would be a standard price for the likes of a slate repair of €250.00 and there's nothing you can do about it your always going to have a broken tile or slate.
Andrew from Kildare: We would charge anything from €80 plus to do a small repair. Saying that though i rarely get a chance to do small jobs over the last few years as we've been thankfully very busy.
In terms of roof maintenance, i always suggest having things like ridge tiles and verges securely fixed or pointed along with having the roof clear of moss and other debris as being important factors in preventing leaks. other than an obvious broken tile or loose ridge needing replaced, if the rain water can drain away quickly without being diverted by debris at chimneys, windows or valleys then leaks can be prevented.
John from Dublin: The price that i would charge to replace a slate or a tile is between €75 and €120 depending on type of roof and distance of the job.
My tips towards keeping a good roof would be having a maintenance check on your roof done every 5 years.
Eddie from Dublin: We usually charge minimum of €150 to do any repairs labour only. 150- 200 covers cost of transport, and setting up the ladders etc. to do minor repairs as in replacing a few slates , tiles and repairs to felt/ membrane or revealing or pointing flashing to a chimney generally about €200 will cover these common areas.
For fibre glass roofs i usually charge about €100 a square metre..materials and labour…torch on felt or cold pour trocal etc. are about the same. Really each job is different as in accessibility and roof height.
Alan from Dublin: Whether it is one slate or many slates the charge would be similar .. location of property is important so i am presuming it's local to the roofer …also the height of said roof and accessibility to the works area/s so I am presuming it's a standard 3 bed detached easily accessible. Also to consider is the type of slate/s for the repair/s so i am presuming it's a blue bangor natural slate. 120 + vat call out and immediate repair of said slate. 120+vat of within 5 miles radius ..time on site allowance 1 hour .
As regards ongoing maintaining said roof it's best practice to visually inspect all the slate alignments and remove and refit any that appear to have moved out of line by either a lead shoe or adhesive or i suggest do both — replace any damaged or water rotted slate. remove all moss build ups per annum as this allows water to rot the slate ..
Brian from Louth: It depends on the building. If it's a tree story building for example we have to hire a height for hire machine for safety of our workers which can work out expensive they usually charge around €250 and labour would probably work out at around €150 /but most of the buildings are mostly 2 story or bungalows. I'd charge €100 / to keep old roofs water tight i have customers that i spend a few hours in the summer time repairing them and fix up loose slates so when winter comes they don't have problems .
——————————————————
I hope this helps some of you who are planning to have your roof repaired and if you decide to go ahead with it you can get a number of roofing quotes here and get up to 4 quotes fast from rated tradesmen!
Cheers
Oliver Dempsey
Tradesmen.ie
General Tips for hiring a tradesman
Here are some tips to consider when hiring a tradesman:-
1. Ask for phone numbers of references so that you can check them out
2. Check insurance of the tradesman where insurance is required
3. Hire a suitably qualified architect, building surveyor or building engineer if the job is anything to do with a new build, building renovation or extension
4. Agree on some sort of stage payments for the job. Remember that full payment should not be made until the job is complete and has been inspected by you, and if necessary by a certifier.
Here are some other articles that you might be interested in below:-
Laminate Flooring Price Survey 2020
Bathroom Renovation Cost Survey 2020
Construction Work Safety in the Home
Dressers to Impress
Interior Design Trends 2020
Smart Technology for your Home
Which Hob: Ceramic, Induction or Gas?
House Extension Cost Survey 2019
Thomas Joyce Testimonial for Tradesmen.ie
Best Indoor Hammocks and Swing Chairs