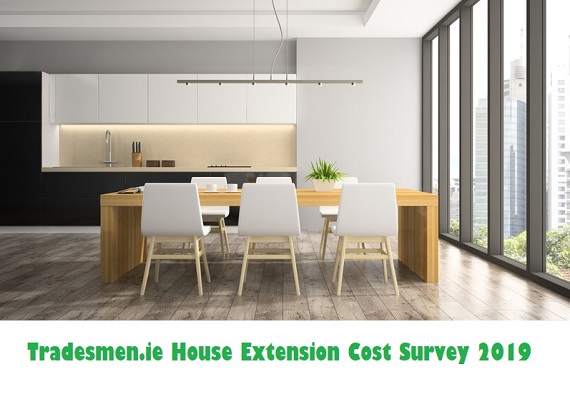 Hi folks,
recently we did a House Extension Cost Survey with some of our tradesmen. The question was how much would it cost to build an average 40m2 single story rear extension excluding VAT with apex roof finished to a good standard and ready to furnish? I have attached a sample of the replies we received below with some tips provided by the tradesmen:-
Simon from Cavan: On a general inquiry like this without any information i would tell the customer that it would cost 800-1000€ per square metre depending on location access and spec . i hope this is of help to you.
John from Cork: A 40 sq meter extension would cost approximately €60k for an 'A' rated finish.  The best tip I can give in my 40 years of being in to business is get a good set of plans drawn up and try not to change them.  Making changes will cost you more money.
Francis from Offaly: Without knowing too much about the shape of the extension planned, or the materials to be used on it, the average cost of building a 40sqm extension should be between 30 – 36,000 euro before vat. as for tips for the customer…..the number one would be to absolutely do your homework on the builder that you are getting.   Please do not go for the cheapest guy.   He is cheap for a reason i.e. cut corners, use cheaper materials, not a great finish.  It should not be a problem whatsoever to get a builder to provide info on work he has done.  A good builder will only be too pleased to show his previous work off.   Also a good builder will give you tips and advice on what to do with wasted space that will take your money further.   Unfortunately there are lots of cowboy builders out there. be careful with your hard earned cash.
Seamus from Laois:  The average price for a 40 square meter house extension is €48,000.   Of course this depends on how much removal of services there are and the extent of marrying together of old and new.
The main tip I would give customers is to develop a good relationship with the builder.  Discuss all aspects of the build.  Regardless of price a good relattionship is essential.
James from Wexford:  Approx building cost is €1000 to €1200 per square metre so for 40sqm €40000 to €48000 plus vat.  Tips would be get a trusted builder that doesn't cut corners.  If price is too cheap compared to other quotes chances are the correct materials especially insulation is not going to be used.
Stephen from Cork:  To build a standard 40sqm single story extension you would be in the region of €40,000 + That would builders finish. Flooring, tiling etc excl.
•Depends a lot on the condition of the existing house, what you are
extending onto.
• Ground conditions.
•Access to the build.
Tip: If a price seems too good to be true, it usual is!
Ger from Cork:  An approximate guide would be €100 per sq ft plus vat @ 13.5%. (€1060 per sq metre plus vat).  Ground conditions, large spans requiring steel support, upgraded structural Windows and doors, might impact on cost of structure. Heating systems and electricial fittings can impact on price.   Tips would be to choose a builder with a proven track record and able to produce PRSI number, tax clearance cert and proof of insurance.   The cheapest quote may not be best one. (Sometimes we know the cost of everything, but the value nothing).   An experienced builder should be able to guide a potential client, without the immediate presence of drawings.   Try to work "with" the builder.   This creates harmony and allows the job to proceed much more efficiently.
Michael from Wexford:  The price can vary for that size extension depending on structure and foundation condition intern walls etc.  I am doing one at moment 5.2 meters by 6.7 two storey costing 79.000 at a good spec. builders finish.   But on the other hand i've just finished one single storey same size for 49000.
Pat from Dublin:  I'm doing 39.56 square metres in Ballinteer at the moment at it costing 130 grand including vat flower bed blocks wall 8 metres long 750mm high 20 square metre of grainte patio 6 step into lawn area includes steps into existing garage labour is gone through the roof at the moment plumbers and electricans very expensive what are they charging this years the rates have gone up according to Quantity Surveyors
——————————-
I hope this helps some of you who are planning a house extension.  If you are looking for quotes for a house extension you can post your job here
Cheers
Oliver Dempsey
Tradesmen.ie
16 November 2019
General Tips for hiring a tradesman
Here are some tips to consider when hiring a tradesman:-
1. Ask for phone numbers of references so that you can check them out
2. Check insurance of the tradesman where insurance is required
3. Hire a suitably qualified architect, building surveyor or building engineer if the job is anything to do with a new build, building renovation or extension
4. Agree on some sort of stage payments for the job. Remember that full payment should not be made until the job is complete and has been inspected by you, and if necessary by a certifier.
Related Articles
Here are some other articles that you might be interested in below:-
House Extension Cost Survey 2018
House Extension Cost Survey 2017
Safety Tips for Hiring a Tradesman
Construction Work Safety in the Home
A discussion on the Building Control (Amendment) Regulations 2013
Do I need Planning Permission?
Certifying my Building or Renovation
Construction Contracts, Why are they needed?
House Extension Cost Survey 2015
Conservatory and Sunroom Prices
Attic Conversion Prices
New Build House Cost Survey
Top 10 Tips to Building a New Home