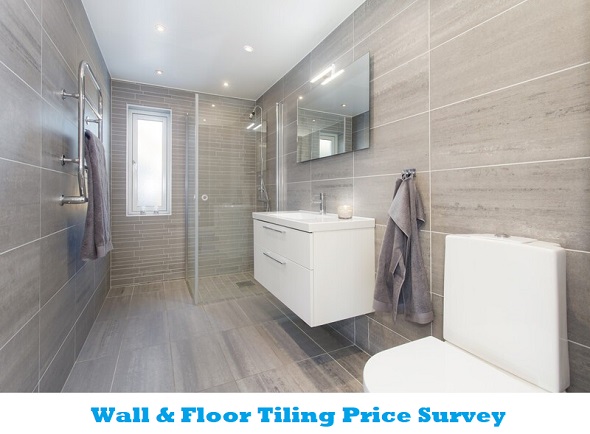 There are a number of reasons why you would consider wall or floor tiles for your home. These include durability, low maintenance, water resistance, hygiene and air quality to name a few. Tiles are most often seen in kitchens, halls and bathrooms but can be used in any room in the home.
Recently we did a wall & floor tiling price survey with tilers on Tradesmen.ie. We asked them roughly how much does it would cost for tiling, assuming that the surfaces are already prepared. We also asked them if they had any tips for customers on having a good experience with the tradesman. Here are a selection of the replies below. All prices are excluding VAT:-
Norman from Meath: I would say on average a cost of €30 per square metre though that price could vary due to tile size, shape, type and the shape of walls and floors.  On a new build the job should be relatively straightforward but on a refurbishment job, it's the hidden costs that the customer needs to look out for and understand.  Pre-job, the condition of plasterboard, sub floor, tanking etc all need to be discussed in detail with remedial actions to address possible issues before the job starts. all this can be written into a formal quote after initial discussions have been made.
Dan from Dublin: Cost of tiling as follows:-
Porcelain tile 45 x 45 , 60 x 60 around 25e /sqm
Ceramic tiles similar size 20 e /sqm
Herringbone tiling 45e / sqm
Recommend –  flexible adhesive and grout.
Dmitri from Cavan: My main advice is to price around before getting the tiles, it's better to spend a couple of extra days pricing around in order to get better deal. Same with materials, some tile places can offer great price on tiles but they charge more for adhesive. It s possible that your local Co Op can offer even better price if you ask around. Another helpful tip is to ask a couple of tilers to be able to compare the prices and not to stick with one quote.  Dublin tilers are normally charge a bit more, so it will be a great idea to get a few quotes from someone who is working outside of Dublin.
Cost is around 30€- 40€ in Dublin. I charge around 25€-30€ per sq meter and as far as I am aware this is very reasonable price these days, so it will be a great idea to get a few quotes from someone who is working outside of Dublin.
Michael from Dublin: As i've been tiling for more than 15 years in Ireland I have seen prices vary enormously. Depending on the surface that is tiled, space of the room, walls or floors and the type of material used tilling can go from 35-40 euro up to 100 euro a sqm( marble, piece by piece chrvron, herring bone, mosaics etc).  A standard bathroom is about 20-24 sqm and that goes as a price job at about 1000-1200 euro around Dublin area. This is if we only talk about the labour for tilling. Preparation of surfaces may vary also.
Most tilers use a variation of prices which include adhesive and grout thrown in the deal but as a client I would not be persuaded by that but I would be inclined to ask for photos of work done, complexity of patterns etc.
There are now used more and more the large format tiles and I can only say there are only a handful of tradesmen that know how to install them. I will advise people to go for a specialised crew.
Martin from Donegal: Generally rates per m2 vary, most recent was €17.4 per hour plus vat, was hourly rate as stopped due to electrics having to be relocated in galley kitchen.  Apart from that generally €20 m2 and up for walls and floors. depending on size of tile, cuts needed, how many sockets, pattern to follow. Payment via Cash / EFT. Most of the tips were for customers, for them to better understand the layout and have input into how they want to see the finished product.
take pictures of the finished look if seen the tiles in show room.
research products online, most sanitary ware and others fixture and fittings, generally plumber will just get locally not realising cost of products if you shop around.
tanking kit for shower enclosure, adds to moisture protection.
there are plenty of online aids for tiling projects, you tube to help you through the process.
Nicolae from Dublin:  Price for tiling depends how complicated is the job and what size of tiles they want to use. For  a normal bathroom and normal size of tiles(that means 30×60) price starting from 25€ sq meters.  Small tiles (10×20,  10×10 and similar 35-40 per sq. Meters). Big tiles (120×60,  120×120 ,  45€ sq meters) , wet room separate price(between 150€and250€) , border and shelves priced separate. This prices is only for tiling, bathroom has to be ready (strip of all the sanitary and tanking done).  Tips for customer: Locking up for quality not for cheap
Declan from Offaly:  As regards cost like everything it seems to have increased a bit, for moment anyway.  I am quoting €25 /metre,for regular tiling. And if I have to travel say more than 30km, I could charge bit more.  With tiling it's a help if customers have water laid on i.e. an outside tap available if there is one.  And a designated area for mixing tile adhesive, which is usually outside in the air, and a power point free to plug in.
Andrei from Dublin:  Usually I would charge €25-30 per hour.  the same rates would apply for preparation works and also grouting and application of silicone etc. All works should be discussed, agreed and confirmed beforehand e.g. preparation, primer application, tile pattern etc.
Mariusz from Meath:  The price  depends on the size of the tiles, my minimum price is approximately € 50 per sqm with cement, if the wall is prepared. I always try to get the client to order all the materials. if the client wants me to organize it all, I use local material stores.
Slawomir from Dublin:  I don't charge by the meter as all the jobs I have done were with preparation. I don't personally know anyone who is doing per square meter. They always give the price to the customer very low  because they will get their money back when doing preparation. So it is tricky when people are looking for price per meter.  Usually tilers strictly charge per square meter when they are doing very large areas 50+ meters. The price per square meter depends on what kind of tiles, size of the tiles, difficulty ( a lot of corners/revels/ build in toilets). So basically when doing small areas( bathrooms, kitchens, backsplash)  I always price per job. I never came across someone asking about price per square meter and had everything prepared for tiling. In my opinion it is old saying how much per square meter and they are looking for a good price but don't realize that at the end of the day they will pay the same price.  If I had to price per square meter, my price per square meter would be 30 euro. ( but that is the price for tiles 30/30 if the tiles are bigger or smaller the price would change).
————————
I hope this helps some of you who are considering getting some tiling done in the near future. If you decide to go ahead with it be sure to post your tiling job here .
Cheers
Oliver Dempsey
1 July 2022
General Tips for hiring a tradesman
Here are some tips to consider when hiring a tradesman:-
1. Ask for phone numbers of references so that you can check them out
2. Check insurance of the tradesman where insurance is required
3. Hire a suitably qualified architect, building surveyor or building engineer if the job is anything to do with a new build, building renovation or extension
4. Agree on some sort of stage payments for the job. Remember that full payment should not be made until the job is complete and has been inspected by you, and if necessary by a certifier.
Keywords: Tiling Price Survey Ireland