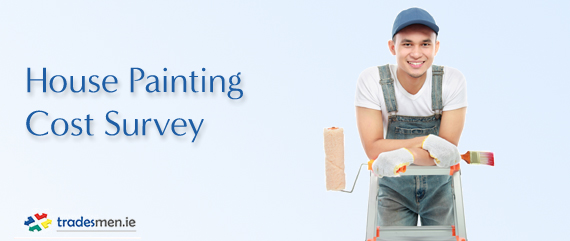 Hi folks, recently we carried out a house painting cost survey on some painters on our website. The question we asked was, how much would it cost excluding VAT to paint an average 3 bed semi inside and out. We also asked them were there any tips they would give in choosing the best painter for the job? Here is a sample of the replies we got below:-
Brendan from Dublin: Standard 3 bed house interior . two coats of good quality paint , with all necessary preparations. €2,200.
Standard 3 bed semi exterior, two coats of dulux weathershield , with all necessary preparations. 1,200.
Adrian from Cork: Average 3 beds semi inside and out could cost any where between 4800€ to 5800€ depending on what materials are being used
tips: Cheapest price not always the best quality. When i'm pricing i go through every aspect of painting the house so a lengthy conversation regarding, materials , prep colours , finished product, how long job will take etc
Michael from Donegal: The cost to paint interior of 3 bed house =2200euros plus exteriour 1200 total 3400 plus vat .interiour walls ceiling and all woodwork 2 coats all round after good preparation exterior 2 coats all round after power wash. Tip for customer make sure when they get prices that the contractors don't leave some thing out of there price so they can get a extra charge later
Patrick from Roscommon: The price for painting a 3 bedroom semi detached inside would be €2000 paints and labour….and outside would be €1200 paints and labour. that would be giving 2 coats of good quality paints to all timberwork and walls. I would recommend getting a good tradesman and get some feedback of work they had done.
Cathal from Dublin: Around e4500 inside 3 colours max trade paint. Outside if front and back and 1 gable around 1200 to 1500. Paint is specified instead of Dulux trade. 0 depends on condition. Tips for customers. Don't take the cheapest price EVER!! Check the reviews of the contractor. If you get a price over the phone remember it's just a ballpark figure. Price also varies greatly with brand of paint used a job priced at 25 grand will jump to 35 grand if farrow and bal
Gordan from Dublin: It depends on the size but roughly €2.800 for the inside ane €1,200 for the outside. The customer should always insist on a good brand paint to be used and if the painter is untidy you can rest to be sure his work would be slopy. On the other hand the customer should try have things away if possibly as if the painter has to spend two hours moving stuff, it's two hours less time for him to paint and your job will be rushed.
Darren from Dublin: Obviously every house and job requirements are different but here is the average cost for painting a 3 bed semi.
Interior – Full repaint of ceilings, walls and woodwork- average €2300 including paint.
Exterior – Full repaint including paint and materials-€1400.
I would always recommend to anyone to check the background of a tradesman. I know they get references from tradesmen.ie but it's good if they can check their background in other ways. Also the cheapest is not always the best way to go a lot of the time if it sounds to good to be true it is, the client should know by talking to the tradesman if they know what there talking about.
Mark from Dublin: It really depends on what conditions you are tasked with, preparation, after cleaning etc. and paint brands you are using, but roughly to supply paint and labour for a standard 3 bedroom semi detached house inside and outside ex vat , you would be looking certainly close to around the € 4500.00 mark.
Probably the best tip I could give to a customer is, particularly where older people are concerned, is to never give tradesmen money up front for work that hasn't been done. I have heard too many bad stories over the years where supposedly reputable companies have asked for money up front before they even have started the job and unfortunately it is the poor trusting customer who is left high and dry when they get a badly done job or are just left to get someone else to finish the job they have already paid for. If you want to agree for a small amount beforehand for materials etc., then fair enough , but generally most genuine businesses won't ask, I never do, and I have found this to be a great way to develop good customer/client relations over the years.
—————————————
I hope this helps some of you who are planning to paint your home and if you decide to go ahead with it you can get a number of painting quotes here and get up to 4 quotes fast from rated tradesmen!
Cheers
Oliver Dempsey
Tradesmen.ie
General Tips for hiring a tradesman
Here are some tips to consider when hiring a tradesman:-
1. Ask for phone numbers of references so that you can check them out
2. Check insurance of the tradesman where insurance is required
3. Hire a suitably qualified architect, building surveyor or building engineer if the job is anything to do with a new build, building renovation or extension
4. Agree on some sort of stage payments for the job. Remember that full payment should not be made until the job is complete and has been inspected by you, and if necessary by a certifier.
Here are some other articles that you might be interested in below:-
Laminate Flooring Price Survey 2020
Bathroom Renovation Cost Survey 2020
Construction Work Safety in the Home
Dressers to Impress
Interior Design Trends 2020
Smart Technology for your Home
Which Hob: Ceramic, Induction or Gas?
House Extension Cost Survey 2019
Thomas Joyce Testimonial for Tradesmen.ie
Best Indoor Hammocks and Swing Chairs