It's not that long since automatic dishwashers and washing machines, timers on cookers, microwaves and video recorders were life-changing for many. No more washing clothes in twin tubs and passing them through wringers. No more having to arrange your social life around a favourite television programme. But as we enter 2020, appliances have incredibly advanced technology, all designed to make our lives easier, more efficient and more relaxed. Whether you're looking for a gift for a person who has everything or you're updating your home and want to make your life easier, here's a selection of smart appliances that may become indispensable.
Robotic Vacuum Cleaners
Robotic vacuum cleaners have become increasingly popular and their technology has improved recently too. They vary in price from €100 to over €1000 so their effectiveness will vary too, with many having different specifications and abilities. None of them seem to be as effective as your regular vacuum cleaner coupled with a duster but they can work effectively to help you stay on top of the cleaning particularly if you have pets in the house. Most can be set with timers, will return to their charging dock if they are running out of battery and can be worked remotely using an app on your smartphone.
Reviews suggest that the iRobot Roomba is one of the most effective and the different models vary in price from €299 to €1099.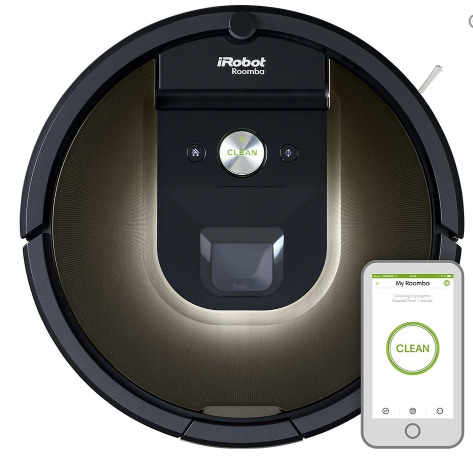 I remember a lady telling me how she and all her siblings sat on a step to watch the automatic washing machine in action such was their delight at not having to use the twin tub and haul water. Nowadays, we can sit and relax while a robot hoovers our home.
Robotic Lawn Mower
Perfect for keeping the grass in trim, the robotic lawn mower will cut your grass as regularly as it needs, returning to the docking station when finished or whenever the battery is low. Letting a robotic lawn mower cut the grass regularly means that the grass cuttings can be shed back onto the lawn without looking messy and will benefit the soil.
Worried about someone stealing it? After all, they are pricey and could easily be lifted. Most have anti-theft 'find me' systems. No more spending your Saturday or Sunday afternoons mowing the grass. Sit in the garden instead and let your robot do the work.
Smart Security
If you are concerned about security on your home or business premises, there are very effective security measures now that can be controlled from apps on your phone. A wifi connection will be required. You can install a camera that can view and record many different angles. You can view from your phone, zoom in and take screenshots. It will record video for you and save the recordings for a number of weeks. Security beams that are interrupted by a person or vehicle will emit a loud screech for a pre-determined length of time. If it is set off, you will be alerted by an alarm on your phone. Always remember, don't run the risk of interrupting burglars. Phone the police and let them deal with them although hopefully they will be disappeared once the alarm was activated.
Smart Kitchen Appliances
A smart fridge isn't just for keeping food cool and fresh. A smart fridge can almost organise your life. Tapping the display on the door will make it become transparent so you can see inside and check if you need a particular food or drink. You can even have a food tracking system. You can also view it from an app on your smartphone. Embedded bluetooth speakers will let you play music from any compatible device. Doors can have tablets or televisions installed so you can write on whiteboards, leave sticky notes for family members or watch TV. Add items to the shopping list and then access it on your phone when you're grocery shopping.
Smart ovens have much more than timers. Not sure what time you'll be home but would like to have the oven hot by the time you get there? No problem, a smart oven can be switched on via an app or via voice control with Alexa or Google Assistant. You can pre-set instructions. The smart oven can provide you with recipes and even has an inbuilt camera so you can check on your baking cake.
I love the concept of smart kitchen scales. They don't just weigh ingredients in whatever measures you choose. Once you have chosen a dish from the companion app's recipe book, the scales will help you weigh out the exact ingredients and may even suggest an alternative if you are short of an ingredient. A smart kitchen scales will even advise you of the calories or nutritional values of a recipe.
Smart coffee makers are the perfect gift for anyone who loves coffee, especially if they need coffee badly first thing in the morning. The making of coffee can be present for a specific time or via a smartphone app. You can fill the grinds before going to bed and the coffee will be ready when you wake up.


Smart Pet Feeders
Worried about your pet being hungry if you're delayed in work or stuck in traffic? A smart pet feeder will ensure that your pet is fed at the same time each day as well as giving them the pre-determined portion size. Some smart pet feeders will even record you speaking and play it to your pet at mealtimes. Some will also alert you via an app if your dog is barking and seems distressed and will then let you speak to your dog via the app.
If you've wondered what exactly smart technologies do, I hope this has clarified things for you. Do you think they will become indispensable in time? What one would be your favourite?