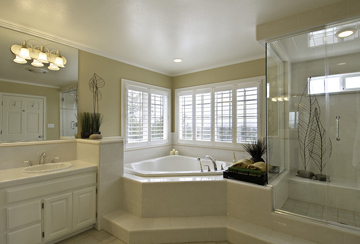 Hi folks,
recently we carried out a quick survey of bathroom renovation costs from tradesmen listed on our site.   We asked them for rough prices for tiling a bathroom floor to ceiling and replacing the sanitary ware (labour only) with a minimum and maximum price.  We also asked if they could give a minimum and maximum price for tiles and sanitary ware if they had time.  The bathroom size we gave them was 2.40metres x 1.80metres.
Here is a sample of the replies we received below:-
Keith from Dublin: We dont ever supply sanitary ware or tiles , what we do is give the customer the option to choose what they like from the catalogues i provide. My initial quote is for labour, plumbing materials, re slabbing walls, getting them ready for tiling and covering the floor in tile backing board in prep for tiling plus skip. The cheapest standard size full bathroom renovation is 3k plus vat. Price does not inc sanitary ware or tiles.
 —————————–
Noel from Dublin: l don't  go tiling so won't know how to price for tiling.regards the plumbing costs, l usually charge 40 euro per hour  plus fittings when installing bathrooms, if the customer purchases the sanitary were. best for customer to get a company that do both together , so a plumber and tiler working together for the same company as it cuts down on time waiting for tradesmen to link up. plus less mistakes are made when both are on the job.
 —————————–
Adam from Dublin: The price for a bathroom with this area is around 2000 euros but the price includes my hydraulic connections silicon tanking floor mat. the best prices for bathroom equipment and tiles can be obtained at the bathroom factory Robinhood Road.
 —————————–
Shane from Clare: Estimate cost for the above job assuming shower tray is staying including all tradesman involved you would spend anywhere from 4500e to 6500e depending on spec of materials and what existing problems or limitations
 —————————–
Kiran from Wexford: Labour 2500 to 3500 tiles 600 to 2000 and sanitary ware 500 to 2000..
 —————————–
Patrick from Galway: An estimate cost on the labour to tile the bathroom would range between maybe 600 up to 900 euro again the plumbing of bathroom labour only would range from around 800 to 1000 hope this is of help.
 —————————–
Diarmaid from Dublin: Basically it's very hard to price what your asking for with seeing what you want and need but a basic starting price for any bathroom is €5000 and that can increase dramatically depending on what you really want.
 —————————–
Anthony from Dublin: I don't really get involved with the tiling, so i couldn't give you a price for tiling. best contact a tiling company for this. Plumbing of a bathroom would be 1100-1500 normally.     Tips for customer:-  Don't buy the cheapest stuff on offer. it will not last and you will be paying a plumber again to change.  Always get a reputable tiler as if tiling is bad, it will cost a lot to fix. Ventilation is very important for small bathrooms.
 —————————–
John from Cork: Quotes for bathrooms labour only can vary from 1000 euro up to 3000 euro.       Obviously it's all decided on the volume of work which is involved in the job.  With regards to bathroom wear, a customer can purchase basic toilets, wash hand basins, baths etc. this wear can range from 100 euro for complete toilet. 100 euro for basic basin with tap and waste. The price limit for wear can go as far as 10,000 euro if that's what the customer wants for their property.
 —————————–
Aidan from Kildare: I don't know why but a lot of people are under the illusion a bathroom can be fully renovated for under 5k. On average for a bathroom of that size for full rip out and refit it will come in around 6-8k inc vat. Our minimum labour only price is 4500 ex vat for full refit with raw material (slab pipe fittings flooring etc). I specialise in bathroom renovation so this is an everyday occurrence for me, for example people don't know that a good decent bathroom suite with shower valve, tray and door will cost very minimum €1250, we don't make up the numbers, it costs what it costs. same with tiles, full bathroom walls and floor with trims and grout would easily spend anywhere from 500 onwards.
 —————————–
Michael from Cork: Removal of existing suite , tiles etc €350 + €120 for skip bag. First fix for new , most go for a shower and do away with bath so new plumbing is required for electric or pumped power shower. If pumped shower off existing hot/cold supply they must be piped separately as pump can cut in and out as WC fills also to much pressure at basin taps €700.
Prepare walls floor for new tiles and "tank" shower area (waterproof membrane behind new tiles) . Make sure floor is good enough to take tiles. Ply floor if necessary €800 inc materials.
Labour for 17metres wall and 5metre floor tiles @ €25 p/m adhesive and grout €450 to tile and €120 for materials Say €700
Second fix bathroom normally 2 days as shower enclosure takes time €600
Ballpark €3500 inc basic materials.
Tiles say €20 p/m .€450
Shower electric .. €250 (electrician cost if no existing €500) has to be certified by RECI!
If pumped shower price can vary a lot high end pump €600 low €250
Basic suite cost inc shower door €1500 high end €2-4k .
Low cost installation €5/6
High end €7/9 + vat @13.5
 —————————–
I hope this helps some of you who are planning to renovate your bathroom and if you decide to go ahead with it you can get a number of bathroom renovation quotes here and get up to 4 quotes fast from rated tradesmen!
Cheers
Oliver Dempsey
Tradesmen.ie
General Tips for hiring a tradesman
Here are some tips to consider when hiring a tradesman:-
1. Ask for phone numbers of references so that you can check them out
2. Check insurance of the tradesman where insurance is required
3. Hire a suitably qualified architect, building surveyor or building engineer if the job is anything to do with a new build, building renovation or extension
4. Agree on some sort of stage payments for the job. Remember that full payment should not be made until the job is complete and has been inspected by you, and if necessary by a certifier.
Here are some other articles that you might be interested in below:-
Bathroom Renovation Cost Comparison 2014
Safety Tips for Hiring a Tradesman
Construction Work Safety in the Home
A discussion on the Building Control (Amendment) Regulations 2013
Do I need Planning Permission?
Certifying my Building or Renovation
Construction Contracts, Why are they needed?
House Extension Cost Survey 2015
Conservatory and Sunroom Prices
Attic Conversion Prices
New Build House Cost Survey
Top 10 Tips to Building a New Home