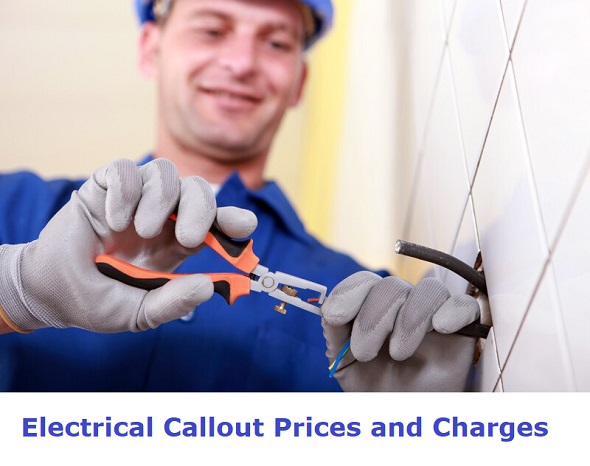 Hi folks,
lately we did a survey of electrical callout charges and prices with some electricians and electrical contractors on our website. We asked them to let us know what a typical call out fee would be and the price per hour thereafter. We also asked if they had any tips for customers on having a good experience with the tradesman and their job. Here are some of the replies below:-
James from Dublin: We charge €60 plus vat usually for local areas (d24, D16)  €90 plus vat for Co Dublin and surrounding areas or €100 – €120 plus vat for north Dublin and north county Dublin  €50-€65 per hour thereafter depending on time of the day.  €120-150 plus vat for after hours calls.
Good description of works to be carried out always essential from customer as we can bring what we need with us works out better for customer as we don't have to spend time sourcing correct parts. We prefer card payment on completion of small works & calls outs. Or EFT for larger jobs, jobs over €2000 inc vat we require 50% deposit to secure the work.
Alex from Galway: Callout and first half hour in Galway City €60. Larger jobs, estimate given at start of job, so no shocks or surprises. Work requiring Safe Electric certification will be certified. Evenings and weekends by arrangement. Job cancellation 24 hours notice please. If I get held up or delayed for any reason clients will be notified. Our aim: to provide a quality professional service at a fair and reasonable price.
David from Dublin: Typical call out charge for us around €80-€90 includes 1st hr with €39 per hr thereafter. A clear job description is essential for correct spares to be brought on call. Call out after hours and Sundays are typically more expensive by about 25% . Also a photo helps a lot if you have something that needs replacing.
Philip from Dublin: For labour only, a weighted scale of charges is what I adopt when pricing a job.  80 euro plus vat for first hour. With incremental increases to 170 plus vat for a 1/2 day and 250 plus vat for 8hrs. Material costs are then added.
David from Dublin:  We would usually do €80-€100 for a call out which includes first hour and €35-€40 per hour after that. Customers that have revolut find this a good way of paying, its instant as is done through just your phone number.
Liam from Dublin: We would generally charge an €80 call out but this would usually fixing the issue and €50 every hour after.  Tips for customers would be clear with information, selecting a tradesmen is never go for the cheapest and always get 3 quotations and make sure all quotations are for the same job/same materials, payment options would be bank transfer or revolut .
Kevin from Galway: I charge €50 call out and €25 an hour.  From my experience a clear job description is vital to any job just from a materials point of view. If you have a good description of the job especially if it's a faulty part you could purchase the item in advance ( and always return if not needed)  as most tradesman would be at the wholesalers every day this would save the customers money. I also think a more accurate address in some cases would help tradesmen decide if it's worth bidding for as an example some people just put down Galway where as Galway is a big county. I don't expect a full address just the area in Galway the job is located.
John from Dublin: My call out can vary from 50 to 70 plus material. If it's local enough to where I live I do it for 50, if it's a bit out 70. Example of call outs would be Connect cooker, Hang light, Replace fan, Replace a damage socket etc
If the customer is looking for extra circuits added into their home eg extra lighting or extra sockets,  I itemise , I could charge 50 to 100 per point depending if there is chasing to be done and how difficult the job is.
Derek from Dublin: 75 plus vat per call out, 35 per hour after
Keith from Dublin: Call out charge is €100 and €80euro for each hour after that. and a day rate of €600
Robert from Wicklow: I charge 60 euros for call out, this covers first hour then 40 euros any hours after prices subject to 13.5% vat .Job description usually quite accurate in my experience
Tony from Meath: Regarding a call out charge, they can realistically range from 80e-120e. This will include the first hour on site for inspection and can either repair the issue of give a cost of repair at another day. This will give the customer time to decide about the quote they have received. if the jobs goes over the first hour and nothing has been found the contractor must inform the client of additional hr rate. This rate can be between 30e to 40e depending on circumstances.  Clarification is a big thing, ask for a written receipt and both parties to sign followed by a E-receipt by contractor. The first receipt thats signed by both parties indicates that both are happy with whats been carried out and payment completed. This will eliminate false reviews being posted about the tradesmen.  Fuse board replacements usually run from 400e-750e depending on size.  new points: if you need an extra socket the price per point is 90e usually to supply and fit.  Spot lights are usually charges at 55e per fitting supply and fit. this is for a 76mm brushed chrome with l.e.d.  when posting about the job, put as much information as possible on your description to help the tradesman, this helps us understand what we think might be wrong and we can give a better indication of costing and time as a guideline.  DO NOT assume that you thought that something would be included just because its a small addition to original job, remember that tradesmen get paid for their work big or small as this is there time. in addition to that if you ask a tradesman to do a job and it only takes him half the day expect to be charged full days rate. Reason being after your job it could be too late for the spark to go to his next job…clean up..distance..loading van. So you the customer are better asking for a price for the job as apposed to a day rate, therefor it is up to the tradesman to get his work done in the time that he has allocated.  Lastly, do not part with the final payment until you both sign the paper receipt at the end of the day.
David from Dublin: 80 euro call out charge, 35 an hour after, Out of hours  115 call out plus 45 an hour
Daniel from Cavan: Call out €75.  Lights €60-€100.  New socket point €60-€100 depending on cable run.  Power to outside Shed anywhere from €200-€500 depending on what's involved.  Fuse board upgrade €750-€1000 depending what's involved,
Tips for the customer: just explain what they want done , and that happy to go ahead with the job and price that there no Conflict when the job is done , but sometimes electricians can run into some problems which might cost a little more which understandable,"
—————–
I hope this helps some of you who are planning to carry out electrical job in the near future.  Don't forget that you can get a number of quotes for electrical jobs by posting your job on our website here.
At Tradesmen.ie, we are continuing to provide our service within the restrictions that apply. Please feel free to look for quotes but only work that complies with the government guidelines should be carried out until these restrictions are lifted.
If you have any comments or suggestions please feel free to place them in the comments box below.
Cheers
Oliver Dempsey
Tradesmen.ie
16 September 2020