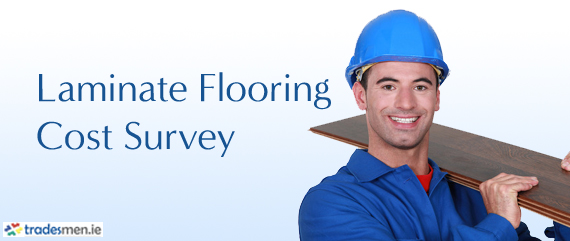 Hi folks,
recently we carried out a laminate flooring cost survey of tradesmen to price laying a 50m2 floating laminate wooden floor, labour only excluding VAT.  The floor area will consist of 3 rooms and a hall and there will be 6 architraves.  The price will include removing and refitting the skirting boards and architraves.  You can see a sample of the replies below:-
Glenn from Dublin: Fit 50m2 laminate wooden floor would have skirting removed and replaced would cost between 700 and 750 euro but I would have to view the job. To cut 6 doors down 120 euro and refit architrave would be around 15 euro each.
Simon from Cork: It would work out at 9 euro a square metre inc all the miscellaneous bits skirting architraves etc. Proper workmanship, cutting the floor in under the doorframes so it appears seamless.
Barry fom Westmeath: I'd say e500 for flooring and a days pay for skirting and architrave.
Jonathan from Leitrim: Probably would cost in the region of €900 for all that depending on if a hardwood or softwood skirting and architrave.
Pat from Limerick: e450 plus vat give or take. Would need to see job to be able to give exact price.
Keith from Kerry: €8 per yd2, that's €480 for the flooring and skirting would be €70 to remove and put back same skirting. So total would be about €550 plus vat labour only.
Mark from Laois: Floating floor no glue 10 euro per meter ex vat, to remove and fit skirting and archatrave €2.50 per meter, in the Laois area.
Paul from Kilkenny: It would be somewhere around the €450 mark, that would include running flooring under door frames.
Arnold fom Dublin: Id say there would be 3 to 4 days work in it. Id price by the day at 120 per day so 500euro.
Mossie from Wexford: For the laminate flooring and skirting and architraves the cost would be 470 euro labour only.
Declan from Wicklow: I would usually charge e650 plus vat that would cover any paint damage touch up and waste removal if needed.
Anthony from Meath: Depending on their size and shape of them rooms and if they skirting is fixed to solid walls or stud walls from 450 to 520 euro.
Robbie fom Dublin: Fit flooring 7.50euro per m2 that's 375.00 euro ex vat and to fit roughly 8 lengths of skirting plus 6 lengths of architrave 180.00 ex vat.
Martin from Waterford: A ball park figure would be e420 – e450. Depends on condition of skirting etc and type of floor!
Paul from Meath: I would say 600 or 700 euro. That's an estimate without looking at the job remember I imagine its a weeks work.
Joe from Dublin: To install only a laminate floor it's around 13m2 ex vat all materials supplied by client.
Darren from Dublin: Including taking up the old floor , I reckon approx e 450 before vat.
Philip from Meath: Approx e450 depending on quality of floor, condition and fitting of skirting board.
Peter from Wexford: If there is nothing to be torn away, price is around 950.
———–
Laminate Flooring Cost Summary
As you can see there is quite a variety in these labour only prices so it is important to shop around and make sure you are comparing like with like.   In the most active counties we found that prices in Meath were the highest at €603 + VAT with Wexford in second place at €528 + VAT, Cork in 3rd place at €513 + VAT and Dublin in 4th place at €482 + VAT.  The average price overall was €533 + VAT.  In 2012 we did a survey of tradesmen in Dublin for the same 50m2 floor and the average price at that stage was approximately €500 + VAT for labour so prices are down ever so slightly in the Dublin area since 2012 according to this survey.  Laminate flooring can cost anything from €6/m2 to €50m2 but if you took an average price of €12/m2 you could add on another €600+VAT for the laminate.
Tips for Hiring a Tradesman
When getting prices for flooring it may be tempting to go for the lowest price but I would suggest you put quality ahead of price as much as possible and try to hire the tradesman who will do the best job rather than for the cheapest price.  Some important tips when hiring a tradesman are as follows, (a) get references, qualifications and insurance details from each tradesman who quotes for the job, (b) hire a certifier (i.e. a suitably qualified architect, building surveyor or building engineer) if the job is anything to do with a new build, building renovation or extension (c) only pay for each stage after it has been inspected by you or if necessary by the certifier (d) consider using an escrow payment facility to manage the payments and to safeguard both you and the tradesman.
I hope this helps some of you who are planning to put down a wooden floor in the near future and don't forget if you are looking to get some work done to post your laminate wood flooring job here and get up to 4 quotes from rated tradesmen!  Please feel free to comment below if you have any questions or comments.
Cheers
Oliver Dempsey
Tradesmen.ie
19th July 2014
Here are some other articles that you might be interested in below:-
Immersion Heater Replacement Price Comparison
Bathroom Renovation Cost Survey
Attic Conversion Prices Survey