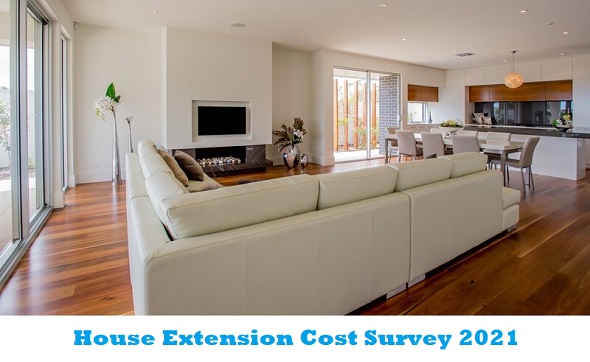 Adding an extension to your home is a great way to add extra space where your existing home no longer big enough for your needs.  There are many reasons why you might like to add an extension to your home.  These include extending your kitchen, adding an extra living or dining area, adding an extra bedroom, adding an office or adding a play area to name a few.   If well planned with the help of an architect, adding an extension can also be a good opportunity to let more light into your home, improve the energy rating and reduce your heating bill.
Recently we did a House Extension Cost Survey with some of our tradesmen. The question was how much would it cost to build an average 40m2 single story rear extension excluding VAT with apex roof finished to a good standard and ready to furnish? I have attached a sample of the replies we received below with some tips provided by the tradesmen:-
Tom from Kildare: €63,800, or €145 per Square foot in Kildare and surrounding counties, Dublin – €155 per Square foot.  The best way of building is with cavity blocks.. then 100mm insulated plasterboard
Andrew from Kilkenny: For a 40m2 rear basic extension, you would be looking at upwards of €52k, this would be to a good finish ready to furnish, This would include for standard double glazed window and french/sliding doors, plaster finish, Wired and plumbed for heating or bathroom. As for getting the best job done, ask for a look at previous work and also speak to the person they are working for now, or their last job and don't always go with the lowest quote, "You are only as good as your last job"
Peter from Dublin: Costs nowadays for that would be anything between €55,000 to €68,000 ex vat. TIPS: 1) make sure they know their legal requirements, just because it's under 40 square metres doesn't make it exempt from planning.
2) if you enlist an architect don't take it for granted that what they design will match your budget. have it costed by a quantity surveyor.
3) be prepared to vacate the property for a certain period of time.
4) have a clear idea of what you want. builders can only build what they're told. if you don't know what you want how are we supposed to?
Wayne from Kildare: Price varies drastically depending on what finish clients want, but around EUR1300 per square metre.  It depends on what materials and what finish the client wants.  The client should try to have an idea of what they are looking for and always see materials in person flooring etc don't pick from brochure as rarely looks the same.
Brendan from Louth: The price of an extension is roughly €1,250 per metre squared, but may vary depending on the finishes required by the customer. this price would  include a tiled apex roof, triple glazed windows and patio doors, well insulated and skimmed finish inside and outside finished to match existing house, gutter, fascia and soffit, finished floors inside and electrical and plumbing.
Dan from Wicklow: Factors that affect cost of a build:                                                                                                                                                            1. System of construction ( Conventional, Timber frame, etc.)
Access (Very important)
Glazing ( External doors and windows, Velux windows )
Type of windows and doors ( double/ triple glazed, PVC/Composite/Timber or Passive certified)
Incorporation into the main dwelling ( demolition of existing back walls, installation of RSJ's, lintels)
We are using CIF as a building system, which saves building time, complies with the Building Regs. and Thermal requirements with no need of additional insulation.
40sq.m. Extension, Access for Mini-Digger, ICF System, 2xVelux windows, set of double doors at the back with 2xside panels, PVC, Triple glazed, Roof Slates, Acrylic external rendering ( Any RAL colour ), internal walls and ceiling slabbed and plastered, 1 pending light, 2 x double sockets, 1 switch, skirting
Cost from € 57,800 Excluding VAT.
Ben from Kildare: I would estimate an allowance of circa €2000 per m2 of the extension to cover all aspects of the design. If I was advising someone who is doing an extension of this size the best advice I could offer would be to use a good engineer to design the structural elements of the extension such as replacement steels. An engineer can sometimes over spec the steel requirements to ensure they are not left short, in the current climate this can add considerable unnecessary cost uplift compared to a more accurate design. Secondly I would ensure sufficient tie ins are formed between existing and new blocks walls as in my experience I have seen large cracks form in the joints of buildings at connection points due to insufficient tie ins. In summary I would estimate a cost of circa 80K to complete these works.
——————————-
I hope this helps some of you who are planning a house extension. If you are looking for quotes for a house extension you can post your job here
Cheers
Oliver Dempsey
Tradesmen.ie
23 July 2021
General Tips for hiring a tradesman
Here are some tips to consider when hiring a tradesman:-
1. Ask for phone numbers of references so that you can check them out
2. Check insurance of the tradesman where insurance is required
3. Hire a suitably qualified architect, building surveyor or building engineer if the job is anything to do with a new build, building renovation or extension
4. Agree on some sort of stage payments for the job. Remember that full payment should not be made until the job is complete and has been inspected by you, and if necessary by a certifier.
Related Articles
Here are some other articles that you might be interested in below:-
House Extension Cost Survey 2019
House Extension Cost Survey 2018
House Extension Cost Survey 2017
Safety Tips for Hiring a Tradesman
Construction Work Safety in the Home
A discussion on the Building Control (Amendment) Regulations 2013
Do I need Planning Permission?
Certifying my Building or Renovation
Construction Contracts, Why are they needed?
House Extension Cost Survey 2015
Conservatory and Sunroom Prices
Attic Conversion Prices
New Build House Cost Survey
Top 10 Tips to Building a New Home