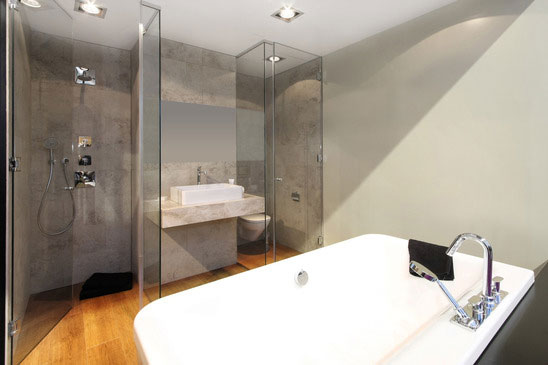 Hi Folks,
this week we did a survey of plumbers to give us a rough idea of bathroom renovation costs around Ireland.  We asked a selection of plumbers in different counties how much it would cost ex vat to renovate or refurbish and average size bathroom, supply and fit or fit only and what complications if any could affect the price of it.  Here are some of the replies we got below along with any comments and the county that each tradesman is from:-
Des from Dublin: Supply and fit sanitary ware only €2750.00.  €3300.00 with tiling inc . Labour only €1500.00 for sanitary ware and 1800.00 including tiling.  That's rough, must see it for exact price .
Pat from Dublin: To supply and fit bath, handbasin, pan & cistern, 16 m of wall tile, 2 m floor tile e4000/ e5500 all good brands.   What affects the price is if things are relocated in room.
Fergus from Louth: My  labour would be about 450euro approx.  I wouldn't be doing tiling for that price.
Clive from Dublin: Price to fit bathroom suite would be €420 Inc pipe & fittings but excluding suite.  Price of suite would depend on customers preference requirements. Tiles would be an average of e20.00 per Sq. Metre.
David from Wexford:  The choice and style vary so much, cheap would be €350 and good quality would be €4500. Complications would include alterations of wiring pipe work and maybe plastering if walls are bad.
Noel from Kildare: Standard bath, toilet and sink plus taps and fittings roughly €450, if everything is going back in the same place €350 labour.  Complications arise if your changing things around, ie moving waste pipes and sewage.  Price does not include tiling.
Mark from Kerry: Price to remove refit new bathroom suite €800.  Price could change with the type of suite they go for moving piping ect
Christopher from Wexford:     You would be looking at €950 that includes bath /mixer tap, wash hand basin, tap c/c wc push button, excludes shower and tiling I always get tiler to price separately.
Enda from Wexford: €2500-€3500e ex vat. Standard of product ware/ brassware, tiles, and alteration to existing pipe work layouts etc will increase cost of material and labour . Price would include labour for all trades. Plumbing, electrical , carpentry . Supply of ware and tiles additional
Sidney from Dublin: Supply and fit good quality sanitary ware, taps, and tiles, would cost about €2,200, this price would be subject to the walls being in good condition.
Tom from Westmeath: To supply and fit out a bathroom including shower would cost at least €5,500. Labour alone would cost €2,000. Extra costs might be shower pump if power shower is required. Changes to toilet or wash basin or bath positions etc.  Tiling is included on the floor and shower only.
As you can see bathroom renovation costs vary greatly and it can be quite difficult to compare like with like.  It was interesting that some of the plumbers interpreted the bathroom renovation as changing the sanitary ware and taps only whereas others included the price of a tiler, electrician and carpenter for a total overhaul of the bathroom.   The two plumbers in Kildare and Wexford quoted as little as €350 for labour only for a straight swap of sanitary ware and taps.  Two of the plumbers in Dublin and Westmeath were among the most expensive with quotes of up to €5,500 for supply and fitting of sanitary ware, taps, tiles and shower or bath.
It is important to have a detailed list of everything you want done including drawings so there is no chance of any misunderstanding.   For example I saw a case a while ago where a tradesman had quoted to put in a new bath and shower but when the job was finished and paid for the customer said that the bath was put in the wrong way around.  The customer insisted that the bath be turned around at the tradesman's expense.  This was going to mean changing the hot and cold water supply to the taps and the waste water pipe.  There was no written evidence to show what they had originally agreed on.  The fact that the customer had been present while the work was being carried out and paid in full when it was complete would suggest that they were happy with it when the job was finished.  However, it would have been far better for both parties if they had a set of drawings from the outset.
Here are some guidelines that will help you to pick the right tradesman for your job.  Before hiring a tradesman get as many references as you can and if possible go and see work that they have done if you really want to be sure.  When letting anyone carry out work in your home ask them to show you evidence of insurance cover and check it with your own insurance advisor to make sure they are adequately covered.  As I said above have detailed list and drawings so that there is no misunderstanding on what has to be done and you can compare prices more accurately.  Don't be tempted to go with the cheapest quote.  Try to aim for quality over price as a cheap job will end up being the most expensive if it has to be re-done later.
Not all tradesmen need to be registered for VAT but many do, so check whether the prices are inclusive or exclusive of VAT because otherwise you might end up paying 13.5% more than you expected.  One last thing, please consider using an escrow payment facility to manage the payments and to safeguard both you and the contractor.
I hope this helps some of you who considering renovating your bathroom and if you decide to go ahead with it don't forget that you can get up to 4 quotes from rated plumbers at http://www.tradesmen.ie/trade/plumbers🙂
Cheers
Oliver Dempsey
Tradesmen.ie
24th May 2014
Here are some other articles that you might be interested in below including a bathroom and tiling cost survey that were both carried out in 2012:-
Immersion Heater Replacement Price Comparison
Bathroom Renovation Cost Survey
Attic Conversion Prices Survey