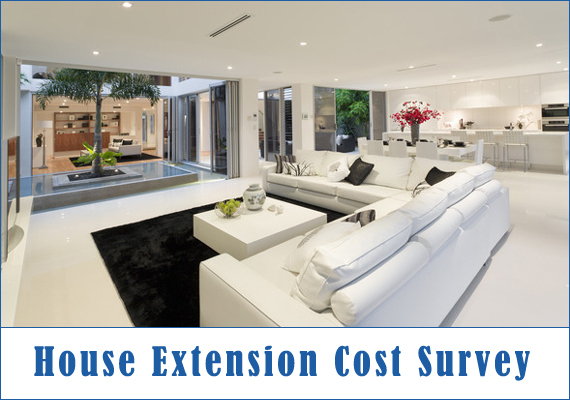 Hi folks,
recently we did a House Extension Cost Survey with some of our tradesmen. The question was how much would it cost to build an average 40m2 single story rear extension excluding VAT with apex roof finished to a good standard and ready to furnish?   I have attached a sample of the replies we received below with some tips provided by the tradesmen.  I have added VAT of 13.5% on all the prices quoted and converted to a total price for 40m2 where a square metre or square foot price was provided:-
John from Meath:          We usually are between €54,400-€63,600 for 40m2 for a good finish, there's a lot of other things to be factored into price: location area, internal structural changes , footing depths access etc
Stephen from Cavan:     Obviously the spec and finishes have a bearing on this, but rough ball park at the moment for that size is 57,000 including vat.  My advice would be to use the services of an Engineer/Architect to certify the construction. Most clients know little about construction and the guys charging 10000 less for the same works are cutting corners somewhere.
Ciaran from Leitrim:   I recently completed an extension for myself at approx 60m2, it included a new kitchen, ensuit and bedroom extension single story with 4no large velux windows in raised kitchen ceiling and all new roof, I was able to complete all ground works, foundations, earth moving myself with my own plant which saved me approx €15k which can go up or down depends on type site it is. If I was giving you an aprox rate I would say somewhere between €56-€90k depending on what's required, spec of finish etc. if you to allow for decent good size fitted kitchen and utilities another €10k. This was based on 60m2 so you can do fingers to adjust for 40m2
This can also be subject to the site location and access, if in country with plenty of access, no time delays, if in likes of Dublin with Earth removal into skips then work will be slower and costs higher.  Also you could have costs of planning if required, engineer/architect, solicitor etc for bank loans this could cost between €5-15k which a lot of people for first time don't budget and can hold up progress.
Ronan from Louth: I normally start with €45,000 for 40m2. That's for pvc doors and windows. fibre cement slates. Aluclad is three times the price of pvc. Natural slate is twice the price. A lack of access would put the price up.
I would say to a client is know what you want and don't change your mind in the middle Of The job for no good reason. That's always where the problems arise from."
Thomas from Cork: 40m2 extension would cost 45k approx at 1135 per m2.  The 1135 per sqm would cover the new build area cost but costs for renovation of existing build would need to be filtered in i.e this extension is for a new kitchen…then the old kitchen area would need to be renovated.
To get the best job done? I always advise clients to have an overall budget worked out i.e the 45k cost to the builder but also the 5-10k they will need to purchase kitchens, flooring, bathroom ware, furniture even or any specialist decorative materials. Try not to make an adjustments to the original plan, meet with the builder several times if needed prior to work commencing, make sure the builder knows what materials you want i.e doors, skirting, frames. When we say "a standard builders finish" we mean standard building materials will be supplied too. Get 3 quotes at a minimum and choose to go with who you think is best to carry out the work not the cheapest or the guy who is local to your area."
pat from Dublin: 40 square metres at €75,000 with proper access and any internal alterations on the main part of the house is additional cost.  40 square metres through the front door €114,000 with additional  cost for internal alterations to main part of the house.
Paul from Offaly: You were looking for costs on extensions; we are constructing extensions in Midlands averaging €45,000 including Vat. This would be for 40m2 large living room extension to rear of dwelling, great access around complete construction area, blocked walls & chimney, 3 windows & French doors, thermal slabs to walls & ceiling, builders finish ready for furnishings. If access to construct same extension is limited, an extra €3400 to be added, viewing area 1st is essential.
Derek from Cork: I would be looking at €45,000 to build that extension.  The only tips i can give are to make sure the contractor is fully insured and capable of doing the job.   Also, the quality of the insulation is essential."
Jim from Kildare: Depending on access and space out the front for working and storage €61,000.00 to 72,000.00.  Making drawings and a schedule of works cuts down on the surprises, select a preferred builder in good time and make decisions in time that have to be made anyway.
Frank from Dublin: The average build cost for a 40m2 extension is about €62,000 or an average of  about €1,590 per m2.  We would suggest that all builds should have a boq.   This costs about 400 euro. but well worth it.
Alan from Dublin:  The average price for a 40 square metre extension is between €45,000 and €51,000.  If customers want the best job done a good tip is to see previous work done by the builder or tradesman they are hiring.
Kevin from Waterford:  A typical 40 sq mtr extension with easy site access would be approx €1135 per sq mtr but an exact price depends on architects spec.  An average build would average €45,000.
Dan from Dublin:  A 40m2 house extension including ground work, foundation, plumbing, electricity, plaster boards, skim, roof and velux window, ready for furniture and tiling would cost around €52.000 including vat.
Shane from Dublin:  I'd charge about €55,000 for a 40m2 extension which would include a knock out from new build to house. standard lighting and electrics.
Neil from Kildare:  We would advise a budget of €68- €79k inc vat for a single storey extension of 40sqm this would be for an open plan room with an apex roof, glazing and double doors.  We recommend customers do not cut the budget when it comes to insulation and glazing in favour of the nicer items such as flooring and patios.  Priority should always be given to the quality of the structure and not the finishing touches which can be added at a later stage.
Its also important to understand the size of the space you are considering.  Many customers choose a 40sqm extension due to being within the planning exemptions when a 30sqm room would be more than adequate for their requirements.  it's a good idea to measure a room in your house and see how it compares to the extension size you are considering."
Dean from Wicklow:  A typical extension would cost around €59,000 where there is easy access and the design is not too complicated.  This would not include kitchen, sanitary ware and flooring, but would include for the fitting of flooring etc.   I find every build is different, for instance window types can make a huge difference in cost.  We have just finished a build with awkward access, large Aluclad sliding doors, architect designed 40m2 extension and the price was €131,000.00.  This included 10k pc sum for kitchen.   So in answer it is very hard to give a budget for extensions, every site is different and has different requirements.  I would say an average with pvc windows built to current building regs, with easy access should cost around 136 to 153 per square foot."
 ———————————-
As you can see there is a quite a variety in the prices and some very useful tips in the responses we got. It is important to shop around but remember that quality should always come first when building something that you will live in for perhaps the rest of your life. Most prices ranged from €45,000 to €75,000 but they went up as far as €131,000.  The average price in Dublin was €58,160 and the average price outside of Dublin was €51,210.  The average for the whole country was €52,630.  All these prices are inclusive of VAT.
Some important tips when selecting a contractor for a house extension are as follows, (a) get references, qualifications and insurance details from each contractor who quotes for the job, (b) make sure to hire an independent certifier from the outset and have them sign off on each stage of the build (c) only pay for each stage as it's signed off by the certifier (d) consider using an escrow payment facility to manage the payments and to safeguard both you and the contractor.
I hope this helps some of you who are planning a house extension in the future whether you want to make more room for the children, kitchen, dining area, bathroom, or for a home office.
Cheers
Oliver Dempsey
Tradesmen.ie
12 May 2017
General Tips for hiring a tradesman
Here are some tips to consider when hiring a tradesman:-
1. Ask for phone numbers of references so that you can check them out
2. Check insurance of the tradesman where insurance is required
3. Hire a suitably qualified architect, building surveyor or building engineer if the job is anything to do with a new build, building renovation or extension
4. Agree on some sort of stage payments for the job. Remember that full payment should not be made until the job is complete and has been inspected by you, and if necessary by a certifier.
Related Articles
Here are some other articles that you might be interested in below:-
Safety Tips for Hiring a Tradesman
Construction Work Safety in the Home
A discussion on the Building Control (Amendment) Regulations 2013
Do I need Planning Permission?
Certifying my Building or Renovation
Construction Contracts, Why are they needed?
House Extension Cost Survey
Conservatory and Sunroom Prices
Attic Conversion Prices
New Build House Cost Survey
Top 10 Tips to Building a New Home