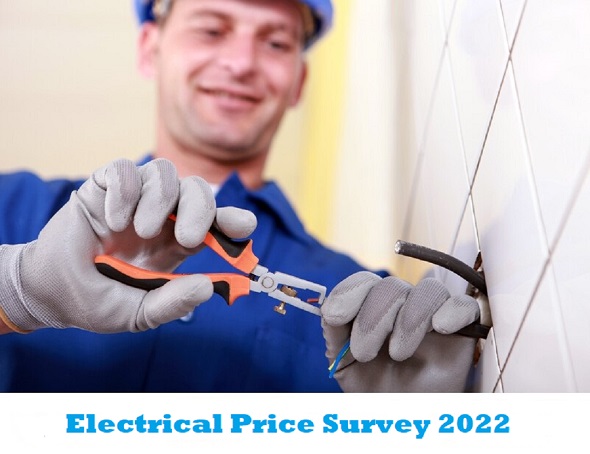 Electricians provide a range of electrical services including the installation, commissioning, testing and maintenance of various wiring systems and services in domestic, commercial and industrial applications. Their work ranges from wiring domestic houses and retail units, to more complex systems involving process control and maintenance in industrial plants, factories and hospitals.
Lately we did a survey of electrical callout charges and prices with some electricians and electrical contractors on our website. We asked them to let us know what a typical call out fee would be and the price per hour thereafter. We also asked if they had any tips for customers on having a good experience with the tradesman and their job. Here are some of the replies below:-
Tony from Dublin: Standard call-out is €90 this covers the 1st hour. Then its €60 for each hour after that. This works well for small jobs that there is no materials added. Usually 1-3 hours. I find since covid and people working from home more weekend work is becoming a good option for many people. Depends on the type of job but I usually will charge a day rate for weekend works of €500 for Saturday or Sunday and people seem to appreciate the option. When doing bigger jobs it's hard to say what the costs are because there's always lots of things to factor in.
Robert from Wicklow: Call out charge is €60 euros covers the first hour,€40 euros any additional hour
Alan from Louth: Typical callout fee…€120.  Price per hour thereafter… €80/100 depending on job.  Good tips… give clear description of job, materials provided yes or no, always prepare to send whattsap pics if possible, when contact is eventually made, and NEVER EVER describe the job as.. small job, shouldn't take too long … let the tradesman decide on that part… its a complete no no. Always try to aware as soon as the job is posted to answer your phone, chances are it is one of the tradesmen who bought the lead trying to contact you, this could happen as soon as 10 mins later depending on how quickly a tradesman buys the lead and receives the info, try to discuss the payment options with the tradesman face to face, so both parties are completely happy with same.
John from Dublin: My callout labour price has not changed much depending on how far I've to travel from where I live it usually cost between 80-100 if materials are involved I probably put a 10% mark up on gear.  If it's a bigger job I will itemise and price per point.  I feel this works well because on bigger jobs customers nearly all the time what something extra and this way they will know what extra cost occur easily without needed to ask.
Derek from Carlow: The electrical work these days us getting very expensive 😫,  the costs of materials has gone up 50% in pass yr,  Example 3x 1.5 t,e cable used to be around 85e +vat and its now 135e.  I charge 90e for a call out as fuel had risen a lot in pass few months and i charge 60hr there after,  That depends on what areas the work is in, the farer its away the more I charge.  Example if calling to Dublin from carlow I'd be looking 300e call out fee that covers me up and down and be 90per hr after that + materials.  As most of my work is in water treatment systems and water pumps its a different industry to electrical in some ways, but I do still be at electrical work.  I don't do domestic electrical anymore only small bits of it as in repairing the maintenance.  Materials are rising day by day , if you're to price jobs you have to ring and see the costs and have to tell the customer that's only for 7 days and the materials can change.
Niall from Cork:  Call out €80.  Rate per hour €60.  Please list suburb or town.
—————–
I hope this helps some of you who are planning to carry out electrical job in the near future.  Don't forget that you can get a number of quotes for electrical jobs by posting your job on our website here.
If you have any comments or suggestions please feel free to place them in the comments box below.
Cheers
Oliver Dempsey
Tradesmen.ie
17/10/2022
General Tips for hiring a tradesman
Here are some tips to consider when hiring a tradesman:-
1. Ask for phone numbers of references so that you can check them out
2. Check insurance of the tradesman where insurance is required
3. Hire a suitably qualified architect, building surveyor or building engineer if the job is anything to do with a new build, building renovation or extension
4. Agree on some sort of stage payments for the job. Remember that full payment should not be made until the job is complete and has been inspected by you, and if necessary by a certifier.
Keywords: Electrical, Prices, Ireland