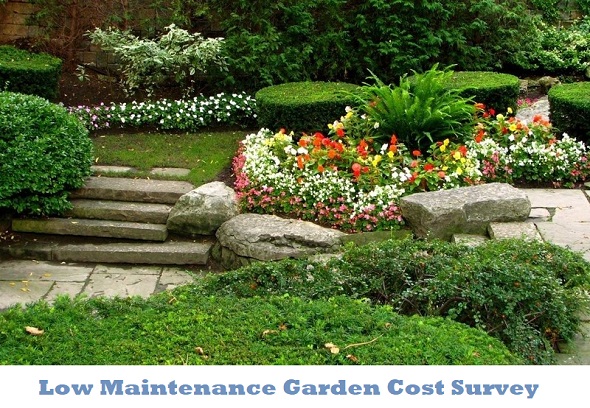 Hi folks,
there are lots of advantages of having a nice garden for your home. The physical activity required to maintain a garden is good for your body and for your health.  Spending time in the garden is a great way to reduce stress and anxiety so it is good for the mind as well.  Encouraging kids to spend time outdoors in the garden is good for their health as well and will lead to better sleep and better performance in school.  Growing vegetables in the garden will result in you and your family eating healthier food.  You can create family time together with your kids by planning, sowing, and tending to the family garden resulting in physical activity with a purpose shared by everyone.
On the other hand you can get someone else to do it for you and just sit back and enjoy the fruits of their labour:-)  A while ago we carried out a survey with some Garden contractors on Tradesmen.ie.   We asked them how much it would cost ex vat to design and implement a low maintenance garden for an average home. We also asked had they any tips for the customer on having a good experience with the tradesman.  Here is a selection of replies that we received below:-
David from Meath: Based on what you have told me for a paved area approx 25 square
meters, raised beds filled with top soil and planted weed preventative and mulched maybe a new lawn you are talking €4000-€5000.  When posting a job on Tradesmen.ie try to have a realistic budget figure.
John from Laois: I think you could put in a very simple garden from 3k upwards but it depends on the features. Wood has become very expensive and even doing sleeper flowerbeds has become quite expensive. I've seen gardens where 10k would easily be spent with h post and panels and roll out turf and small features.
To the other questions you asked I think for a job to run smoothly and for clients to be realistic on pricing they should familiarize themselves with the costs of wood etc. Raw materials has risen by a lot in the last 3 years. That cost is being passed on to the customer who sometimes think the figures are very high. Realistic expectations with a budget are a must.
Good communication is also essential and realising that sometimes jobs don't always run smoothly. A good landscaper will always try and rectify any issues or if something didn't turn out exactly as hoped.
I always ask for a deposit paid up front to cover a portion of costs. This can range from 20 to 25%. This is to protect yourself and avoid horror stories of non payment which luckily I've yet to encounter. The remainder of the fee is expected on job completion. Customers need to recognise that a landscaper could have a huge amount of money invested in materials if they have a number of jobs on.
Job descriptions are generally clear but sometimes clients send on pics which are used as a basis for pricing. These can vary from reality as jobs are much more labour intensive in the flesh. Clients need to factor in the amount of man hours required in a job and if it requires a number of men in order to complete. In essence don't expect a firm price until it's viewed in person.
Paul from Galway: I would estimate the garden design quote and carry out the work at roughly 3500e,depending on what exactly they wanted, patio, shrubs, new lawn,etc. I would strongly recommend your customers to give at least 20 words of a description and more importantly their exact location, not just county
Ronan from Dublin 18: The standard 3 bed semi detached garden is around 100 sq/m , allowing 1/3 for patio area , 1/3 for grass and 1/3 for beds , also a shed is a must , I find that the average cost ex vat is around €7500.00. This is hugely dependent on so many factors including quality of materials , quality of plants and additional labour costs for removal of debris and the hire of machines and skips.
As for the customer, they should do as much research as possible, mood boards are always a help , an idea of what plants they like is a plus , maybe view other gardens in the area to see what grows well. A visit to a local paving centre to view paving slabs in situ is important for the client , they should also ask to see the slabs both dry and wet , they vary hugely.
They can expect to pay 1/3 deposit of total job as a cost to cover materials , the rest and any additional costs paid at the end when all are happy.
I have find some people have very little input in to a  garden except financial and they generally seem more reluctant to finalize the final costs , most however get fully involved and the whole experience is much more organic and satisfying for all.
Daniel from Westmeath: You would be looking at about 5000 euros labour and material for a small garden to be made low maintaince. Depending on what preparation work is involved
Ciaran from Leitrim: Client may have unforeseen problems such as drainage, tree roots etc that they may not even know about until a survey is done. For an approx estimation depending on what they want to spend on materials and what's required to do the job including machinery, materials, labour, access etc I would think somewhere between €5000-€10000 going into €10k+ If it's a larger property or expensive materials and designs.
I would recommend client getting a survey done by a professional before anything else, my experience is that a lot of clients don't know what they want or what it will take to do it and will waste tradesmen and contractors time dreaming of something out of their budget or looking for multiple visits with no clear plan so I would recommend offering to pay the contractor or tradesman a small fee to do the survey/quote which would be refundable if the client wishes to proceed with the job and therefore has the contractor engaged and committed also. If the client is only looking for ideas or hasn't a realistic clue of the pricing by paying for the survey they are not wasting the time of the contractor, a small fee for professional advice or design before putting a realistic budget on the job will allow both parties to get something out of the survey.
Tips:
-Especially in gardening and landscape work it's is important to have a clear detailed quote from the contractor and any client requests and changes are fully costed, agreed and recorded before proceeding as it can be hard to sort out after.
-Not knowing a client I would look to get 40% of payment day after job started to make sure everyone is committed to both paying and completing the job, if there is any issue with this payment the client may not be in position to financially start/complete the job so better not to get stuck into it until that is sorted. The balance of payment on completion of project.
-A good contractor will communicate very effectively and have a good visual/online portfolio of their "own" work for the client to review and previous references from jobs. Be helpful to the client and give good honest advise.
-A good contractor will do their best to point out any potential unforeseen issues or things that might cost extra and try to keep to the original quote at all times unless an instructed extra or unforeseen problem or delay occurs at no fault of the contractor.
-Good contractor will be able to source and supply all required materials, if the client wishes to source themselves they should make sure it's correct and suitable(where the survey comes in) and won't cause delays to the contractor which could lead to counter charges. Make sure the contractor has a portfolio of similar jobs with similar materials so you know they can source and do what they say they can.
-tip for client: Be patient with the work, with the climate that we have in Ireland the contractor is pricing the job for the time it should take to complete it, but more often the weather is bad for this type of work and may not be suitable to start on agreed dates or may have delays from previous jobs etc, this puts additional costs on the contractor to keep jobs clean, tidy and workable while still meeting the original quote. No client will ever agree for a contractor to charge for potential bad weather or delays on a job so please be patient and understanding when the weather does make things difficult.
Brendan from Westmeath: As a general cost if someone were to get a design to include a patio 25msq maybe two shrub beds with weed suppressant and chippings and stepping stones or pathway 10,000/12,500 would be a guideline budget..however things like drainage poor soil etc can increase costs..
Simon from Wicklow: Design and Build Costs: Firstly my initial site visit would be free unless it's a large scale job with repeat visits.  In my quotes i breakdown all the costs if there are different elements. The labour cost would be based on all the work being carried out.  Customers seem to appreciate this and it has certainly got me a lot of work.  I never give prices off the top of my head or how long its going to take at the site visit.
Cost for Low Maintenance Garden:
Most people are looking for a simple Design and certain elements listed below.
Artificial Grass.
Patio in Limestone or Porcelain.
Raised Beds either in blocks or wooden sleepers.
Seating Area built into beds.
More recently lighting usually on the walls or spike lights in the ground.
Approximate Cost:
Basic version of the above 5,500 to 6,500.
Higher Spec version 7,000 to 10,000.
We did a Garden last year that was 24,000.  But very large by modern standards using alot of Porcelain paving.
Tips for Customers:
Clear job description.
Appreciate that any extras would be an additional cost not part of the original quote.
Understand payment options.  On small jobs i look for a % for materials upfront. Balance on completion.
Larger jobs full payment for nate6eg paving and artificial grass  Then a % of labour at the end of each week. This usually works out fine and for skips the customer pays directly.
Wayne from Kildare: Low maintenance you would probably go for a 25 sq metre patio and depending on size of garden 35 sq metres of decorative stone some flower beds etc… as low maintenance you would want to have as little grass as possible …price depending on materials cost skips etc €5,500
Noel from Sligo: To design and implement a low maintenance garden for a 3 bed semi would be around €3,000.00 to €5,000.00, this would depend on what would be wanted in the garden. would it be a lawn? would they want paving or kerbing done? extra costs would have to be considered for any additional materials and therefore extra labour.  So a good description of what is required is important and the price would be evaluated in relation to that.
——————–
I hope this helps some of you who are considering getting your garden revamped in the near future. If you decide to go ahead with it be sure to post your job here .
Cheers
Oliver Dempsey
15 July 2021
General Tips for hiring a tradesman
Here are some tips to consider when hiring a tradesman:-
1. Ask for phone numbers of references so that you can check them out
2. Check insurance of the tradesman where insurance is required
3. Hire a suitably qualified architect, building surveyor or building engineer if the job is anything to do with a new build, building renovation or extension
4. Agree on some sort of stage payments for the job. Remember that full payment should not be made until the job is complete and has been inspected by you, and if necessary by a certifier.
Keywords: Garden Price Survey Ireland