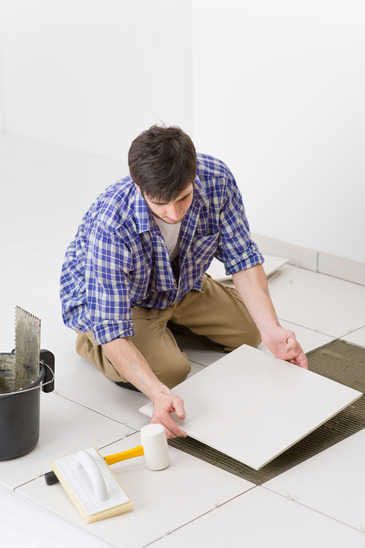 We did a quick survey today of tiling prices with tilers in Dublin for labour only, all materials supplied by the customer.  Here are the results below:-
John K: Our rate is 20E sq yd, labour only
Stephen O: We would charge 14.50 per square meter
Christopher Q: Depends on level of work. Does it need a tanking system in the wet areas? What type of tiles ? Is there a pattern in tile? Is adhesive, grout and trims to be included in quote ? Does the floor and walls need to be levelled ? Is the floor concrete or floorboards ? I would recommend a sitr survey first.  I charge FROM e15 m2
Andrey T: Rough 20sq.m. Bathroom, 2day warks,200-250eu or 12eu/m.
JOHN G: Standard bathroom 16 to 20 sg meters 360 euro + vat @ 13.5 labour only
Wayne L: cost would be about e30 p/m i.e 20m = e600 supply & fit.. Sorry i didnt see labour only at bottom of survey. Tiling cost about e17 p/meter
Anthony B: I would really have to get exact measurements, has the bathroom got existing tiles? Do you want them stripped out aswell? R u providing skip aswell? Without skip approx  e700 +vat, labour only (includes stripping existing tiles). Materials extra eg marine ply, grout and adhesive.
Joe T: Standard bathroom 20 meters e360
Vincent B: About e400
Tiit T: 600-800euro
John M: I would do a standard bathroom 22mtrs wall & floor for e330 approx. Thanks.
Gregory M: 450 euro
Jason K: 350 euro
HQ Plumbing: 800 euro
DONNCHA L: 250 euro
Joe T:    If the bathroom is empty ie no toilet sink ect 600 – ish regards joe ps fiddly bits can make a big difference
Barry M:    e450 upwards. Does not include stripping or preparation
Pat M:    Around 20 euros per yard.
Ken F:    Standard bathroom is usually e18 per square yard
Michael C: To tile a standard 24 yards would cost between 400 to 500
Sean B: On the basis that average bathroom is about 30 square meters, I would charge between e550 and e650
So as you can see there is a wide variation in prices which range from €12 – €40 per square yard.  The average price is €18 per square yard so it's well worth shopping around but don't go for price over quality.  The quality of the work is extremely important when it comes to tiling.  Make sure to look at previous work that tilers have done as quality of workmanship is particularly important for tiling.
For tiles you can pay anything from €10 per square yard to over €100 per square yard depending on the type of tile are you are looking for.  Tile stores that can buy in huge lots of one type of tile can sell tiles at a better rate so it's worth searching for these.  One word of warning, don't get caught on the price of grout and adhesive.  You may get an excellent rate on the tiles and when you go to pay the bill you realise you need the grout and adhesive and you can get fleeced on these if you haven't priced around beforehand.  In fact it's as important to price the grout and adhesive as it is to price the tiles as the grout and adhesive can end up being more expensive than the tiles.  For example from some research I did I found that you can pay anything from €20 for a 25kg bag for grout up to €80 per 25kg bag so please be careful about this.  Try pricing your grout and adhesive in a hardware store and see can you get a better rate than in the tile shop.
One last thing to be careful about the VAT.  Ask is the VAT included in the price or does it have to be added on later.  If VAT is added on to the original price it's going to work out a lot more than you bargained for.  And get it in writing, if you get the price over the phone, send a follow up text message to confirm the price that you understand they have given you and whether it is inclusive or exclusive of VAT.  That way there can be no misunderstanding.  Keep this in mind for any home improvements that you are getting done.
That's all for this time.  If you decide to go ahead with it be sure to post your tiling job here and get up to 4 quotes from rated tradesmen.
Cheers
Oliver Dempsey
Tradesmen.ie
29 March 2012