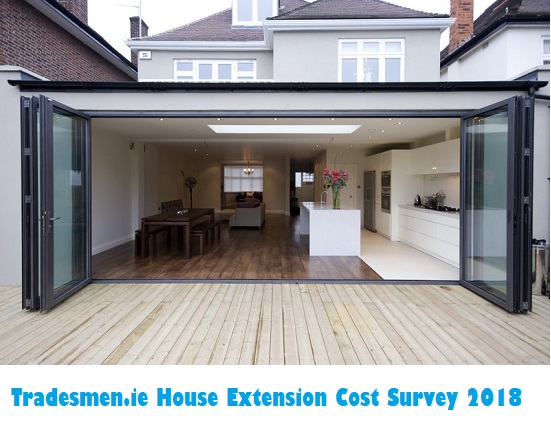 Hi folks,
recently we did a House Extension Cost Survey with some of our tradesmen. The question was how much would it cost to build an average 40m2 single story rear extension excluding VAT with apex roof finished to a good standard and ready to furnish?   I have attached a sample of the replies we received below with some tips provided by the tradesmen.  In the summary at the end I have added VAT of 13.5% on all the prices quoted and converted to a total price for 40m2 where a square metre or square foot price was provided:-
Stephen from Dublin: 60k plus vat. any tips i have is just make sure the client has a structural engeeneer on the job just sign of all the structural steel roof foundations and insulation it means they get a cert after job so it's piece of mind for them
Gerard & Paul from Dublin: €47,250 ex vat. rsj to open rear house wall is extra on top of that figure. based on builders finish. no kitchen. engineers fess included. sewers diverted.
Pat from Dublin: 40 square metres with good side access and front drive for skips etc to be left would cost aprox 80,000 euros + VAT going through the front door for 40 square metres would cost 110,000 euros + VAT approx with supplying timber floors or tiles for floors will adjust quote for client if required but will cost in if required and have i would send to my floor and tile supplier where can arrange a discount for them.standard bathroom refurbishment would cost 7800 euros without supplying tiles or bathroom suite price includes labour on tiling and first and second labour on plumbing aswell and builders work.
Paul from Offaly: we recently constructed a 40sq.m one room extension onto back of dwelling. we had access to large concrete back yard to construct extension, concrete block construction, semi vaulted roof, concrete tiles, french doors & 2 large windows, 2 electric velux roof windows, blocked chimney to one end. break through made into existing kitchen to make extension a large living dining area. €40k ex vat. tip: when pricing extensions, it's all about accessibility to build, if access is poor, labour cost will rise. if we had to construct this extension through a 1m side gate opening, you could add an extra €5k onto job easily.
Jim from Kildare: 40sm ext seems like very big for single storey at rear only,but my figure would be in the region of 68k + vat.it could include making access through a window or widening existing door ope,but not taking away back wall of house and putting in steel.all existing services would be extended or made again on external walls. advice for client would be line up contractor well in advance also talk to an engineer to see what is possible to do.make choices in time only standard sizes and items are kept in stock now.do not go on holidays while job is on. do a statement on costs at least every two weeks,then no surprises.
As you can see there is a quite a variety in the prices and some very useful tips in the responses we got. It is important to shop around but remember that quality should always come first when building something that you will live in for perhaps the rest of your life. Most prices ranged from €55,000(€62,425 incl VAT) to €80,000(€90,800 incl VAT) but they went up as far as €110,000(€124,850 incl VAT).  The average price in Dublin was €76,555(€86,889 incl VAT) and the average price outside of Dublin was €66,965(€76,005 incl VAT).  The average for the whole country was €72,959(€82,808 incl VAT).
Some important tips when selecting a contractor for a house extension are as follows, (a) get references, qualifications and insurance details from each contractor who quotes for the job, (b) make sure to hire an independent certifier from the outset and have them sign off on each stage of the build (c) only pay for each stage as it's signed off by the certifier (d) consider using an escrow payment facility to manage the payments and to safeguard both you and the contractor.
I hope this helps some of you who are planning a house extension in the future whether you want to make more room for the children, kitchen, dining area, bathroom, or for a home office.
Cheers
Oliver Dempsey
Tradesmen.ie
24 November 2018
General Tips for hiring a tradesman
Here are some tips to consider when hiring a tradesman:-
1. Ask for phone numbers of references so that you can check them out
2. Check insurance of the tradesman where insurance is required
3. Hire a suitably qualified architect, building surveyor or building engineer if the job is anything to do with a new build, building renovation or extension
4. Agree on some sort of stage payments for the job. Remember that full payment should not be made until the job is complete and has been inspected by you, and if necessary by a certifier.
Related Articles
Here are some other articles that you might be interested in below:-
House Extension Cost Survey 2017
Safety Tips for Hiring a Tradesman
Construction Work Safety in the Home
A discussion on the Building Control (Amendment) Regulations 2013
Do I need Planning Permission?
Certifying my Building or Renovation
Construction Contracts, Why are they needed?
House Extension Cost Survey 2015
Conservatory and Sunroom Prices
Attic Conversion Prices
New Build House Cost Survey
Top 10 Tips to Building a New Home