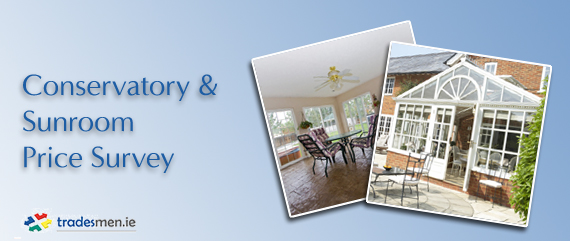 Hi folks,
today we did a quick survey on Conservatory and Sunroom Prices with a number of tradesmen around Ireland.   The last survey we did was in 2012 so we thought it might be interesting to see had prices changed much since.   The question we asked was as follows:- "We are looking for a price on a typical size 1. conservatory and 2. a typical size sunroom that you have done.   Both would require knocking out part of the wall of the living room of the house in order to join it on.  Also, if you have any tips for getting the best result".   Here is a sample of some of the replies we got below:-
Oliver from Meath:     In between e 8000 to e12000 depending on size
Enda from Wicklow:     Depending on the finishes etc.  On the conservatory between 16k -19k and the same with a sunroom between 18k -22k.
Darren from Dublin:     Sunroom 24 m2 price before vat e25,000.00
Joseph from Dublin:     It's roughly about 100euro a square foot so a 10 x 10 would be about 10,000 excluding vat . I would go with a tiled or slated roof on it rather than your topical glass roof as they are not great in the winter regards keeping heat in if you have any more questions don't hesitate to call me regards joe
Liam from Galway:     Conservatory would be around 15kand sun room around 20k ex vat. Tips would be meet and greet previous clients where work was undertaken. Ink is not as reliable.
Derrol from Dublin:      I would be charging in and around 17,500 Euro before vat for a conservatory and in and around 16,000Euro before vat for a sunroom depending on finishing and that I'd put another 1000Euro on for knocking out the wall depending on whats required to do the job
Adrian from Galway:      For conservatory and sunroom prices there are various different factors that have an impact on the exact cost of a project. To answer your query you could range from 12k to 20k. The lower being for a conservatory (glass roof).  I would recommended going for a sunroom/extension as you would get much better use from the space. With all the new building regulations and energy saving awareness, conservatories are becoming a thing of the past. They can be very hot in the summer and don't retain heat very well in the winter making them quite cold. I have found in recent years that a lot of people that have conservatories are looking to convert them to a sunroom.
Dan from Cork:     I Built one 24 Sq meters for e20.000 cheers.
Peter from Wexford:     Conservatory approximately 15 by 11 around 17,000 euro.  Sunroom depending on spc example roof lights brick finish and site access 15 by 14 would come in at approximately 20 to 23'000. Best advice would be a sun room as this room can be used all year round when insulated properly.
Sean from Dublin:     Sunroom 10by16 , door opening made wider in house and internal wall taken down approx price 19.000 + vat
There was quite a variety in prices, sizes and dimensions.  I did some rough calculations and I found that the conservatories are averaging 87euro+VAT per square foot and sunrooms are averaging 100euro+VAT per square foot.  So including VAT that works out at €98 per square foot and €113.50 per square foot respectively.   Here are a few good tips that were mentioned:-
1. A sunroom is the better choice as it will be warmer in the Winter and not too hot in Summer
2. Go and look at other conservatories or sunrooms that tradesmen built and see are you happy with the quality of the work before committing to building your own.
3. Go for as high an energy rated glass, under floor and roof insulation as you can afford.
I hope this helps some of you who are planning to extend your home in the future and if you decide to go ahead with it you can get a number of conservatory and sunroom prices here and get up to 4 quotes fast from rated tradesmen!
Cheers
Oliver Dempsey
Tradesmen.ie
7th February 2015
Tips for hiring a tradesman
Here are some tips to consider when hiring a tradesman:-
1.    Ask for phone numbers of references so that you can check them out
2.    Check insurance of the tradesman where insurance is required
3.    Hire a suitably qualified architect, building surveyor or building engineer if the job is anything to do with a new build, building renovation or extension
4.    Agree on some sort of stage payments for the job. Remember that full payment should not be made until the job is complete and has been inspected by you, and if necessary by a certifier.
Other Price Surveys
Here are some other price surveys that you might be interested in below:-
Custom Kitchen and Custom Wardrobe Costs
Gutters Fascia & Soffit Replacement Cost Survey
Immersion Heater Replacement Price Comparison