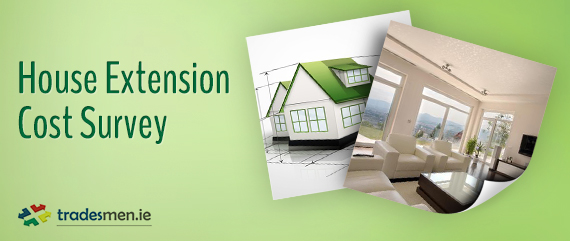 Hi folks,
recently we did a House Extension Cost Survey with some of our tradesmen.  The question was how much would it cost to build an average 40m2 single story rear extension before VAT with apex roof finished to a good standard and ready to furnish?  Here is a sample of the replies below:-
Arthur from  Kildare:     I would charge Around 35k ex vat. I would recommend to do external insulation if Possible.
Anthony from  Dublin:     House Extension Cost – 48k
Gerard from  Roscommon:     €53,000+VAT
Adrian from  Galway:      Cost range of completed project 30k to 36k. Factors to consider that have impact on cost- window & facia colour, quantity of roof lights, areas of block wall & window/doors. Electrical points, fire rated downlighting, soffit lights.  Make sure contractors are quoting like for like.  Once you agree a price there should be no extra costs.  Detailing at all junctions, air sealing etc. Minimise cold bridging. Insulation and air sealing to high standard.  Important for clients to be aware that contractors are meeting the above standards.  If client has no knowledge of construction I would advise them to consider engaging an engineer not associated with the builder to oversee the works.
Aiden from  Wicklow:     A 40m2 extension will run anywhere from €28,000 to €36,000 all depends on windows etc.
Andy from  Dublin:     House extension costs roughy €48,000
Stephen from  Wexford:     €50,000 builder finish
Paul from  Dublin:   About 35 k.
Richard from  Kilkenny:     38-43k depending on access and any preliminary work.  Try to hire a good builder that takes pride in his work and not just in it to make money fast and the quickest way out attitude.
Timothy from  Galway:     Probably around 50k.  Make sure to get a reference or give a look at previous work .
Thomas from  Laois:     Hard to say without a plan and a site survey but ballpark 50 k. Best tip for getting a good job done would be to tell people to hire tradesmen based on previous work and reputation not just price.  A good job is always a good job and a bad job is always expensive.
Eoin from  Waterford:    A house extension would cost about e36,000.
Stuart from  Dublin:     €42,000.   Access is a major factor.  Always try to temporary divide new build from old build whilst providing a temporary water supply.  Always stick to the rules and regulations.
Cathal from  Dublin:     Between e38,000 /e45,000 for a high spec insulation finish, painted, with high standard A rated windows .   Tips ,  good insulation, air tightness and air circulation, I find these to be most important factors to a good build.
As you can see there is a quite a variety in the prices and some very useful tips in the responses we got.  It is important to shop around and make sure you are comparing like with like.  Prices ranged from €30,000 to €53,000 and averaged €42,000.  In July 2014 we did a similar survey of builders and the average price was €43,500.   These prices compare with an average price of €36,000 in a survey we carried out in 2012 so prices are up 20% since 2012 according to our latest surveys.  Remember that these prices are excluding VAT so you would need to add 13.5% to €42,000 to get the full amount which ends up at €47,670 after tax.
When getting prices for any building work it may be tempting to go for the lowest price but as Thomas said above, "A good job is always a good job and a bad job is always expensive".  Some important tips when selecting a contractor are as follows, (a) get references, qualifications and insurance details from each contractor who quotes for the job, (b) make sure to hire an independent certifier from the outset and have them sign off on each stage of the build (c) only pay for each stage as it's signed off by the certifier (d) consider using an escrow payment facility to manage the payments and to safeguard both you and the contractor.
I hope this helps some of you who are planning a house extension sometime in the future whether you want to make more room for the children, for your dining area or for a home office.
Cheers
Oliver Dempsey
Tradesmen.ie
14 February 2015
Tips for hiring a tradesman
Here are some tips to consider when hiring a tradesman:-
1.    Ask for phone numbers of references so that you can check them out
2.    Check insurance of the tradesman where insurance is required
3.    Hire a suitably qualified architect, building surveyor or building engineer if the job is anything to do with a new build, building renovation or extension
4.    Agree on some sort of stage payments for the job. Remember that full payment should not be made until the job is complete and has been inspected by you, and if necessary by a certifier.
Other Price Surveys
Here are some other price surveys that you might be interested in below:-
Conservatory and Sunroom Prices
Custom Kitchen and Custom Wardrobe Costs
Gutters Fascia & Soffit Replacement Cost Survey
Immersion Heater Replacement Price Comparison