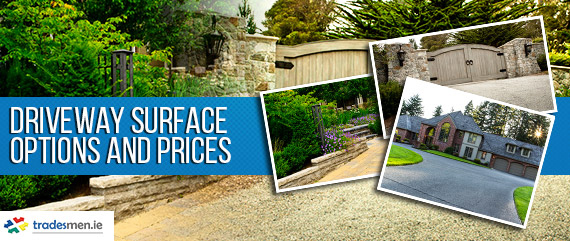 Hi folks, recently we did a quick survey on driveway surface options and prices with paving contractors* on our website.   We asked some paving contractors to give a couple of their preferred driveway surface options and prices per square metre including site preparation.  We also got a few tips for getting the best job done.   We have included a selection of the replies below excluding VAT:-
Sam from Wicklow:     I prefer limestone as it doesn't stain.  It lasts forever. You're looking around €110+VAT all in per meter .  Another option is Bally lusk gravel which varies depending on site an size.
Brendan from Westmeath:    Paving …depending on site inc ground work e60 – 70+VAT per msq…concrete about the same.  Brick paving such as Barleyrtone can be  e10 per m cheaper than say Kilsaranhan.
Jason from Dublin:     I mainly do pebble driveways, sandstone and concrete when requested. I would charge in around 75+VAT per square metre, it all depends on the job though.  When doing driveways the best way to do it is to dig out existing driveway about 150mm.  Then fill in area with 75mm 804 hardcore.  Then use a plate whacker and whack surface several times until stone is levelled.  Then lay your finished product(pebble,sandstone,concrete).
Barry from Wicklow:     Driveway Surface Options – Asphalt, gravel, cheap but not long lasting, high maintenance.  Concrete good but ugly, stone good but has to 40mm for traffic so expensive, cobblelock by far the best option, structurally perfect for high high torsion traffic, good value.
Dimitry from Cavan:     Pebble stones is the cheapest option for driveways.  I prefer to use limestone.  We charge in around 30-40 euro per yard and up for laying them, for preparation i have to see what sort of machinery has to be used (diggers etc) + 120-150 per day labour.  In total you could be looking at 65+VATeuro per msq.  Before i start i normally have a  chat with the client trying to explain all possible options and possible extra charges such as drainage.
Greg from Dublin:     Rough prices: Gravel- e50- e60+VAT m2 Paving- e60- e80+VAT m2 Stone- e70- e80+VAT m2 Concrete- e50- e60+VAT m2.
Edward from Dublin:     Granite is my first choice for aesthetic and durability. 40+VAT per sq meter for materials only.
Driveway Surface Options Summary
As you can see there is a quite a variety in the prices and some very useful tips in the responses we got.  It is important to shop around and make sure you are comparing like with like.  Prices varied from €65 to €110+VAT per square metre which is the equivalent to €74 to €125 per square metre including VAT.  Some prices we got were as low as €40+VAT per square metre but this did not include site preparation.   Site preparation is the most important part of putting in a driveway.  As mentioned by Jason above it should involve a minimum of 150mm (6inches) excavated and filled with 75mm (3inch) 804 hardcore broken stone.   If the ground is soft or wet you will need to look at drainage and a deeper amount of hardcore.
Tips for Hiring a Paving Contractor
When getting prices for any driveway work it may be tempting to go for the lowest price but we would recommend choosing the tradesman who can do the best job.  Here are some tips for hiring a paving contractor below:-
(a) Get references, qualifications and insurance details from each tradesman who quotes for the job,
(b) Go and look at some driveways that he has done a year or more ago and see are they still level and  without hollows.  If you go and look at it on a wet day you will see if water is lying anywhere on the driveway which shows that it was put in unlevel or has sunk because of a poor foundation.
(c) Consider agreeing on some sort of stage payments and only pay for each stage as it's signed off by you or a certifier.  Take photos of each stage as it is being carried out
(d) consider using an escrow payment facility to manage the payments and to safeguard both you and the contractor.
I hope this helps some of you who are planning to resurface an existing driveway or put in a new driveway.  You can post a job and get a number of quotes from paving contractors at http://www.tradesmen.ie/trade/paving .  If you have any comments or suggestions please feel free to place them in the comments box below.  You may also be interested in an article we wrote a while ago on driveway finish comparisons here
Cheers
Oliver Dempsey
Tradesmen.ie
14 March 2015
Other Tradesmen Price Surveys
Here are some other price surveys that you might be interested in below:-
Conservatory and Sunroom Prices
Custom Kitchen and Custom Wardrobe Costs
Gutters Fascia & Soffit Replacement Cost Survey
Immersion Heater Replacement Price Comparison
*For simplicity I am referring to tradesmen who carry out this work as paving contractors but they can also be referred to as driveway contractors, landscape specialists or contractors etc.