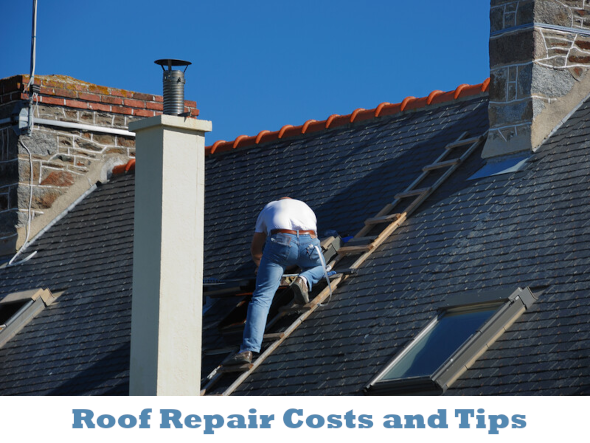 With the incessant rain in the Summer of 2023, we noticed more people posting jobs in relation to leaks in roofs so it was a good time to talk about roof repair costs and tips. The urgency of prompt action becomes apparent once a leak has begun; tackling it without delay is always advisable. As one may notice during periods of rainfall, hidden leaks can unexpectedly come to light. Heeding the age-old wisdom, 'a stitch in time saves nine,' can be especially pertinent in the context of roof maintenance.
If leaks are neglected, the persistent damp can penetrate the structural integrity of the roof, causing the timber to rot and exerting undue stress on adjoining supports. In many cases, prompt intervention can limit the damage to a simple leak repair. However, if overlooked, it could escalate into a much larger issue necessitating partial or even full roof replacement—an undertaking that is considerably more costly. Therefore, acting swiftly to address leaks can spare you significant expense and inconvenience in the long run.
We have been carrying out roofing repair cost and other trade related surveys in recent years, we have compiled a summary of the feedback we have received from tradesmen below:-
The responses received from a diverse range of roofing professionals based across Ireland in recent times provided some enlightening insights into the process, cost, and precautions when it comes to fixing a broken roof slate.
The costs cited for fixing a roof slate varied from €60 to as high as €800, with an average cost being around €150. The price difference depends on factors such as the building's height, location, type of roof, and access to the roof. For instance, working on two or three-storey buildings tends to be more expensive due to the need for specialised equipment like a cherry picker or scaffold, with costs potentially doubling or tripling. Also, distance to the job and travel time are taken into account when pricing the service.
One common point raised was the importance of using recommended and insured tradesmen or roofers. Checking reviews and references was also mentioned as a vital check before hiring a roofing contractor. Another common thread among the responses was the consideration of labour versus material costs. Roofers found it more cost and time-efficient to use new slates, which cost less than the time and effort trying to save and reuse old slates.
Moreover, the homeowners were advised to provide as much information as possible upfront (type of slate or tile, building height, access to the roof, etc.), and to communicate effectively with their chosen tradesman. Regular roof maintenance, such as cleaning gutters annually, checking for loose tiles, replacing rotten timber before installing new fascia, and keeping the roof clear of moss and other debris, were also suggested as preventive measures against leaks and damage.
A few respondents highlighted that while it may seem like a simple task to replace a single slate, roofs often have more than one issue contributing to leaks. Therefore, a comprehensive roof inspection might be necessary to ensure all potential problem areas are identified and fixed, avoiding future damage.
The respondents advised homeowners to be aware of the entire process, not just the cost. For instance, they pointed out that often, if a tile or slate is damaged or displaced, the problem might not be isolated to that single component. Underlying issues such as loose mortar on ridge tiles, holes in the felt underneath the tiles, or damaged timber laths might also need to be addressed.
Further, a few respondents suggested that homeowners should regularly check their roofs for wear and tear or have a professional perform a maintenance check every few years. Maintenance on flat roofs is particularly important.  One tip given was to check the attic for any light coming in. If there is light visible, it indicates a problem with the roof's covering (tiles, slates, etc.) or with the underlayment, which could lead to leaks and further damage. Moreover, the roofers recommended regular cleaning of the roof and guttering and quick action at the first sign of a leak or dampness to prevent further damage. Ensuring gutters and roof valleys are clear of debris allows rainwater to drain away quickly, reducing the chance of leaks.
The respondents also noted the value of good communication between the tradesperson and the homeowner. Swift responses and clear information can save time for both parties. When requesting a quote or service, homeowners should provide comprehensive details about the job, including the type of tile/slate, the shape, size, the height of the roof, and whether a site visit is required first.
Lastly, the importance of vigilance was underscored. Homeowners were advised to do their due diligence when hiring a roofer— verifying their insurance, seeing if they are registered as a roofing contractor, and reviewing their reputation. All these checks can help homeowners avoid falling prey to rogue traders.
——————————————————
I hope this helps some of you who are planning to have your roof repaired and if you decide to go ahead with it you can get a number of roofing quotes here . To subscribe to our blog and be notified each time we publish an article, click here
Cheers
Oliver Dempsey
Tradesmen.ie
12 July 2023
General Tips for hiring a tradesman
Here are some tips to consider when hiring a tradesman:-
1. Ask for phone numbers of references so that you can check them out
2. Check insurance of the tradesman where insurance is required
3. Hire a suitably qualified architect, building surveyor or building engineer if the job is anything to do with a new build, building renovation or extension
4. Agree on some sort of stage payments for the job. Remember that full payment should not be made until the job is complete and has been inspected by you, and if necessary by a certifier.