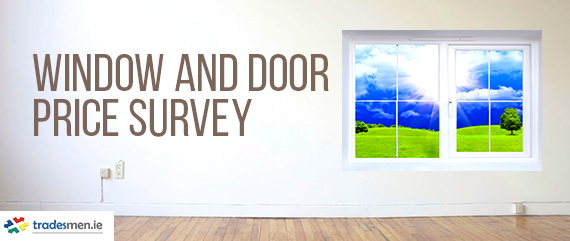 Hi folks,
recently we carried out a quick window and door prices survey with some window companies on Tradesmen.ie.  They were asked to price 2 external pvc doors, front and back and 7 average size pvc windows.  All windows to have a u-value* of 1.3.  Here are some of the replies we got below:-
Chris from Dublin:     Windows 3 – 5k Doors 2 – 4k Heat : A rated units and foam fill cavity. Fit close able wall vents. Triple glaze is problematic and should be avoided till issues are dealt with. For noisy streets, laminated glazed units will dampen a lot of noise but not all. Secondary glazing usually works best.
Denis from Wexford:     That is a varied question it depends on a no of factors a very rough price would be about €3,200 delivery only if you fit a good quality profile with well made double glazing there shouldn't be any problems ,people talk about triple glazing but the u values aren't much better the advantage it would have is. If it was near a road for sound insulation disadvantage would be hinges would have to be stronger to carry weight, good fitting is also important.  It would cost about €700 to fit so that works out at €3,900 + VAT altogether.
Aurimas from Carlow:     Circa €5k Best money spent would be on triple glazing add another 30% roughly
Aidan from Dublin:     Windows and door prices as specified about e3,500 +
Declan from Tipperary:     Price will vary massively depending on door type i.e pvc or composite? Colour will also make a difference and finally, the style of window you choose. Rule of thumb the more panes of glass the more expensive the window will be. In relation to U-values I wouldn't accept anything over 1.2 nowadays. The more chambers the pvc section has the better overall energy efficiency. And windows should be direct fixed rather than wedging and foaming.
Mariusz from Dublin:     The windows used 1.4 u value, db31 (-1,-5) 7 windows 2100 euros, 2 doors(front, back) 800 euro. Transport 600 euro. Total ex vat 3500 euros.
Window and Door Prices Summary
As you can see there is a wide variation on window and door prices with most prices ranging from €3,500+ VAT to €5,000.  Some interesting tips were given as well.  Our survey was very rough with no measurements on the windows so some of the higher prices above may be allowing for larger size windows. We are presuming also that all of the prices provided were for double glazed pvc windows unless otherwise specified.  The main thing that our survey demonstrates is the importance of getting a number of prices when planning your window replacement job and to make sure you are comparing like with like.  Be sure to ask does the price include or exclude VAT, does the price include or exclude disposal of the original windows and doors and does it include fixing the plaster and making good around the reveals.
As I said in a previous article, a friend of mine got her windows replaced a while ago but she was very disappointed to find when the job was done that the price had not included fixing the plaster and making good around the reveals. The contract she had signed prior to the purchase had stated in the small print that fixing around the reveals would not be included but she hadn't read the small print.
You will notice above that we used a u-value of 1.3 which is a pretty good u-value but by no means the best u-value. The lower the u-value of the window the more it will retain the heat in your home and save on your heating bill. There are lots of places in your home where heat can be lost but in the past the windows and doors would have been the week points. These days you can get windows and doors that are so well insulated that they will retain the heat far better than the walls, floors and ceilings. However, you have to weigh up the cost benefit in having windows and doors that are exceptionally good at keeping in the heat if the heat ends up going out through your walls, floors and ceilings instead or if members of your household are in the habit of leaving windows and doors open:-)
Here are some photos of PVC windows below:-
I hope this helps some of you who are planning to replace your windows and doors in the near future.  If you do decide to go ahead with your window and door replacement job you can get a number of quotes on Tradesmen.ie here.
If you have any other comments or suggestions please feel free to comment below
Cheers
Oliver Dempsey
Tradesmen.ie
23rd May 2015
Here are some other articles that you might be interested in below:-
Window & Door Prices (2012 Survey)
Wall & Floor Tiling Price Survey
Electric Gates Options and Prices – Survey
Driveway Surface Options and Prices
Conservatory and Sunroom Prices
Custom Kitchen and Custom Wardrobe Costs
Gutters Fascia & Soffit Replacement Cost Survey
* Thermal transmittance (U-value) relates to a building component or structure, and is a measure of the rate at which heat passes through that component or structure when unit temperature difference is maintained between the ambient air temperatures on each side. It is expressed in units of Watts per square metre per degree of air temperature difference (W/m2K). Source: Building Regulations Technical Guidance Document, Conservation of Fuel and Energy 2007, Part L, paragraph 0.3.4.