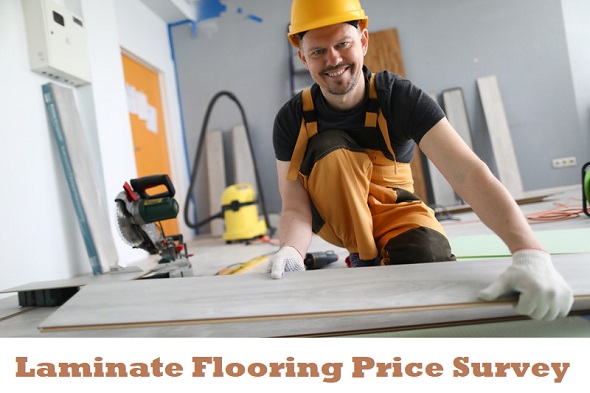 Laminate flooring is one of the most popular types of flooring.  It is extremely durable, protected by a tough external layer and resin coating.  A laminate floor is stronger and more scratch-resistant, impact-resistant and longer lasting than solid hardwood, vinyl, or carpet.
Recently we carried out a quick price survey among some tradesmen who are registered on our website. We asked them to give a rough price to fit a laminate wooden floor. In addition to this, we asked if they had any tips for getting the best job done. We have attached a sample of the replies we received below:-
Phil from Dublin: We charge €14 per sq meter to lay laminate flooring. It is extra If bottom of frames need to be cut. I would always recommend taking skirting boards off and fitting flooring underneath and refitting floors leaves better finish. I would recommend using good quality flooring and underlay cost but more but will last. When selecting a tradesman always check insurance and get references.
Eoin from Cork: I charge €12 a square meter for normal laminate flooring and €18 a square meter for herringbone laminate flooring. Most flooring jobs I don't go to look at. There's an agreed rate and it's written on my quotation that if I have to supply materials or do anything other than just lay flooring it'll be an additional. If the customer could give a rough size of the room that'd be great. Also if the customer can move the smaller items out of the room before you arrive such as lamps, shoes, rugs that'd be a good help.
Jim from Galway: I would give a ballpark cost of €10-€12 per M2, this would depend on the condition of the floor & all materials being supplied by the client. Possible hidden costs are the condition of the skirting and archive, whether doors need to be taken down or adjusted/planed.
Ideally looking at the job would allow for more accurate pricing, or possibly including photos in the quote request.
Bernard from Galway: €12 per sq metre and additional charge for furniture and previous floor covering removal
Dan from Dublin: Laying laminate flooring is between 12 and 14e /sqm depending on the surface. I recommend 4mm gold/silver underlay and @least 10mm thickness laminate.
William from Galway: I'd generally charge around  E15 plus vat per square metre . If is a hall i would charge 20 per metre. This is based on the room being more or less cleared and not having to remove the skirting board
Pat from Dublin: Laminate flooring per square metre 57 euros plus vat.  Engineering  floor 70 euro per square metre plus vat.  Solid hardwood  flooring  100 euros plus vat skirting on top of all above 20 euros a linear metre labour only on above prices.
Stephen from Dublin: Some info on how I charge for fitting laminates. If its only a small job ie.  One small room and some beading i would charge a minimum of €120.
My Price per sqm would range from €10 to €15 per metre depending on how big the job is and how many doors there are to cut around…the average i would be charging is €12 per metre (herringbone flooring could be up to as much as double that)
Some tips for the customers would be, if they want to use Scotia or removing the skirting and putting back. If there is saddle boards fitted to the doors currently and how they hope to finish the floor after, also if they have bought new door trims…I tend to keep a small stock of them in my van either way…..
If there is any pipe work coming from the floors or from the walls (pipes coming from the walls makes my job easier)
If they need the old floor coverings removed and if so what type of floors are currently fitted also if they would like old floors removed can they dispose of this or would they like me to dump it.
On how the customer would like to pay. If the customer makes it clear from the start what type of payment options they would like to use its usually not a problem….personally I accept bank transfer, revolut, cash. If using cheque i try get it made out cash unless it the same bank.as myself as it can take a long time for money to clear but I've never had a problem…I know some tradesmen won't accept cheque"
Shane from Galway: Laminate flooring cost is €10-15 per meter. Depending on the type of mechanism of the floor, volume and where it's located
Martin from Dublin: I charge about €15 per meter for laminate flooring and it would be extra for skirting or Scotia beadings. If there are a lot of angles or hallways it might add a little on as they always take longer than square rooms.
 I can supply the laminate as well from one of the top flooring companies in Ireland at trade price so the customer will save some money on a quality floor.
If it was herringbone floors it would be extra to lay compared to straight plank laminate to lay them.
Donal from Dublin: To lay a laminate floor can cost between €10 & €15 depending on how much floor is needed, if its only a small amount of flooring it would be a higher cost as you lose a lot of time in your day with small amounts.
When customers put in for jobs like flooring they need to describe what way they would want it finished so that the tradesmen knows if there's extra work. Like if the customer wants the flooring under the existing skirting boards well them boards have to come off the wall without damaging the wall nails taken out without damaging the skirting and put back on the wall and finished with painters calk around top of skirting board. We also need to know if old floor needs to come up and be disposed of. Describing the full job can avoid being hit with extra costs at the end and should avoid any bad experience with tradesmen.
Dan from Dublin: To lay down laminated flooring could cost +/- €20 per square meter, depending on work needed to be done, could be less could be more.  Like to lay down laminated flooring up to the skirting and the gap to be covered with scotia or remove all skirting around, lay down the laminated floor and fit back the old shirting or the new skirting
The client should always receive from any tradesman a clear explanation about the work involved, extra material's needed, time to do the job and if any extra cost on material's and labour should inform the clients before, not after the work was done.
Ronan from Wexford: It depends on the flooring that is been used and the amount of prep that is required before floor is layed but a general price I charge would be 10-12 euro a square meter for 12mm laminate.
Pat from Cork: I would normally quote €11 per square metre for a new build, skirting extra , but renovations can by more because there would be skirting already fitted, architrave also may need to be cut to allow new flooring run under and doors may need to be trimmed if new flooring is higher
James from Carlow: €13 to €15 so you'd have to see the job ,in halls it costs more – all doors more work. Some people want New skirting
Gary from Kilkenny: €12 a square yard is what I'd charge and skirting is an extra also door thresholds are an extra.
Daniel from Cork: The cost for laying laminate flooring would be €15/m2 or a days hire for under 15m2. That is important for customers to understand if they just want a standard 3m x 3m bedroom for example done it would increase the square meter rate. The customer not to always go for the cheapest quote but to feel free to respond back to the trademens for a better break down of the work and materials being used. If they knew that just because a quotations was more expensive doesn't automatically mean the tradesman is making any more money out of the project than the cheaper quotations
Tom from Mayo: I charge between €10 and €15. It depends on how much furniture might have to be moved ,if you have to put trim around the skirting board after
Matthew from Cavan: It all depends on the type of laminating flooring. Some boards are wider than others. The wider the board the quicker it is to lay. I will give you a general price for floor only. It does not include taking up floor, skirting board and relaying skirting board.
Price can vary between €15 – €25 per sq metre. More complicated flooring like in a hallway where there are lots of doors would usually be done on a day rate rather than per sq metre. All prices exclude vat.  Personally I would usually price a day rate / half day rate rather than per sq m"
Kevin from Waterford: Laminate floors can be anywhere between e12 to e15 per m2 for labour only. The greater Dublin area would demand e15, South-East area e12.
The size of the project will also determine prices. A small area like one room of 16m2 would price as a job as there is the same travel/set-up costs etc. A job like that would be e300 approximately,  so the actual cost is closer to 18m2. A very large area like 100m2 will often work out at e11 to e13, depends on the fitter.
Some tradesmen will include cutting doors (if needed), fitting scotiabeads etc. in the above prices,  others will add-on for that.  Most (if not all) will charge for taking off and/or fitting skirting.
Again, most will charge if they have to remove old carpet/floor etc, you often spend as long on that as fitting the floor.  It is really job-specific but a rough guide is 13-15 per m2 for laying the floor.
The like of myself who don't have a shop (and still deal direct with suppliers) will generally be able to offer better rates if we are supplying, it cuts out the middleman so the overall rate for supply and fit is anywhere between e3-e7 less.
Customer:  The key for a good experience for a potential client is information.  People giving approximately sizes will get approximate quotes. Not knowing things like, is there skirting to be included? Items to be removed? Door trims needed? Doors to be cut etc. all lead to lengthy conversations and frustration. I know of fitters who will just include all the above rather than the hassle of dealing with 'i don't know'.  Unless a job is 80m2 or more, most wont go and view it to price.
I think displaying as much information like I mention would lead to more interest from fitters/suppliers and would be a better experience for the customer. Also, the more prep work the customer does it will generally work out less expensive,  why pay tradesman rates to remove carpet etc?  Engineered flooring will be approx e3 per m2 more to fit as it is slower and needs to be glued.
Herringbone laminate will be approx e10 per m2 more to fit as its a lot slower. Solids are similar. They are also a lot more expensive to buy.
Personally, I will always encourage a potential client to talk to the like of me before they go to a retail outlet. I will tell them exactly what materials are most suitable to their needs and what to do to make it less expensive (my profit is in the fitting), lots of retailers, not all, will sell you whats most profitable and available to them. Underlay is a typical example, I have seen people talked into paying e200 more on a house for underlay thats not required or not even suitable.
It can all be very confusing as you delve into it. From experience,  a customer could expect to pay anywhere between e550-e650 for a good quality 12mm floor and accessories supplied and fitted to an average room of 16m2.  Fit only on the above could be anywhere between e200-e300.
Those prices are tradesman quality prices. I have seen cheaper jobs by handymen that tend to cost lots more in the long-term and don't look as good. I have also seen exorbitant prices from retailers/suppliers in busy times.
Also one of the most annoying thing for clients is extras, some fitters deliberately just give a price per m2 and load on extras, very frustrating for clients.
Brian from Cavan: I usually charge €15 to €18 a sq metre or sometimes I charge by day at  anything  between €150 to €200. Usually jobs descriptions  are fairly good by customers
Vasile from Dublin: For the 12mm laminate that is the most used the price for laying it. Is €12/sm for surfaces larger then 25_30 sqm and fairly square( not odd shaped) . And all for fitting skirting €4 /liniar meter. And if doors need to be planned e10 each and flat bar/threshold €5_10 each. This prices not include removing old floor.
Slawomir from Dublin: I would usually charge 20 euro per square. when you lay any kind of floor
you have to remove skirting boards. many contractors do not do it as its easier for them but easier does not mean that the final look is great.  Using proper underlay, soundproof for wooden floor, special underlay for underfloor heating.
Cormac from Meath: For laminate flooring the rate would be between €20-€25 per square metre for a square/ rectangular room. Landing areas are more complex as there are many cuts. Continuous flooring between rooms I.e removing the saddle requires more complexity which adds to time and cost.  Another additional cost to laminate flooring is the trims for the edges which could add an extra €100-€200 to the cost.
My advice if possible is to prepare the room by ensuring the old flooring is removed, dust free, no nails or damaged flooring and remove the skirting if possible."
Andrew from Monaghan: Labour only cost for fitting laminate flooring €10.00 per square metre. Hallways, landings and small floor areas €15.00 per square metre or day rate. Extra charge for removing and refitting skirting boards or beading. Customer should give as much details as possible about the job they are wanting done. Tradesman should have agreed quotation in writing either by email or text message.
Mariusz from Meath: I'm charging €12 to €15 per sqm it's depends how many corners and doors rooo have. Customer post very clear for me. On the market are many quantities of flooring available depends of customer expectations so everyone chooses the best for them.
—————————————
I hope this helps some of you who are planning to lay a laminate floor and if you decide to go ahead with it you can get a number of flooring quotes here and get up to 4 quotes fast from rated tradesmen!
Cheers
Oliver Dempsey
Tradesmen.ie
13th February 2021
General Tips for hiring a tradesman
Here are some tips to consider when hiring a tradesman:-
1. Ask for phone numbers of references so that you can check them out
2. Check insurance of the tradesman where insurance is required
3. Hire a suitably qualified architect, building surveyor or building engineer if the job is anything to do with a new build, building renovation or extension
4. Agree on some sort of stage payments for the job. Remember that full payment should not be made until the job is complete and has been inspected by you, and if necessary by a certifier.