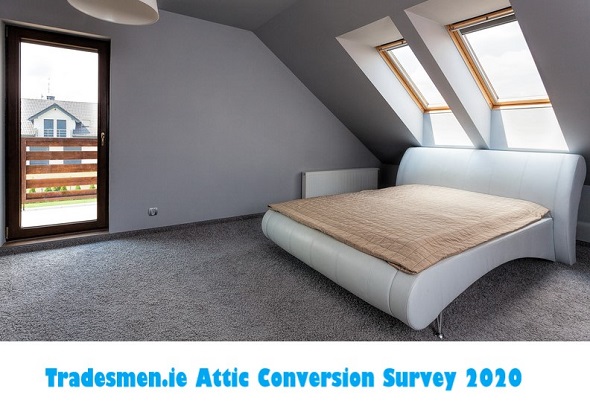 Hi folks,
recently we carried out a survey on attic conversion prices with some of our tradesmen across Ireland. The country is currently in a lockdown with the Corona Virus but hopefully in the coming months the lockdown can be gradually lifted and we can start looking at home improvements again.  If you have been reading my previous articles you will see some important steps I think we need to take in order to get the virus under control.
Covid-19 will change the way we live and work in the future, for example there may be more working from home or college students may attend their courses from home using online facilities.  If extra room is needed for work or study, an attic conversion might be worth looking at.  In our attic conversion survey the question we asked was as follows:- How much would it cost, excluding vat, to add an extra bedroom in the attic and were there any tips they could give for getting the best job done. Here is a sample of the replies we received below:-
Silviu from Wicklow: Attic conversion, add one more bedroom: €15000 to €22000.  Attic conversion add one more bedroom, and ensuite: €18000 to €25000.  Vat of 13.5% to be added.  Difference is given by:
size
staircases
materials that you want to use specially insulation 50mm ridged or 100mm ridged.
you use multilayered insulation or not.
quality of materials
finishing; including floor cover, paint the walls, lights
John from Waterford: An average attic conversion costs between 18,000 and 22,000. the spec in our attics is very high. we do spray foam insulation in between the rafters and a 50mm koolterm insulated slab on the underside of the rafters. we put in solo heating rads up there and just move the existing water tank in behind the side walls. we also floor in that area on both sides for storage with an insulated door fitted to each side of that side wall. new red deal stairs and ample amount of led lights fitted in room and on first floor landing. we also install bulk gear lights in the storage area on either side of new room in the new storage space. room completely finished out including painting and we also have an engineer's cert with the attic saying  that the structure is completely safe and this cert is required if you ever sell the property in the future. if you don't have this cert you might have to put the entire space back to the original state which would cost more than a proper conversion
William from Galway: The average 1 room attic conversion i do runs at 18 to 23 k plus vat. I would recommend where the roof is a truss roof to consult an engineer before any works start . I would also recommend not settling with the keenest quote as it more often than not is not always the best.
Ronan from Louth: A guide price to convert an attic space and fit a velux window would be €1000 per m2 plus vat. the first thing i look for is that the roof is high enough.  Home owners are not always aware that if the work does not have an engineers cert it will leave there house unsellable.
John from Clare: Attic conversions generally range from 15k for a standard one bedroom upwards depending on attic space, type of roof & structural details.  Clients in my experience need a detailed scope of works from contractors pricing the project. the devil is in the detail. insulation structural work etc. truss roofs will need structural steel fitted and in some cases this is not being done which can lead to all sorts of problems in the future. So sometimes the cheapest price may not be the best for the client. your roof is a major structural element to any building and any alterations will need to be done properly by experienced professionals.
Damien from Dublin:  To answer your query. There are a couple of different attic conversion types of jobs you can do depending on the roof structure of the house and general landing layout upstairs. They vary in price too. The first conversion would be a standard  converting what's already in the available attic space it would cost in the region of 13k – 18k . The second conversion would require a planning application  to either build up gable wall and extend the roof to suit or build a flat roof dormer to the rear of the house. This would cost in the region of 18k – 25k.  The third would required a planning application too by building a dormer to the side of the house. This would cost in region of 18k -25k. All three options discussed the staircase would continue as normal above what's already there. The fourth option would be to install a staircase in through a bedroom and and re design the landing depending on the house. This would cost in the region of 13k — 16k. All figures are ex vat. All projects come signed of by an engineer on completion.
——————-
When carrying out an attic conversion or most types of renovations that include structural works, make sure to do the following:- (a) get references, qualifications and insurance details from each contractor who quotes for the job, (b) make sure to hire an independent certifier from the outset and have them sign off on each stage of the build (c) only pay for each stage as it's signed off by the certifier (d) consider using an escrow payment facility to manage the payments and to safeguard both you and the contractor.  Check whether the price includes or excludes painting and second fix plumbing and electrics.
I hope this helps some of you who are considering an attic conversion in the near future. If you decide to go ahead with it be sure to post your attic conversion job here and get up to 4 quotes from rated tradesmen.  Also, don't forget that only essential works can be carried out until the lockdown is lifted, see www.hse.ie for more details.
Cheers
Oliver Dempsey
9 May 2020
Here are some other articles that you might be interested in below:-
Attic Conversions: What You Need To Know
House Extension Cost Survey 2018
Attic Conversion Prices Survey 2017
Construction Work Safety in the Home
Safety Tips for Hiring a Tradesman
Considering An Attic Conversion? Read This First
7 Attic Conversion Ideas For Your Home
Do I need planning permission?
Will stricter building regulations improve building standards in Ireland?
Certifying my building or renovation
Construction Contracts, why are they needed?
Please note that the photo above is for illustration purposes only.