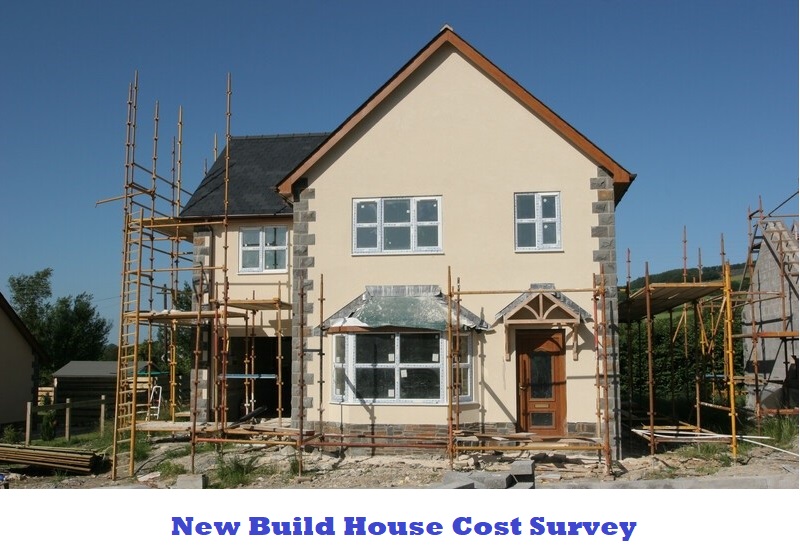 A while ago we carried out a new build house cost survey with some tradesmen on Tradesmen.ie. In our survey, the question was how much would it cost excluding VAT to build a 150 m2 new house ready to furnish? We also asked them for any hints or tips they would have in order to have the best experience.  We have included some of the responses below:-
Frank from Dublin: Say €2000 to €2500 /m2 is a realistic amount to be aiming for.  This could rise to €2800 /m2 and above depending on the level of finishes (hardwood timber flooring / tiles/ sanitary fittings & unitary/ electrical fixtures & fittings) kitchen type / mechanical installations (solar; air to water; HRV) BER rating being sought etc.
For a new build we recommend engaging a QS to do a bill of quantities or alternatively a schedule of works for pricing so one can compare like for like tenders received and reduce costly arguments further into the building process.
Anthony from Dublin: 2000 euro a square metre. Tip: The customers should take a look at previous work the builder has done
Pat from Dublin: 3800 a square metre for new build 3950 a square metres for extension 4000 for a square metre for renovation work
Daniel from Westmeath: Roughly €250,000
Ciaran from Wexford: Currently for this size of property would be in the region of 2000/ 2400 per square metre for standard  block cavity construction to current regs. My advice to the home builder is to employ Q.S and have a detailed tender package for pricing that way there will be less shocks and surprises, it also gives those builders quoting a realistic chance of pricing accurately and avoid unnecessary arguments at later stage in build as to what is included and what's is not.
Arthur from Kildare: Rough cost for new build would be 2500 ex vat per m2
Willie from Longford: I'm building house's at roughly 115-120 sq foot at the moment depending on the spec of the house ? windows,stone facing etc that's just a builders finish they'll have 20,000 to spend on also on engineers fees, solicitors, ESB,Water connections not to mention the cost of the site my advice to anyone building is if there not sure about the cost of building bring the drawings to a QS to revise they'll be up to date with the Rates
Tom from Kildare: 200000. Tips: Have drawing.. Have the money in place… Starting work in good weather.. Check builder out…
Sean from Galway: 150sq metre house would cost around 250,000 at todays costs. the builder will need a detailed specification in order to be able to price the job accurately.  Get the builder to provide references from previous houses that he built.  Stage payments are the standard method of payment for a new build.
John from Kilkenny: Budget build start at 1500 per metre 2.   I've just finished a home that was 167m2 @ 2,700.00 per m2. Tips : People need to engage with a good architect and relay the budget to the architect as I've priced more job for people that have got planning and realised they can't afford the cost to build it ! Get a QS before you put it out to tender so you know how much the build should cost and that you haven't got guys in there van pricing it on the back of a cigarette box, because it happens ! If someone 10 k or more cheaper than the other contractors there is a reason !
Sean from Cork: A rough estimate for 1600sq foot dormer type  house would be € 220000 a lot depends on the spec the client requires I would be including a air to water unit for this price  but not a heat recovery system. Payment would be on a stage payment system floor, wallplate level, roof,plastering, finish.
Ronan from Louth: The cost would be from €225000 to €300000 plus vat depending on the spec. My advice would be not to make changes for no reason after work has started.
James from Dublin: Guide price on new build €200,000- €220,000 , this is pending as there is many areas and hidden extra as costs varies in different counties In Ireland, also access to site etc. Client should have a good architect and stage payments put in place. Be careful when getting prices as a builder finish does not include painting , fire places kitchen etc , these are all extra , so when getting prices on new build make sure the builder clarify what he is doing for the client so there is no misunderstanding.
—————-
With the exceptional price inflation in materials this year, prices are out of date almost as soon as they have been committed to paper and builders are finding it increasingly difficult to stand over tender prices for extended periods.  Therefore, if you are planning a new build, you may wish to discuss price inflation mitigation measures with your builder before work commences.  The hope is that prices will ease a bit in the third and fourth quarters of 2022 but you'd need a crystal ball to work that one out:-)
I hope this helps some of you who are planning new build sometime in the future and if you decide to go ahead with it be sure to post your new build job here and get up to 4 quotes from rated tradesmen.
Cheers
Oliver Dempsey
Tradesmen.ie
12th December 2021
General Tips for hiring a tradesman
Here are some tips to consider when hiring a tradesman:-
1. Ask for phone numbers of references so that you can check them out
2. Check insurance of the tradesman where insurance is required
3. Hire a suitably qualified architect, building surveyor or building engineer if the job is anything to do with a new build, building renovation or extension
4. Agree on some sort of stage payments for the job. Remember that full payment should not be made until the job is complete and has been inspected by you, and if necessary by a certifier.
Here are some other articles that you might be interested in below:-
House Extensions – 12 Tips on Extending your Home
Do I need planning permission?
Certifying my building or renovation
Construction Contracts, why are they needed?
Attic Conversion Prices
Top 10 Tips to Building a Home