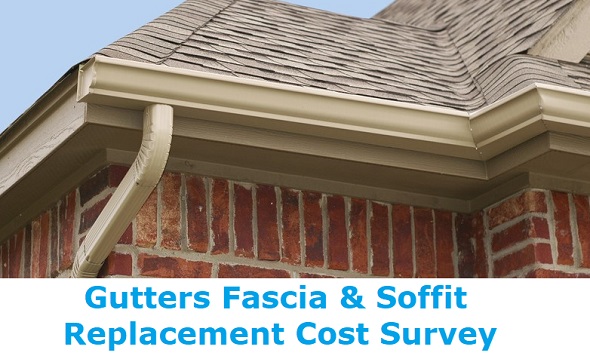 It is a good idea to regularly check that your gutters, fascia and soffit are in good condition.  Any issues identified should be repaired or replaced as they are important to protect the interior and exterior and foundation of your home.
Recently we carried out a survey with some tradesmen on our website to find out how much it would cost ex vat for materials and labour to replace old gutters, fascia & soffit on an average semi-detached 3 bedroom house. We also asked for any tips they had to get the best job done.  You can see a sample of the replies below:-
John from Dublin:  It would cost about €1,400.  Be sure to get references from the tradesman for previous work.
Pat from Dublin:   Strip existing gutters  repair damaged facia if necessary, supply and fit standard facia sofit and gutters, erect scaffolding and take down and dispose of debris standard 3 bed semi detached  6500 + vat.  If ral colour 7016 is required will cost 25 percent more.
Pat from Offaly:    Price for gutter facia and soffit ex vat  is about 1500 hundred labour  – materials extra depending on quality.
Malachy from Meath:  The average cost to supply and fit new gutters soffit fascia, on 3 bed semi detached house.  Would be approx €2,500 ex vat.  Advice  I would give, if they are old  wooden existing fascia soffits,  don't leave until rotten , as will cause more issues regards possible rafters getting penetrated.  And damaged with water ingress. Which will lead  to more cost to rectify.
Shane from Wexford:  Standard 3 bed semi detached around 1500 all in.  Replace rotten timbers take away rubbish  extension extra 250 at back also extra for porch 150.  Fascia soffitt gutters downpipes.  Black 10% extra.  Would advise against using  brown as its turns pink in the sun and is an unstable colour.  White  fascia /soffitt and black gutters downpipes looks well. Golden oak coloured fascia soffitt ect up to 3 or 4 times the cost.
Declan from Laois:  Depending on condition of existing timber under pvc Also access is also a factor EUR1600 -EUR1800
Edward from Dublin:  A rough idea for front back and gable end would be €1500
TImothy from Wicklow:  For a 3 bed semi to replace PVC gutter facia and soffit would be approx. €1400 Ex Vat materials and labour.  The biggest issue with these type of jobs is access for ladders around the house. There needs to be clear safe access to work from a ladder. The biggest issue with job posts I find are people that put their budget too low. Any decent trades person with insurance, tools and equipment cannot afford to get on to a roof for less than €200. Customers need to realise the cost of getting a proper job done by trustworthy trades that will stand over their work. There is nothing more expensive than cheap labour!
Kevin from Waterford:  The cost for white pvc over existing timber fascia and soffit is €2800 + vat.
James from Cork:  To have an average semi-detached house facial timbers replaced with new timbers new pvc facial boards new fossett and new gutters and new down pipe and remove all waste. from €1200 to €1500
Gareth from Dublin:  Total price for a semi detached house is €1200 plus vat for white and black, if coloured add €350.   Detached house is €1500 plus vat for white and black colour price extra €475 all work supply and fit
---
As you can see there is a wide variation on Gutters Fascia & Soffit Replacement costs.  It shows the importance of getting a number of quotes when planning your Gutters Fascia & Soffit Replacement and to make sure you are comparing like with like.  Be sure to ask does the price include or exclude VAT and does the price include or exclude disposal of the original installation.
I hope this helps some of you who are planning a Gutters Fascia & Soffit Replacement in the near future.  If you do decide to go ahead with the job you can get a number of quotes on Tradesmen.ie here.
Please continue to follow HSE guidelines when posting jobs on our website.
Cheers
Oliver Dempsey
Tradesmen.ie
16th January 2021