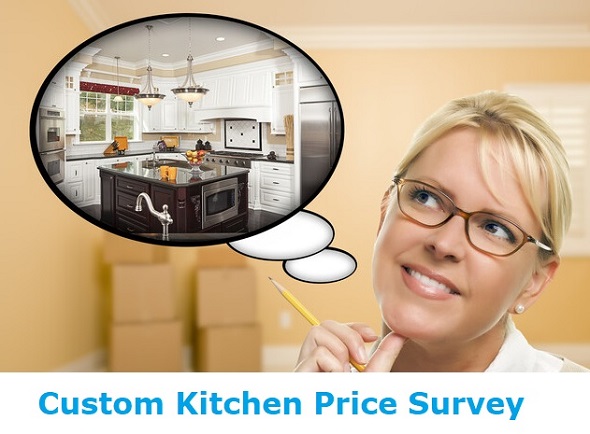 When renovating a kitchen or bedroom, a custom designed kitchen, wardrobe or shelving have the advantage that they can be built to fit the layout and design of your kitchen or bedroom to exact the dimensions. This means you are not restricted to cabinet sizes, providing you with limitless design options.
A while ago we did a survey on custom kitchen and custom wardrobe prices for our blog. We asked tradesmen how much including materials and labour would it cost per foot, excluding vat, to make 1. A custom fitted wardrobe and 2. A custom fitted kitchen. We also asked if they had any tips for the customer on having a good experience with the tradesman. We have attached a sample of the replies below:-
Stephen from Dublin: Wardrobe – €1000 p/ m completely finished. Kitchen €1,500 p/m for basic kitchen. Prices depend on what finish and detail the customer needs. Try to put as much detail as possible about the job onto the job post to give tradesmen an initial idea of what is required. Do some research before posting the job so that you have a fairly good knowledge of what it is you are looking for.
Justin from Kildare: the cost varies drastically depending on the spec we can fit wardrobes from €700 a meter to €1500 or more really depends on spec Kitchens very much the same.
Aaron from Kildare: Fitted wardrobe €150/200 pre foot. Kitchen €300/500 per foot . Price depends on specifications and finish required,
Martin from Dublin: The lowest price kitchens we would do would be about €2500 for a small kitchen and that includes units, doors, worktop, sink and taps, extractor and labour on top of that of about €800 which includes fitting the kitchen, all the measuring up ordering doors, doing 3D drawings and collecting doors etc. Plumbing, electrics tiling etc would be extra.
The higher end of our kitchens would be about €30000 to €40000 and all would be custom made with all the bells and whistles.  The average kitchen would be between €6000 and €15000 depending on the size of the kitchen space.
If you are going for your kitchen you need to keep in mind the cost of appliances which drive up the price of the kitchen. Hob, oven, fridge, dishwasher, washing machine, extractor are all considerable costs to be factored in.
For a 600mm wardrobe door it's between €90 and €250 depends the finish blend panels are around €100 each then add kickers and cornice, handles.   The wardrobe itself would be between €200 and €500 depending what's inside like drawers, shoe racks, shelves or just hanging spaces.
David from Dublin: An average kitchen to supply and fit about 2.5m x2.5 all mod cons new sink fan etc €4000
Fitted wardrobe a meter long made to measure €850.
Gerard from Louth: It's very hard to price as there are so many finish options. Here's one example – Wardrobe, white interior, grey exterior. All chipboard mfc cut and edged. So very plain clean lines etc. Included: shelf, hanging rail and a drawer.  Soft close hinges, Handles. Supplied and installed. € 650/ meter
Kitchen, White mfc carcass. Vinyl wrapped 5 piece doors at soft close hinges and drawers.
Handles. Quartz worktops. This is a medium to higher end kitchen.  Supplied and installed €2000/ meter.  Where at the budget end you could get a whole kitchen for that.
Because there is such vast options for finishes, fittings and budgets, it's good if a customer has in mind a idea of all three!  I ask customers to relay that info to me via WhatsApp messages and photos. Pictures of the room the job is going in and as good as can be got measurements of the area.  The job can be priced before a site visit.
Przemyslaw from Offaly: It can be assumed that a meter of kitchen costs from 1000 euro. This is the minimum price, for a basic kitchen. It all depends on the configuration, equipment and size
Damien from Dublin: I would suggest an average of perhaps 550 to 650 euro per 1000mm of fitted wardrobes. This price includes materials and fitting.
On fitted kitchens per 1000mm in length would be aprox 750 euro. These are very approximate prices as there are so many varibles, (removal and disposel of existing units, choice of door and worktops, sinks etc.
For customers I recommend they are comfortable with their contractor and the layout has been explained with any additions. Recommendations for the supplier are really a must if possible. My general rule is 33% of a deposit is required when I'm supplying materials and full payment on completion of the installation. Customers must be made aware that if they have any doubts about the person or contractor, they should not hand over a big deposit.
————–
I hope this helps some of you who are planning to get a new kitchen, wardrobe or custom furniture for your home.   And don't forget, if you are looking to get a custom/bespoke kitchen or wardrobe be sure to post your job at http://www.tradesmen.ie/trade/kitchens-fitted-furniture, put in a realistic budget based on the guidelines above and get a number of quotes from rated kitchen and fitted furniture specialists.
If you have any questions or comments please feel free to enter them in the comments box provided below.
Cheers
Oliver Dempsey
Tradesmen.ie
6th February 2021
Tips for hiring a tradesman
Here are some tips to consider when hiring a tradesman:-
1.    Ask for phone numbers of references so that you can check them out
2.    Check insurance of the tradesman where insurance is required
3.    Hire a suitably qualified architect, building surveyor or building engineer if the job is anything to do with a new build, building renovation or extension
4.    Agree on some sort of stage payments for the job. Remember that full payment should not be made until the job is complete and has been inspected by you, and if necessary by a certifier.
Other Price Surveys
Here are some other price surveys that you might be interested in below:-
Gutters Fascia & Soffit Replacement Cost Survey
Immersion Heater Replacement Price Comparison
Bathroom Renovation Cost Survey