Following the popularity of our recent post on upcycling, we contacted Joanne Condon of Kyle Lane in Clonmel with some questions. Not only is Joanne a master in upcycling, she also runs workshops, is bringing out a book and has provided demonstrations on RTE Today.
1. Joanne, I'd imagine people bring in their "mistakes" to you to rectify. What is the most common mistake people make when painting wooden furniture?
Some people don't invest enough time in the preparation work. There are paint manufacturers that claim you don't have to do any preparation work. However, it may be tiresome but it's the preparation that is key to the appearance of durability of the painted piece.
2. For someone thinking about upcyling a piece of furniture for the first time, what would you recommend as a good project?
Start with something small, like a little stool. View it just as a testing project. This will give you the confidence to work on a larger piece. Practice makes perfect so don't be too hard on yourself. Mistakes are made so that we can learn, so I would see a mistake as a good thing! When it's a small piece, it's not that big a job if you have to redo it.
3. Can upcycling be as simple as a coat of paint or does it mean changing the use of something e.g. from a coffee table into an upholstered seat?
Upcycling is giving something old, and otherwise disregarded, a new lease of life. It can be as little as a new coat of paint all the way to a big transformation, and it can come in many forms – not just furniture. Lots of people confuse restoration with upcycling. Restoration is bringing back an item to its original state.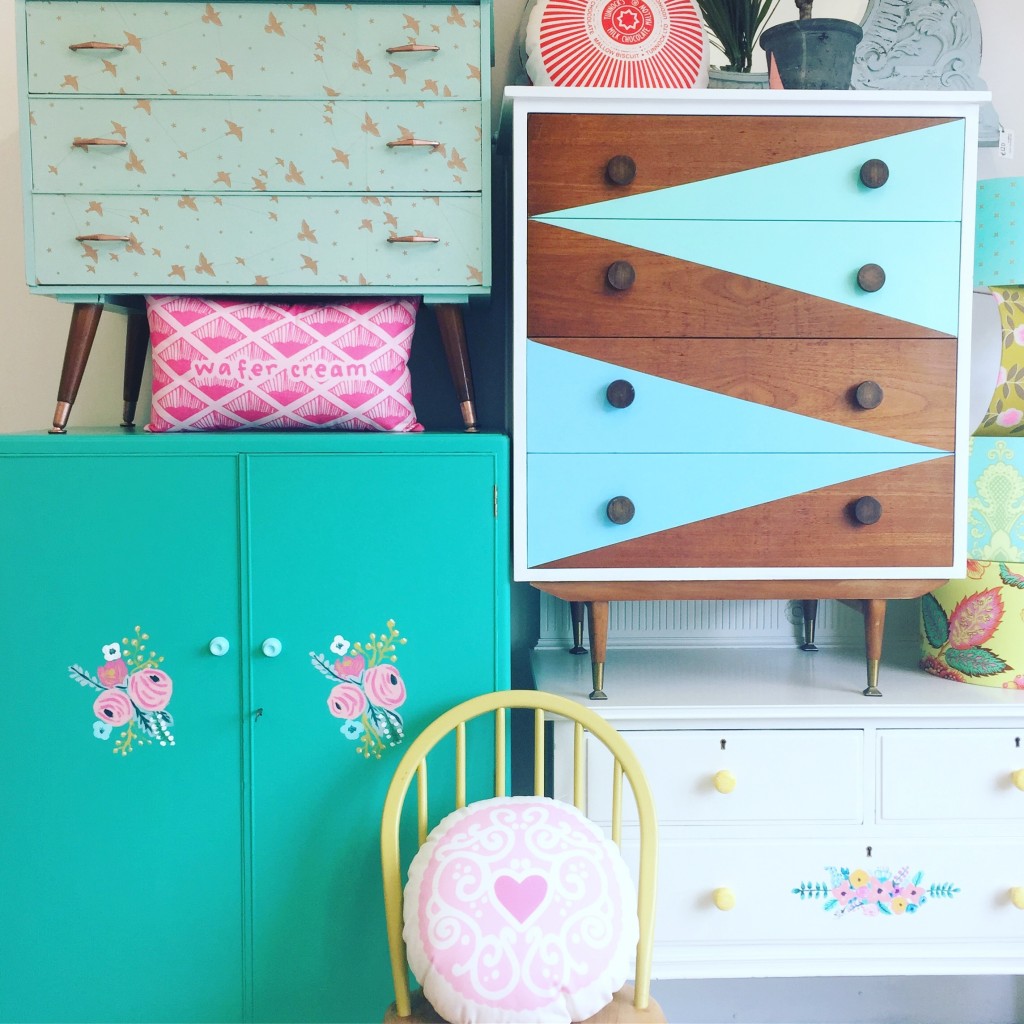 4. Why is upcycling so popular now or has it always been around?
Upcycling in my opinion has always been around, painting furniture was a done thing years ago, maybe not in the masses, but a painted chair wasn't something out of the ordinary.
The recession made people more aware of what they were spending their money on and reusing perfectly functional furniture that had become outdated or needed a facelift. Rather than buying something cheap and cheerful, people started to have fun giving furniture a new lease of life.
Furniture can carry so many memories and indeed, people are often sentimental about favourite pieces of furniture. By upcycling and perhaps painting it a bright colour to suit a modern interior, it can be a match made in heaven – and money saved into the bargain.
5. What are the three best tips for someone undertaking a project?
A) Always clean with sugar soap! (yes even if you don't think you need to).
B) Sand properly and leave time for each coat of paint to dry, rushing it can lead to uneven surfaces and more time being spent trying to smoothen out mistakes.
C) Choose your colour wisely, colour is everything!
6.   What is the most unusual thing that you have upcycled?
I recently turned an old butter box into a stool with storage, but I've changed the use of many pieces. Milk churns have become stools or pots for plants too – these can be real winners, changing from being something that is just decorative into being really useful.
7. How difficult / easy is it to choose the right fabrics and colours? Any tips?
I find choosing colours easy but I know some people find it difficult. Take your time and do a little research on colours and combinations. I think some people tend to panic and just choose a colour they might be unsure of and then they have to look at it for at least a year if not more! In terms of fabrics, it's important to consider the wear and tear it will get and let that determine the quality of fabric. Personally speaking, I would never get a fabric that I wasn't completely in love with.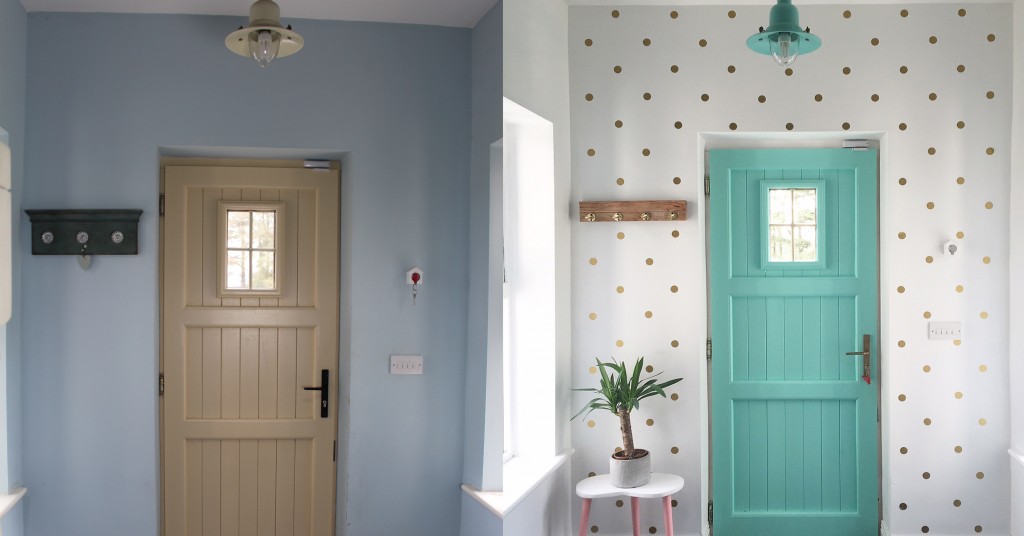 8. It sounds to me Joanne, as if particular fabrics spark off a fire inside you to get started on a project. Your before and after photos of the door show how a coat of paint can transform a space. For any readers wanting to get started, where can they source old furniture that they might like to upcycle?
Start off in your garage, I bet they will find some project in there that they have forgotten about. Auctions can be a great place to pick up a bargain. If you're nervous about bidding, attend one first and watch. Once the auctioneer sees your first bid, they keep checking with you until the item is finished.
Charity shops and car-boot sale are something I attend regularly and there are lot of second hand furniture shops. Old pieces of furniture can be transformed by paint.
9.Tell us about your next workshop and about your book too.
My next workshop is the Furniture Techniques workshop, where I teach every technique and you choose which one you would like to do on your piece. I love the workshops, there is always such a great atmosphere and participants are so enthusiastic.
My book 'Furniture Crush' is near completion, but I must admit it has been extremely challenging. Running a busy business and teaching workshops at the weekends, while writing, photographing and compiling a book together is no easy feat.  What started as a book with about 12 projects is turning into a Bible on everything you need to know about painting furniture. There are so many things I just can't leave out!  I couldn't be more excited though and it will literally have my heart and soul in there.
10. It sounds to me that many people find upcycling addictive. Is it so pleasurable that people keep going and are happiest with a paintbrush in their hand?
Upcycling is so addictive. I paint all day, everyday and I absolutely love it! Yes, even on my day off I find it hard to step away from a paint brush. Not only is it somewhat therapeutic but seeing the transformation is so satisfying that you want to do it again and again!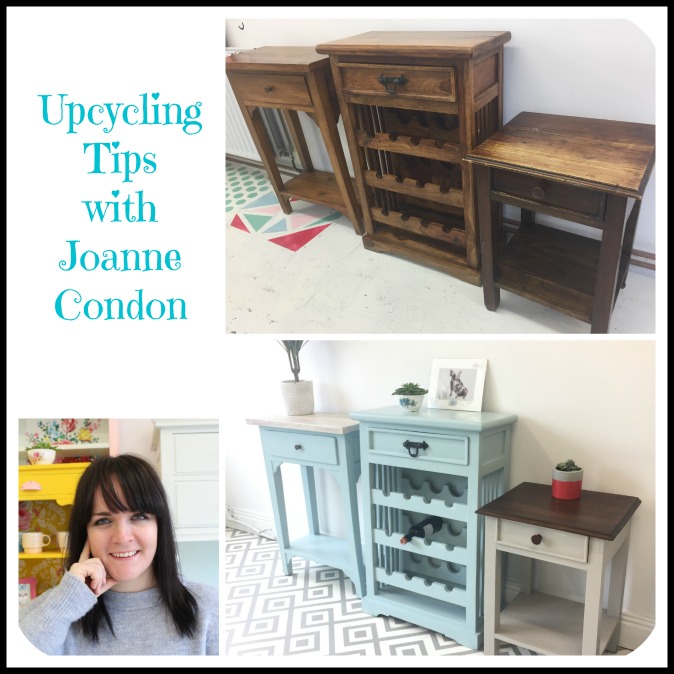 Thank you to Joanne for answering our questions and we love the photos of some of her projects. We hope these enthuse you to start a project of your own.  If you need a lesson, then do check out Joanne's upcoming workshops or if you're too busy to do it yourself just post a job and get a number of quotes on Tradesmen.ie🙂