There's something very special about seeing salvaged or upcycled pieces in the home. Not only does the item have a new lease of life but it is often being used in a different way to which it was first intended. These pieces give homes personality and interest. In this post I'm going to share a few of my favourite Pinterest salvaged or upcycled finds, ending with some top tips on how to upcycle your own pieces.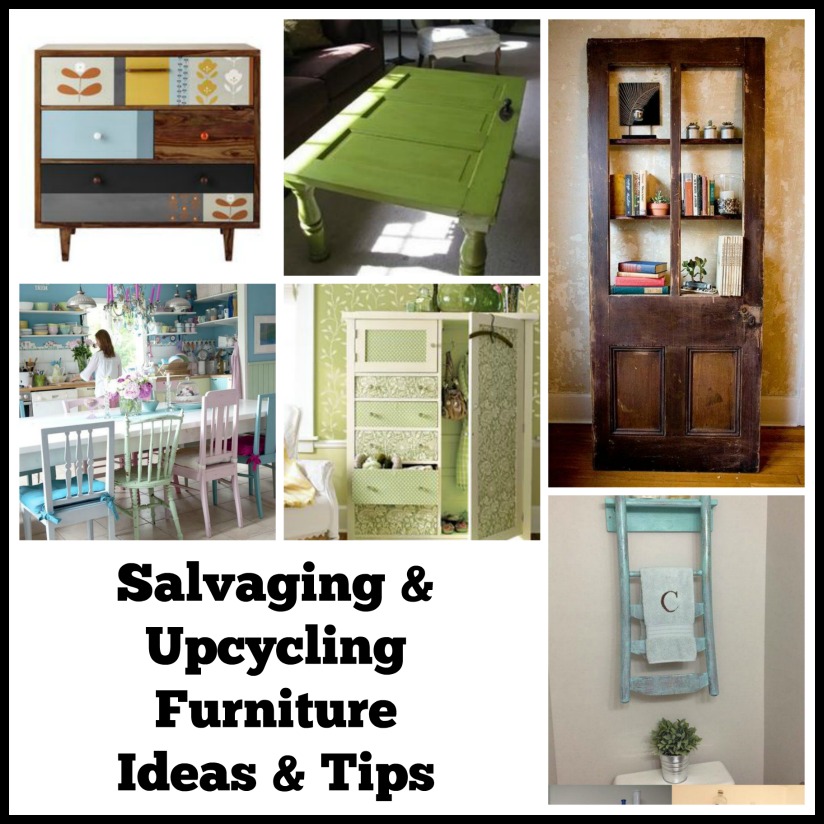 While the evenings are dark, clear out some space in the garage, shed or a not-used-much room and experiment with a small piece first, such as a wooden chair or a picture frame.
Window Love
You know the expression "one man's trash is another's treasure".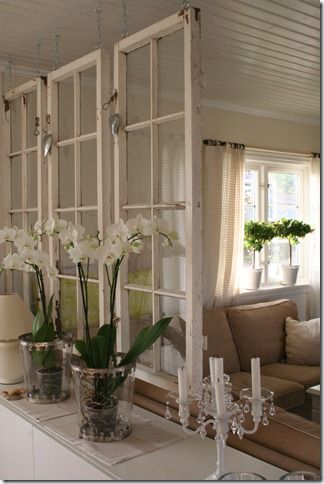 Old windows like these, be they making way for replacements or removed before a house was knocked, create a pretty divider between kitchen and living areas – and yet, don't divide the space at all. A nice way to act character too.
Door Love
Old doors can be used in a variety of ways – indeed, the more imaginative, the better for making a conversation piece.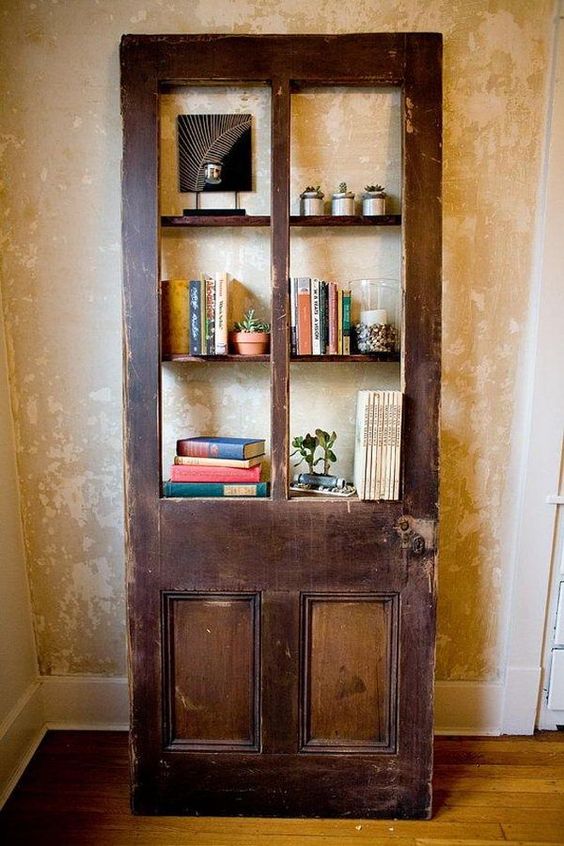 Like in the example above, the panels can be cut out with shelves placed behind or in front of the door to store books and display decorative items. It can be as simple then as propping the door against the wall and securing it with brackets.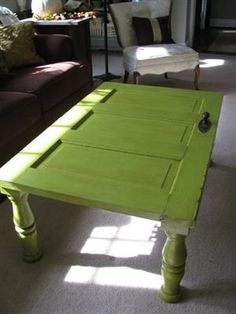 Another fun and practical way of reusing an old door and some old table legs is to put them together and combine them to create a coffee table like this one.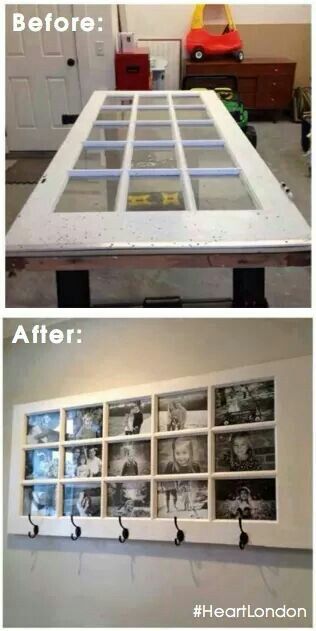 This is my last idea for re-using a door and I love it. By painting it, placing a photograph in each frame, and adding coat hooks, this door has been transformed. Not only is it a practical piece in a hallway, it's a joy to look at.
Table Transformation
I'm sure you're familiar with the wooden (often mahogany) nest of tables set like this one?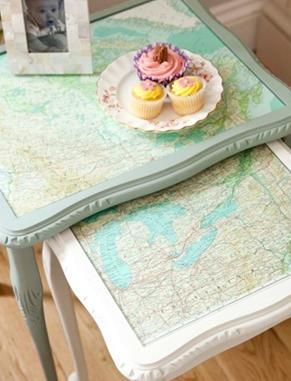 If you'd have one similar and would like to revamp them, paint them first and then using decoupage to create a collage or putting a single image like this map within the insert, and you have a transformation. Finish off with two coats of water-based varnish to protect them.
Bedroom Revamp
Are you bored with your chest of drawers? All you need is some paint and some wallpaper – you could even use wallpaper samples or if you have a friend with a gorgeous wallpaper in a room, ask if they have a small amount left for you to have.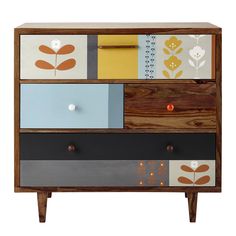 The chest of drawers above has a really elegant retro shape and finish. The leaf motifs aren't fussy yet add plenty of interest. Again, these will need to be protected with varnish to prevent the wallpaper fraying at the edges or becoming scratched.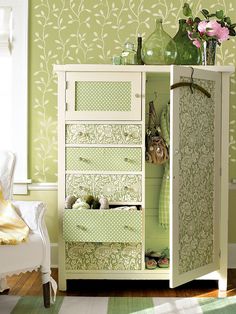 This wardrobe looks so attractive with wallpapers in greens but all different designs. Customising your own furniture really allows you to put your own stamp on it.
Chair Love
Don't throw away any chairs that have seen better days. Even adding a coat of paint can transform a kitchen or hall chair.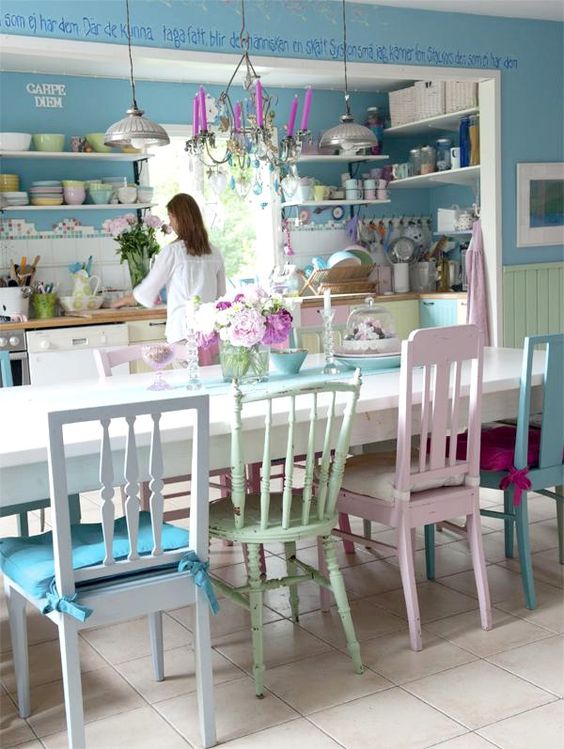 This kitchen boasts kitchen chairs in different styles and colours which really adds fun.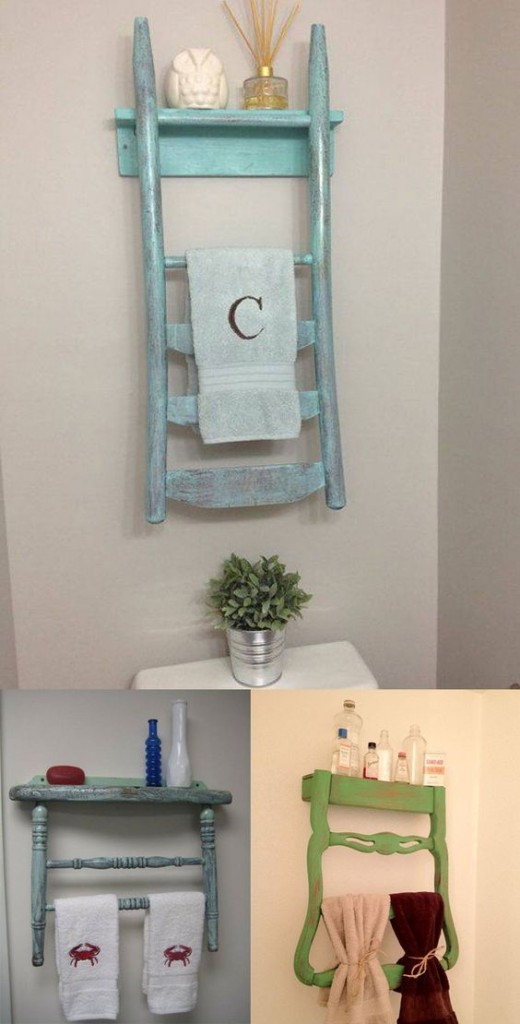 If a chair is broken, consider turning it into an unusual shelf like one of these. So clever.
Upcycling Tips
If you're thinking that you'd like to attempt some upcycling, here's a few instructions for the basics:
1. Start on something small and manageable, for example, a kitchen chair or a small coffee table.
2. Depending on the condition, it may require washing with sugarsoap or a quick sand down with a fine sandpaper.
3. Paint it with a coat of primer – this prevents the wood leaking through the paint.
4. Paint it with two coats of paint, using a good quality small brush (about one inch in size). Chalk paints such as Annie Sloan paints are very popular and just require a wax to protect them.
5. If you would like to varnish the piece to protect it, remember that some varnishes will leave a yellowish tint so check that with the paint shop. Water-based varnishes should be fine.
If you'd like to attend an upcycling workshop, there are many around the country and all of these have wonderful examples on their websites.
Kyle Lane in Clonmel runs a variety of workshops frequently.
Annie Sloan chalk paint workshops in  Twenty-Six, Nenagh.
Joanne Fennell's shop Island Living in Dublin 4.
We hope this gives you plenty of food for thought and inspires you to make a start on a piece. I have earmarked a wooden dresser and a 1950s display unit so I'll share photographs once they are completed.
If you like the idea of upcycling some of your old pieces but don't have time, don't worry, you can post a job on Tradesmen.ie and get up to 4 quotes from rated carpenters or handymen🙂