Summer is on its way and with the Easter Monday and a May bank holiday coming up, it's the perfect time to plan and create a space for outdoor eating. When we do get good weather in Ireland (and let's face it, we have to grab the chance to enjoy it when it does happen) it's lovely to be able to make the most of it by enjoying a cuppa outside or even creating a dining area within the garden. The right dining space outside gives you another room in your home really.
1. Position
First thing to explore is the best space for the eating area and this involves a few different points. Facing south /east will give you morning sun whereas facing west will provide heat in the evenings as well as the enjoyment of watching the sun set. However, if it's a hot spot, bear in mind that you might need some shade from a large parasol. You can create dappled shade with planting across wooden beams or a pergola (like in the photo below) which makes for a relaxed atmosphere.
You may be limited by choice depending on the size of your garden but position the eating area in a space where you'll use it most – be it morning or evening.
2. Privacy
Privacy may be another consideration – is there a spot at the end of the garden that would provide more privacy that one located just outside the back of the house?
3. Access
Proximity to the kitchen is also an issue. If you have to walk through a utility and out the back door and down to the end of the garden, will that put you off making the effort to enjoy a meal outside? If that is the case, then a patio or deck just outside the kitchen accessed via a sliding door is ideal. If you haven't got a glass sliding door there as yet, now is the time to get it done before the summer.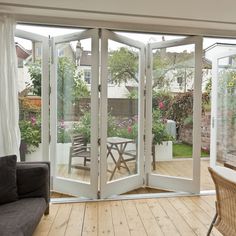 These sliding doors are impressive and by opening in a concertina style, can be pushed back by the wall, thereby really opening up the space between indoor and outdoor.
An alternative to a sliding or patio doors is this window that opens wide to provide a "bar" type space for eating a snack, lunch or dinner.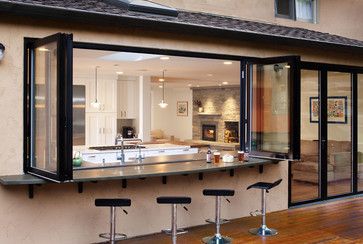 Just bear in mind that people will be sitting looking into the kitchen rather than looking at the garden which should be more restful.
4. Size
Mark out the size of the table and chairs on the ground remembering that you'll need a generous allowance of space around the chairs for when people stand up and they are pushed back. Do you want the barbecue to be on the deck or patio too? What about a small play area to the side for young children? Get the size right now as feeling cramped for space afterwards can be annoying.
5. Materials
Do you want to be spending every spring and autumn painting garden furniture or do you want something that just requires a wipe down? For low maintenance, opt for high quality teak or powder coated steel. Plastic chairs are another option but do become scratched in time. Remember that hard chairs may need cushions which adds the chore of bringing them in and out daily not to mention storing them somewhere every evening.
Getting chairs that stack on top of each other is a good idea, especially if you occasionally have extra visitors arriving.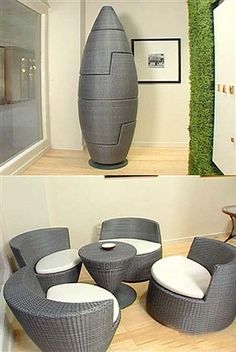 This stackable coffee table and four chairs caught my eye on Pinterest – doesn't it make an interesting structure when they are stacked?
6. Lighting
If you're going to be sitting out in the evenings, then lighting (dim or bright) is important for atmosphere, for seeing what you are eating, for reading, and to prevent falls. You and your visitors need to be able to see where they are walking. You could install outdoor lighting on the wall of your house, string fairy lights on garden trees or place tall candles on the tables.
Even stringing lights across the table from a pole either side will work. Do check that all lights are suitable for outdoor use.
Remember that the midges come out in the evenings too so either wear midget repellant or buy some citronella candles.
Here's hoping for some beautiful weather this summer and if you require some building work done, new doors, or some bespoke furniture made, do look for a quote from rated tradesmen on our website.