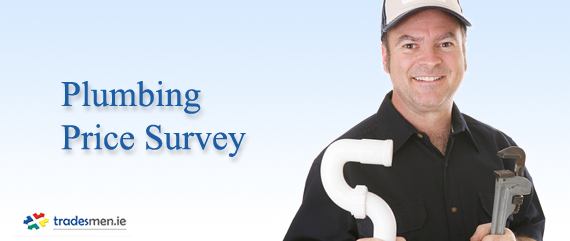 Hi folks,
recently we carried out a plumbing price survey. We asked some plumbers on our website to what they charge for a callout fee and what is their hourly rate. Here is a selection of the replies we got below:-
Mark from Bettystown: My own rates are e70+VAT 13.5% for call out which covers 1st hour on job.
Michael from Leixlip: e80 euro call includes first hour.. e45 an hr after that
Jamie from Drogheda: Call out e70.. Hourly e40
Ian from Ballinasloe: I charge ¬70 for a call out and am currently charging ¬35 per hour
Sydney from St Margarets: No call out, e75 +VAT an hour for the first hour up to 5 o'clock
Fergus from Dunleer: I usually charge approximately 50 Euro for call out including the first hour I'm working there.
Derek from Lucan: 65euro for a job hourly rate 30 euro
Tom from Mullingar: About e80.00. Hourly rate depends on how many hours and distance travelled e30- e40
Noel from Kimmage: I personally charge 80 euro for a call out fee. Then 40 euro per hour but depends on job .
Pat from Tallaght: Callout e65
Jack from Churchtown: 50 to 60 call out.45 per hour after that.
David from Galway: Service is available 24/7.  Prices vary from €30 to €100 per hour depending on time of day and day of week.
Kieran from Swords: I don't charge for a call out usually 60 euro for the first hour
The majority of plumbers in Dublin were quoting a fee for calling out (which included the first hour) of between €60 and €80 and an hourly rate thereafter of €35 to €45 per hour.   The callout charges were similar outside of Dublin with hourly rates ranging from €30 to €40 per hour.
I hope this helps some of you who are interested in getting some plumbing done in the near future whether it's a repair or maintenance of an existing installation or a new installation. If you do decide to go ahead with your plumbing job you can get a number of quotes from rated plumbers by posting your job in our plumbers section here
If you have any other comments or suggestions please feel free to comment below
Cheers
Oliver Dempsey
Tradesmen.ie
21st January 2017
Here are some other articles that you might be interested in below:-
Wall & Floor Tiling Price Survey
Electric Gates Options and Prices – Survey
Driveway Surface Options and Prices
Conservatory and Sunroom Prices
Custom Kitchen and Custom Wardrobe Costs
Gutters Fascia & Soffit Replacement Cost Survey