Recently we carried out a quick survey of bathroom renovation costs from tradesmen listed on our site.  Firstly, let's have a look at why you would want to renovate your bathroom.  Well, there are a number of reasons why you might like to consider a bathroom renovation including the following:-
Increased functionality: A bathroom renovation can improve the layout and functionality of the space, making it more convenient and user-friendly.
Increased value: A well-designed and well-executed bathroom renovation can increase the value of a home.
Energy savings: Upgrading to energy-efficient fixtures and appliances can help to reduce energy consumption and lower utility bills.
Improved aesthetics: A bathroom renovation allows for a fresh new look, and the opportunity to incorporate your personal style and design preferences.
Improved accessibility: Renovations can be done to make the bathroom more accessible for people with disabilities or mobility issues.
Correcting a problem: For example, correcting issues with dampness or water leakage.
In our survey, we asked our tradesmen, how much it would cost to renovate a 30sq m bathroom (tiling, plumbing and electrics). We also asked if there were any tips they could give to get the best job done.
Here is a sample of the replies we received below:-
Brian from Dublin: For stripping of bath sink and toilet, plus tiles, fitting of new toilet sink and shower and re-tile would cost 3000 euros labour. I would strip all fittings and tiles including bath, replace all with shower for 2600euros labour.
Tom from Kildare: 8,000..minimum any bathroom refurbishment. Tips: eliminate all pipe from visible view…contrast one wall differently to other 3 walls…floor different colors. So don't just change sanitary wear…you need to completely refurbishment of bathroom..no cutting corners.
Esad from Dublin: For a 30m² bathroom you're looking at €6,000 labour only. Tips: the only thing I could say to them is that anyone can come and put tiles on a wall but to make sure that all the old stuff is gone from the walls first, new boards up and that bathroom is fully prepped that way they will be much happier in the long run
Gareth from Dublin: Labour cost on a bathroom renovation will cost you about €1500 for a first and second fix plumbing. Electrical work will cost about €500, tiling work will cost about €700, floor and full walls plastering ceilings €300. Tradesmen to strip out old bathroom and fill a skip €600. So in terms of full cost it will be labour only €3600 to €4000 should cover it.
Pat from Mayo: A 30sq/m bathroom would cost in the region 7-8k for labour only… tip:check what your walls are like behind tiles wall maybe rotted wet or mouldy.
Ionut from Dublin: For a 30 square meters bathroom renovation labour cost would be around 2100 – 4200 this it depends on the tile size and condition of the bathroom like if the walls are damaged or any water damage. Price includes : new plasterboard, tanking, tile fitting , installation of all sanitary like sink . toilet shower tray new underlying for the tiles plumbing works and painting for the rest of the un tiled area like ceiling.
Dave from Donegal: Roughly it would cost €9570 but depending on tile quality, fixtures and fittings. That could change depending on finishes required by client.  All materials should be supplied by client or deposit paid upfront for builder to purchase materials. I charge costs plus 20% for labour and client pays for materials.
Cillian from Wicklow: For a job that size, a tiler would be looking for around €1,500.  From the plumbers end, if it was a WC, WHB and shower tray/doors and shower controls, he or she could be looking for between €1000 and €2000. But in advance of all of that, the bathroom would need to be stripped of all of its original fittings and tiles etc, .walls may need to be re boarded with new plasterboard, and floors prepared. So between a Carpenter and a good  labourer, you'd probably be looking at around another €1,500. Pre-Covid costs for an electrician was around €140 per point, which I'm guessing in this environment could quite easily be around €180 per point, and you might have 3-5 points. So a quick guideline for the electrician would be around €900, but I'd suspect that figure to be higher. Probably no harm for the customer and tiler to liaise with each other at the start, to discuss layout of tiles as all jobs and tiles vary, What inspired "Mary" to makeover her bathroom because she had seen her friends house done, need not necessarily mean that her job will be a carbon copy.  Mary's bathroom may be a fraction big or smaller than her friends, and even if she used the same sized tile, the lack of advance thinking and planning may only spell disaster.
Andrew from Kilkenny: For a bathroom that size you are looking at between €4500 – 6500k labour only, depending on size of tiles and spec on what else is going in to it, etc. When considering a bathroom renovation, clients should draw out a few sketches and have a good idea of what they are looking for, eg rad/towel rail location, weather a large shower would be more suitable than putting in a bath, and definitely have a good idea of tile option and size.
Eddie from Dublin: For a rip out and skip probably about €1000.  All other labour , plumber , electrician, tiler about another € 3500 to €4000. Any building work like joisting repairs and plaster boarding a d tanking are covered as well . Usually end up at the €8500 to €10k mark for a good quality job with branded fixtures. As regards tips , make sure your builder is insured, get a layout drawing if you can and be sure that you get the right fixtures, tiles etc. No builder should have a problem if you retain 20% till the job is finished. Just be clear what you require and make sure they are well recommend.
Sean from Galway: The costs can vary wildly with bathroom renovations and no two are the same.  Expect 5,000 to 8,000.  Tips: Give a clear indication to the builder of what you are looking for and as usual always get references of the builders previous work.
Frandes from Dublin: For a bathroom that size my labour cost including tiling is around 3000 euro including tiling. , which is emptying the bathroom, re organising the utilities, installing the new bathroom appliances, and tiling the bathroom. This is only labour price, the customer has to buy the sanitary ware he wants and needs. I only take out the old sanitary ware , the old floors and tiles and walls , replace the wall plaster and floor. Tip: I think everybody should do his home work regarding their own bathroom as everybody is different.
Michael from Donegal: Rough Idea labour.
1.Demo of bath/sink/toilet
Insurance wise plumber to disconnect items cap lines for re-use or evaluate if re-usable, allow a day maybe less if work priced at same time they may look for time and materials as you never know what you find when you start opening things up.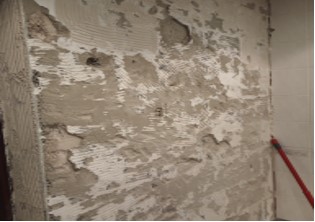 2.Tearing out tile could be tiler or tilers labourer, or builder chipping out tile can leave a mess depending on surface.  Attached photo of bock sand and cement with tile chipped off causing the plater to come away from block and plasterboard.  Allow at least 1-2 days for 1-2 people.
3.Removing shower tray will probably require removal of plasterboard if present, mould issues, if plywood under tile, chances are all could need replacing.  Chippy a day if materials on site or closely available, could stretch to 2 days if having to return to cut out and replace with new.
With all going well, will have to get plumber back in to complete 1st fix, chippy to button up.
5.Depending on approach of using moisture resistant plasterboard, plastering it or just applying tanking kit.  As you can see from attached photo walls get beat up having to chip wall and floor.  Both floor and wall prep could be needed, self level flooring compound or dot and dab plasterboard.  Making sure the wall surface is in good shape to make the tiling come out right.
The photo wall we plan to put insulated plasterboard as north facing cavity wall, saving time trying to get sand and cement corrected.
6.Electrics will depend if your moving items or changing lighting ceiling plan, replacing the electric shaving point, changing fan adding a separate turn off switch for fan for sleeping.  You can look at the bathroom and think it is a relatively small room, but generally the following above disciplines will have to get in to accomplish all the different tasks, along with all protection for chipping off the tile which can be very dusty even with precautions dust settles slowly, you could hire someone to do all tasks, but your insurance company will expect a plumber does their own work in case of mains pressure water in bathroom not capped properly, can cause massive damage to a house and even more to apartments' below you.                                         COSTS:                                                                                                                                        Plumber allow 300-500 demo prep for new install
Chippy make good water damaged areas 200.
Tiler 300-500, depending on layout, type porcelaine/marble different s rates for tile.
Painter 160 if small bath one day painting."
Dan from Dublin: A bathroom full renovation excluding tiles, sink taps shower tray/bath toilet and accessories, labour including builder, plumbing, electrical and tiling materials, could cost between €5000 and over, depending on the bathroom size, what kind of pipe work has to be done (pipe rearrangement) and so on are lots of details which can affect the cost but yes, the cost of labour + building materials can be between €5000 and can reach up to €10000
Denis from Kildare: Normally I would charge and between €3000 to €5,000 to fit a bathroom plus sanitary ware as I've never really done labour only for bathroom for 30m² bathroom tiling plumbing shower/etc would cost around €12000 once there is no major structural work carried out
———
Thanks to the tradesmen who responded to our survey, there were some really detailed responses and some excellent advice provided.  I hope it helps some of you who are planning to renovate your bathroom and if you decide to go ahead with it you can get a number of bathroom renovation quotes here .
Cheers
Oliver Dempsey
Tradesmen.ie
23 January 2023
General Tips for hiring a tradesman
Here are some tips to consider when hiring a tradesman:-
1. Ask for phone numbers of references so that you can check them out
2. Check insurance of the tradesman where insurance is required
3. Hire a suitably qualified architect, building surveyor or building engineer if the job is anything to do with a new build, building renovation or extension
4. Agree on some sort of stage payments for the job. Remember that full payment should not be made until the job is complete and has been inspected by you, and if necessary by a certifier.
P.S. Bathroom photo is for illustration purposes only