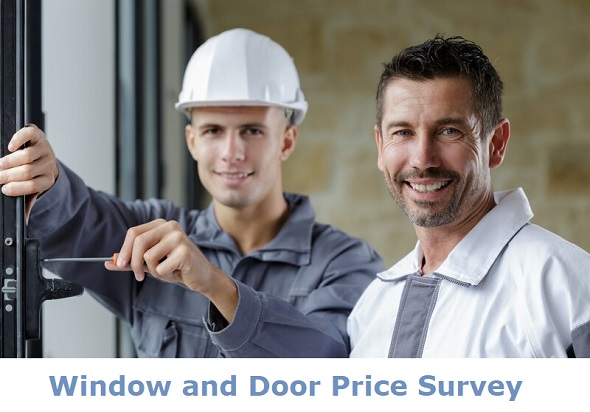 Recently we carried out a quick window and door prices survey with some window companies on Tradesmen.ie.  They were asked to price 2 external pvc doors, front and back and 7 average size pvc windows.  All windows to have a u-value* of 1.3.  Here are some of the replies we got below:-
Craig from Dublin: I would expect to be charging around the €6k mark for white Upvc doors and windows. Triple glazing or any additional features would be extra on top.  I would always tell my customers where products are from and what ratings they have if they wish to request that information.
Shane from Wexford: Prices for front single pvc door would be 1300 / pvc single back door  white 950 / 7 windows  white triple glazed needed for 1.3 would be average of 550 each. If back door is french it would be 1500 or same for a patio door. Vat and fitting inc. I would recommend checking out references from other customers from tradesmen.
Gareth from Dublin: Pvc front door standard supply and fit €1000 to €1200.  Composit front door from €1800 to €2500.  Pvc french doors back of house €1400 standard.  Single door €800.  All supply and fit.   The average window for a house start for standard from €300 to €500 per window
Tom from Dublin: There are many different types of Windows and doors for example a pvc window is about 600 euro, timber sash Windows 2000 euro up.
Derek from Louth: To supply and fit 7 white uPvc windows u value 1.3 double glazed two uPvc doors EUR5500+VAT 13.5%
Sean from Galway:  To replace 7 windows and standard back door and front door, expect to pay between 9,000 to 10,000 minimum, supplied and fitted
Marcus from Tipperary:  An average price on a palladio composite front door and frame with colour on the outside/white inside fitted @ €1,750 inc vat.  Back door and frame @ €1550 to €1,600.  Window in white pvc double glazed 4 x 3ft wide @ average €550
—————–
As you can see there is a wide variation on window and door prices with prices ranging from €5,500+ VAT to €10,000.  It shows the importance of getting a number of quotes when planning your window replacement job and to make sure you are comparing like with like, especially in relation to u-value.  Be sure to ask does the price include or exclude VAT, does the price include or exclude disposal of the original windows and doors and does it include fixing the plaster and making good around the reveals.
I hope this helps some of you who are planning to replace your windows and doors in the near future.  If you do decide to go ahead with your window and door replacement job you can get a number of quotes on Tradesmen.ie here.
Cheers
Oliver Dempsey
Tradesmen.ie
19th December 2020