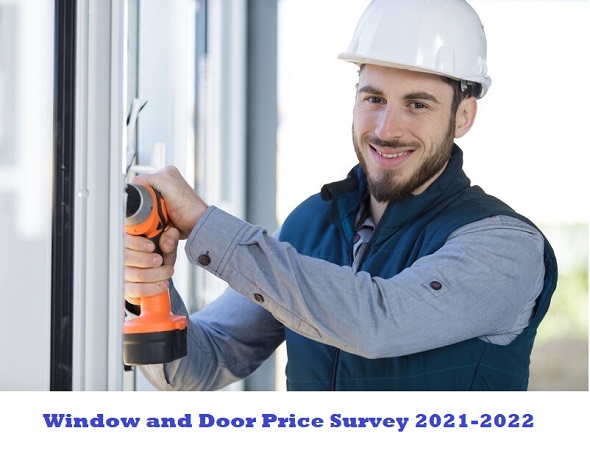 Recently we carried out a quick window and door prices survey with some window companies on Tradesmen.ie.  They were asked to price 2 external pvc doors, front and back and 7 average size pvc windows.  All windows to have a u-value* of 1.3.  We also asked them for some tips on getting the best job done.  Here are some of the replies we got below:-
Shane from Wexford: Single composite doors 2200/ door and 1 side screen 2700 / centered door 3200. French doors or patios now costing 1800 white /2k colour. Average window1200x1200 around 550 in white 25% extra colour. All double glazing prices extra 15% for triple. No double glazing windows are under 1.4 u value you need triple to get down to 0.8 or 1.0 u value Big price increase across the boards in the window game since reopen unfortunately.  Pick your supplier carefully.  We don't ask for any deposit up front it gives the customer reassurance during this difficult times.
Noel from Kildare: Composite door supply and bit EUR3500. French door supply & fit EUR1800. Average windows supply & fit EUR700.
Gareth from Dublin: If I was doing a house with 7 windows supply and fit it would cost about €3,500. If we are doing a front pvc door supply and fit about €1300 and the back french door about €1800 to €2000.  With the recent price increase on material it could be a little more.
Ciaran from Wexford: The rough cost of supply and fit "A" rated windows and doors in white Pvc would be as follows:- Single door no side lights 950-1700. Double french door 2200-2700. 600×900 (bathroom or en-suite window)360-500. 1200×1200 (kitchen window) 460-900. 1200×1800 (bedroom windows) 650 -1800. All above double glazed  to upgrade to triple glazed plus15-20%. Please note depending on colour number of openings etc prices would increase accordingly.
Alan from Louth: This is rough prices we charge using good quality replacement parts and warm edge replacement glass that can reach u value as low as 1.0.  Our standard replacement glass is same as found in new windows.  Prices plus VAT.  We can also arrange windows to be painted with 10 year guarantee.  Front door . Realign so opens / closes smoothly,  new mechanism,  new handle.  €220.  Sliding door. New rollers , new handle , new toughened glass. €830 or French Door. New handle , new mechanism,  realign so open / close smoothly.  New toughened glass. €880.  Average window of house (7).  New hinges to stop draughts.  New handle and locking mechanism.  New glass. €3600.
Alexandru from Dublin: Based on a recent quote we had and the exact amount you are looking for, of PVC white double-glazed windows, front composite two sidelights and a French back door, supply and install, in total 9,830euro-incl.VAT
A great job starts with customer service, communication, value to details, quality products, punctuality, teamwork and ends with quality installation, warranties, certification and of course follow-up.  This is what we believe  – a great job has been done."
Roman from Dublin: Rough price for 7 windows and 2 doors would be  about € 6800 supplied and installed, that would include pvc window boards, disposal of old windows as well.
Aidan from Louth: It is hard to give an average price because different styles etc will shift the prices up or down.  I have priced a job in Castlemartin,  Bettystown for 8 windows, Grey on white colour.  Price was €4,800.  Approx    €4,300 for the same job in white.  A back Pvc door in white would be approx €900.  A coloured door approx  €1,100.  Single composite doors start around €1,900.  Composite front doors vary in price, from €1,900 for a single.  €2,400 with 1 sidelight.  €2,650  with 2 sidelights.
Michael from Dublin:  €6500  to €7000.  You would probably get triple glaze for that with munster joinery.  People should insulate the external walls on the inside when doing the windows.
Patrick from Cork: There are so many things to take into consideration, for example. (1) Window colour. (2) what type of opening sashs. (3) what type of glass. (4) what type of locking system for the doors. (5) fitted or unfitted. (6) are they for an old house or a new house etc, there are a lot of questions to be asked. I guess by the 7 windows plus front and back door, you are talking about a 3 bed semi or similar. Very rough price Around 3,500 to 4000 euro. If fitted you pay 13.5% vat if unfitted you pay 23% vat.
————
I hope this helps some of you who are planning to replace your windows and doors in the near future.  If you do decide to go ahead with your window and door replacement job you can get a number of quotes on Tradesmen.ie here*
Cheers
Oliver Dempsey
Tradesmen.ie
18th December 2021
*At Tradesmen.ie, we are continuing to provide our service within the restrictions that apply. Please check the Government Covid guidelines before carrying out any work in your home.