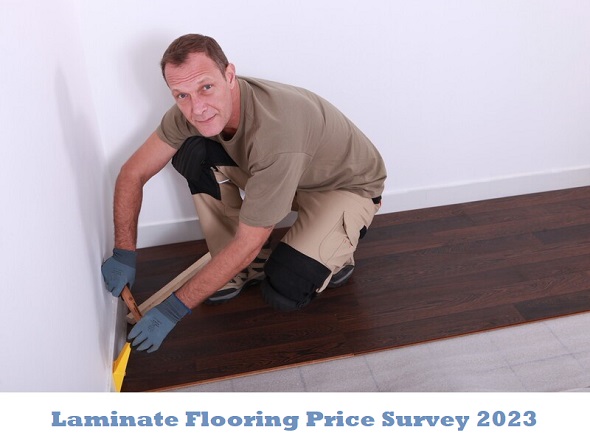 Laminate flooring has earned its place as a popular flooring option. Its exceptional durability is attributed to a robust outer layer and a resilient resin coating. Compared to solid hardwood, vinyl, or carpet, laminate floors boast superior strength, enhanced resistance to scratches and impacts, and an extended lifespan.
Recently we carried out a quick price survey among some tradesmen who are registered on our website. We asked them to give a rough price to fit a laminate wooden floor. In addition to this, we asked if they had any tips for getting the best job done. We have attached a sample of the replies we received below:-
Martin from Dublin: I charge €17 + vat per square meter for laminate flooring and more for herringbone laminate and engineered floors. skirting would be extra on top of the sq meter price.  most trademen can get trade prices on floors so ask before they buy the floors and get advice from people who lay them.
Conor from Dublin: Laying straight laminate boards – 10-11 euro per sqm. laying laminate herringbone – 30-33 euro per sqm. laying laminate herringbone – 30-33 euro per sqm. stripping old floor – depending on how much can range from 100-250 euro. When they are measuring always go with sqm and add 15% for waste if they are supplying materials. Generally the pricing for a decent floor always go with 8mm thick or above as anything below isn't good quality.   Herringbone floor can cost anywhere from 25-35 euro per pack and straight boards anywhere from 15-30 euro per 2sqm (per pack).
Paul from Wexford: Cost to lay laminate comes in between €12.50 and €15 depending on size of area.
Ronan from Wexford: 12-15 euro a square meter for flooring.  Customers should give sizes of rooms on the job post.
Brian from Kildare: Guideline price for fitting laminate flooring €10-€12 per square meter ex-vat.  There can be extra cost involved depending on the job at hand.  Does the customer want the skirting refitted?  Have they got old flooring still down that they need lifted and taken away?  If the fitter provides this service they need to provide as much detail about the job that needs to be completed.  Get the fitter to call out to the job prior to giving a final quote.  Depending on the job itself there can be different costs involved.
Tom from Kildare: 20 euros per sq metre Level floor first…. and use good underlay….
Erik from Dublin: price for the fit only standard laminate flooring labour start from €15 per 1m2.  If only fit one room it can be €25 – €30 per 1m2.  Laminate flooring herringbone start from €30 per 1m2.  Engineering floor start from €25 per 1m2 it depending from the styling option.
Gary from Dublin: Laminate flooring costs to fit between 10e to 25e per m2 Depending on the thickness and style ie herringbone costs 25 to fit. Most registered contractors like to supply and fit. The vat is lower this way ie 13.5,%.  And the contractor is responsible for the materials  on the job and his own time. There's nothing worse than being short material when the client is supplying  as it usually is. The contractor will not be paid to go back to finish job because the customer  didn't get enough materials .
Andrew from Monaghan: I charge 10 to 15 euro per sq mtr depending on size and shape of area. Need to know in advance if skirting board has to be removed and refitted. Get as much information as possible about the job and preferably view the job before giving quotation.
Anthony from Meath: For laminate flooring you would be looking at approx 12 euros per square metre before VAT.  As a recommendation to customers I would suggest using the 12mm boards in heavy traffic areas such as halls, dining and living rooms and the 8mm and 10mm boards for bedrooms if their budget is tighter.  For laying on concrete use the thermal and acoustic underlay (gold colour) as is best suited.  For upstairs on timber floors, if the budget is tight I would recommend at least the acoustic (blue or silver), if the budget can stretch a little then also use the thermal/acoustic.  If the property is an older property with floor boards laid upstairs, I would recommend ensuring the tradesmen lays the new boards at right angles to the existing floor boards. This is not an issue with newer properties where sheets are laid on upper floors.
Cillian from Wicklow: In my experience,  one can expect to pay around €11~€12 per metre squared plus vat. to install laminate. This includes installing the underlay. Removing of existing flooring and installing skirting would be an additional cost.   Customers might seem to think that they're getting a deal sourcing the flooring themselves,  but most tradesmen would generally get an attractive discount on this and at their discretion may or may not pass the discount the customers way. I usually add a small bit on it for myself but at the same time customer is still guaranteed to be saving.
Michael from Donegal: I would have a sliding scale up from €10 plus vat for labour for 8mm, 12mm €12, semi solid €18 plus sawblades, €20 solid depending how they are installed nailed T & G, etc.  Over the phone quotes can be difficult, but could be higher than viewing the job, element of risk if issues arise.  Floor prep, variations in flooring surface will impact on thinner laminates.  I used fibre board under laminate for my own house and found very good. I found it time consuming as board is layed at 45 degrees, but better to walk on and 12mm laminate was glueable which was a better option than fitting loosely.
In general the free under layer that sometimes comes with flooring should be upgraded if on concrete floor, with better u value layer for heat.  Upgrade underlayer on suspended wooden floor for better noise reduction.  Transitions strips can be costly between different surfaces, 4 hallway doorways strips could cost €60 plus.  The use of self level for floor prep, not expensive but will cause a time delay in fitting floor.  Read the box and instructions to give you an understanding of what way the floor should be layed.  They are constantly changing the click system they go together.  If you walk on the  showroom example take off your shoes and try with foot to check movement between the boards if unglued.
——————
I hope this helps some of you who are planning to lay a laminate floor and if you decide to go ahead with it you can get a number of flooring quotes here and get up to 4 quotes fast from rated tradesmen!
Cheers Oliver Dempsey
Tradesmen.ie
12th April 2023
General Tips for hiring a tradesman
Here are some tips to consider when hiring a tradesman:-
1. Ask for phone numbers of references so that you can check them out
2. Check insurance of the tradesman where insurance is required
3. Hire a suitably qualified architect, building surveyor or building engineer if the job is anything to do with a new build, building renovation or extension
4. Agree on some sort of stage payments for the job. Remember that full payment should not be made until the job is complete and has been inspected by you, and if necessary by a certifier.