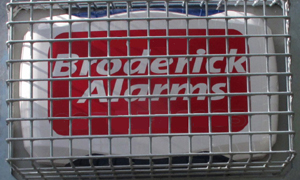 Hi folks,
recently we carried out a quick house alarm prices survey of alarm installation and upgrade costs from installers listed on our site.   Most of the installers surveyed were from the Dublin area but there were a couple from outside Dublin.  We asked them for rough prices for installing or upgrading an alarm system in an average home.  Modern alarm systems offer several advantages over the older systems.  For example they may have better tamper proof protection and the ability to notify one or more keyholders by text message when an alarm is activated.  Modern alarm systems can also be installed wirelessly and there are advantages and disadvantages to these systems.  Therefore, it's best to ask your installer about the different options before choosing the right system for your home.
Here is a sample of the replies we received below:-
Joe L: depends on Wireless or Wired.  We have a basic wireless package starting from €590 Inc VAT that includes:
Wireless Alarm Price
Quantum 70 wireless Panel with built in siren
Front Door Contact
Back door contact and sensor
2 Motion detectors
Wireless Bellbox
Decoy Bellbox
Keyfob
1 year's free Monitoring (T&C)
If you want the windows done it's around €90 extra per window.
Wired Alarm Price
If the house was prewired our systems can start from as little as €650 Inc VAT which includes:
10/70 Hybrid panel
Batter
Bellbox
Decoy
Int bell
Keypad
Front Door
Back Door
Sitting room Window
Kitchen Window
PIR Landing
1 years free Monitoring (T&C)
If they want the upstairs done it will cost around €40 per window if wired.  Make sure they are PSA Licensed and Insured and Tax Clearance Cert.  Hope this helps.
Darren C:  3 bed house alarm would be 570 inc vat.  That's for a house with 2 doors and 8 windows and a pir in the hall.  Thats windows getting inertia sensors and
Front door a contact and sliding door getting a sensor with built in
contact.  Extra cost if sensors were changed to ones with built in contact.
Panel up grade would be 310 inc vat thats just changing panel outside
bellbox and keypad. Extras would occur if sensors, contacts or motion sensor
needed to be changed.
Simon D: Roughly around €749 incl. Vat for a new install and for an upgrade from an
old system maybe €500 – 575 depending on how recent it was installed
Depending on what the customer is looking for as regards an upgrade check
for condition of wires and if the building has changed since last install
(extensions) draft up a new design plan to better suit their needs.  Hope this helps
Fergus M : A 3 bedroom house would vary between €599 to €899 depending on type of system and number of devices.  Make sure installer has a current PSA licence number.
Choose between wired or wireless and also good to have a local company install Alarm system as it would be a quicker response time of call out if client should need this .
Make sure system is to En 50131 standards
Brendan O: There are 2 different types of systems,
1) A wired alarm with internal passive infra red beam a wired bell box
control panel and digital keypad comes in at €500.00
2) The same equipment only wire free comes in at €650.00
All alarms come with a completion certificate and we are registered
Ciaran R: If the house is prewired to the windows prices range between 500-900 euro if the hse requires Wirefree alarm system prices range from 700-1300 … Currently we are doing a promo of 2 internal PIRS front door back door sensors all wire free for 599 euros
Matthew M: Prices start at €499 which will cover front & back door and 2 internal beams.
Monitoring cost approx. €16.25 a month.
Additional points cost €70 each.
The customer should make sure the company they use is licenced by the P.S.A..
Peter T: We Would Mainly Do Larger Installations Such As Schools,Factories, Office Blocks ( Industrial & Commercial )
Average 3Bed House Alarm Thats Is Pre-Wired (All Windows Covered With Vibration & Reed Sensors ) €550 + VAT Approx
Average 3Bed House Alarm Wireless (All Windows Covered With Viberation & Reed Sensors ) €850 + VAT Approx
Be Carefull Of Contractors Installing PIR's As All Entry Points Need To Be Covered To Have A Clean Cert With No " Non Conformances "
—-
Well as you can see there is a big variation in prices with new installations ranging from €570 for the most basic to €1,300 for a bigger installation.  Upgrades start at €310.   I suppose the lesson from this survey is to get a number of quotes and get as much advice as possible so that you have an alarm system which suits your needs and conforms with or exceeds the minimum standards.
Most respondants to our survey made the point that an alarm installer must be PSA registered to install, upgrade or service an alarm in Ireland.  It is illegal for anyone to work with alarms unless they have a PSA license so please ask to see their PSA license with photo ID and/or check out their details at www.psa.gov.ie.  One of the respondants also recommended hiring an installer who is as local as possible.  This is because if anything ever goes wrong with the alarm you need to know that your alarm installer can come out at short notice and fix it if necessary.
Always get a detailed quote in writing before proceeding with the job and check whether the prices are inclusive or exclusive of VAT.   Please remember that an alarm system is no substitute for having well secured doors and windows in your home so make sure that you ask a good locksmith to check your locks when you get a chance:)
I hope this helps some of you who are looking for alarm prices for installing or upgrading your alarm.  If you decide to go ahead with it you can get a number of alarm prices here and get up to 4 quotes fast from rated tradesmen!
Cheers
Oliver Dempsey
Tradesmen.ie
9th September 2013
More Alarms and Security Related Articles:-
Can a Burglar Alarm Protect my Home?
What are the best types of door locks?
Ten Easy Ways to Prevent a Burglary
Security Camera Tips for the Home
More Home Improvement and Renovation Price Surveys:-
Bathroom Renovation Cost Survey
Attic Conversion Prices Survey