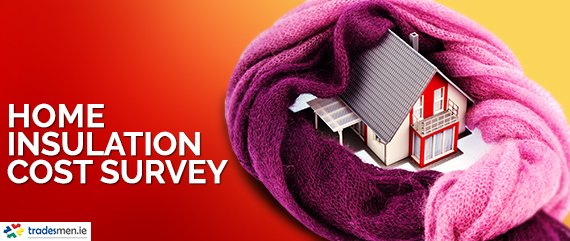 Hi folks,
recently we did a home insulation cost survey on some insulation specialists on our Tradesmen.ie.  The question we asked was as follows:- "What is the best way to increase the insulation in a typical semi detached house with existing 2″ aeroboard in the cavity walls and existing 4″ of fibre glass between the ceiling joists? In addition to this how much would it cost including VAT to put it in place?".  Here is a selection of the replies we got below:-
James from Galway: Home insulation costs approximately e7.50/sqm walls, e7/sqm attic. Assumes standard layout.  Bonded bead in the walls, 200mm mineral wool in the attic.  Typical 3 bed semi about e1250 net of grant.
Bryan from Dublin: It depends. But External Wall Insulation as a rule of thumb would be the right job. Price? Again it depends, on size etc. But net of the grant probably around  e65/m2.
Frank from Dublin: If you pump the cavity wall with bonded bead insulation and raise the level of fibre glass to 12″ you will increase heat retention in the house by about 30%. A typical 3 bed semi detached house would cost in the region of  e1300 minus a  e500 euro grant. This also includes vents, draught proofing to hatch door an cold water tank and pipe lagging. The end cost to the homeowner would be around  e800.
Chris from Offaly: The most cost effective way to upgrade the insulation would be to pump the walls with bonded bead & put a 200mm fiber top up in the attic. The typical cost for a semi-d is  e1400 with the  e500 grant to come off that figure.
Burlacu from Dublin: One way is to fill the remaining 2 inch gap in the cavity with bonded bead ( silver beads). It will be more efficient to insulate the walls on the inside the house, but it will be much more expensive. The 4 inch fibre glass should be between the ceiling joists, not rafters. The overall should be 12 inch. Insulate water tanks and pipes. build walk way from stira to water tank. You need ventilation both in the attic and every room in the house 2000- 8000 eu
Terry from Dublin: Best way is to external insulation on walls brilliant for keeping heat in the house and no more painting on the outside. Best results for Airtightness and to bring BER rating up. You would be talking about e100 per square meter depending on finish. It depends on the size of the end terrace. Attic insulation should be 12inches (300 mm) thickness. So you would need 8 inch top up e8 per Sq meter, hatch door pipes and water tank must be insulated as well. If there are spot lights you will need covers so the insulation can go over them.  Total cost e10,000 est that would be scaffolding & skip hired and little extra if they wanted dashing
Brian from Dublin: 50 mm insulated boards on all external walls internally price including plastering ball part figure 2500 – 3000
Paul from Kildare: External Wall Insulation (EWI) is a composite cladding system comprised of suitable insulation and waterproof coating which is applied to all the external walls of a building. The application of EWI reduces heating bills, and consequently, carbon emmisions also. External Wall Insulation (EWI) is the most efficient way to insulate an exsisting building. The cost of this for a typical 3 bed semi would be 9000 including tax.
Bill from Dublin: 85/110 per sqm for 100 eps and acrylic finish and 200 mm roll insulation it all depends on area and obstacles
Damien from Mayo: Re -walls : Pump the cavity with an additional 2 " (50mm) of Kingspan Ecobead to fill cavity completely. Re – Attic: add 8″ (200mm) layer of insulation over existing. You should have 12″ overall. Also fit insulated tank jackets, pipe lagging, insulate and draught proof access panel and provide an elevated catwalk from access point to water tank. All ventilation must be up to current building regs. Generally we charge around  e1800 for your typical 3 bed semi d to up grade walls and attic insulation together and perform a BER. SEAI offer a  e500 grant for houses built before 2006
Jack from Wicklow: To bring up to modern regulation would involve dry lining or exterior insulation. I would need to which is required.Pumping the walls will not suffice.  I do not do external insulation but it would be the cheaper option in this case. Internal dry lining would be approx 3000 in an empty house
Trevor from Cork: Partial fill cavity insulation is not nsai approved.  Attic should be insulated to 300mm
David from Cavan: Best way is install 2″ warm boards on external walls and install another layer of fibre glass over exciting layer which will bring it up to nsai standard.  You could pay up to  e4,000 with attic insulated it would have to be looked at cause every house is different cause with some you have to move radiators sockets and replace window boards and coving some don't have any .as an idea I done a job before Christmas which involved a box room to be warm boarded and remove and replace with new rad and window boards and warm board stair wall right up into attic and cost  e1700.
Derek from Dublin: The best way is to put 100mm external wall insulation on to the house as the walls will act as a storage heater and release the heat back into the house and the best cost efficient way to insulate your roof is Fibre glass , I'd leave the 4″ in and add 12″ inches as 12 inches is the requirements from the nsai . External insulation costs 95-125 euro per square meter 12″ fibre glass 12-16 per square meter
Patrick from Laois: In the roof ull need a further 8 inches of fibre glass insulation ,all external walls will need 62.5 ml insulation board pinned directly on wall.  100 m squared external wall 30 euro per square metre supply and fit only to a painted finish. Roof insulation 200 ml by 100 metre squared thermal wool 800 to 1000 euro.
Well there are lots of good tips there.  As you can see there is a massive variation in prices ranging from €1,300 – €11,000 including VAT so it's important to get a number of quotes and make sure you understand the differences and benefits of all of the different approaches and materials used.   As you can see there are grants available for certain types of insulation work and the added advantage of applying for and receiving the grant approval is that you have the extra re-assurance that the work has been carried out to a benchmark standard.  The grant scheme is administered by the Sustainable Energy Authority of Ireland (SEAI).  You can use the Home Energy Self Survey to see which areas in your home could be improved to increase its energy efficiency.
You can get a Building Energy Rating (BER) done before any works are carried out.  A BER assessor will energy rate your home and give you an advisory report, which will assist in identifying areas that could be improved to increase the energy efficiency of your home.
Please note that you must have grant approval before you buy materials or start any grant-funded energy-saving work. If you have already started work, you will not be eligible for a grant.
I hope this helps any of you who are planning to insulate your home and if you want to get prices for insulation be sure to log on to Tradesmen.ie and get up to 4 quotes from rated insulation specialists here. In addition to this, to get a number of quotes from BER Assessors simply click here.
If you have any questions or comments please feel free to enter them in the comments box provided below.
Cheers
Oliver Dempsey
Tradesmen.ie
24th January 2015
Tips for hiring a tradesman
Here are some tips to consider when hiring a tradesman:-
1.    Ask for phone numbers of references so that you can check them out
2.    Check insurance of the tradesman where insurance is required
3.    Hire a suitably qualified architect, building surveyor or building engineer if the job is anything to do with a new build, building renovation or extension
4.    Agree on some sort of stage payments for the job. Remember that full payment should not be made until the job is complete and has been inspected by you, and if necessary by a certifier.
Other Price Surveys
Here are some other price surveys that you might be interested in below:-
Custom Kitchen and Custom Wardrobe Costs
Gutters Fascia & Soffit Replacement Cost Survey
Immersion Heater Replacement Price Comparison