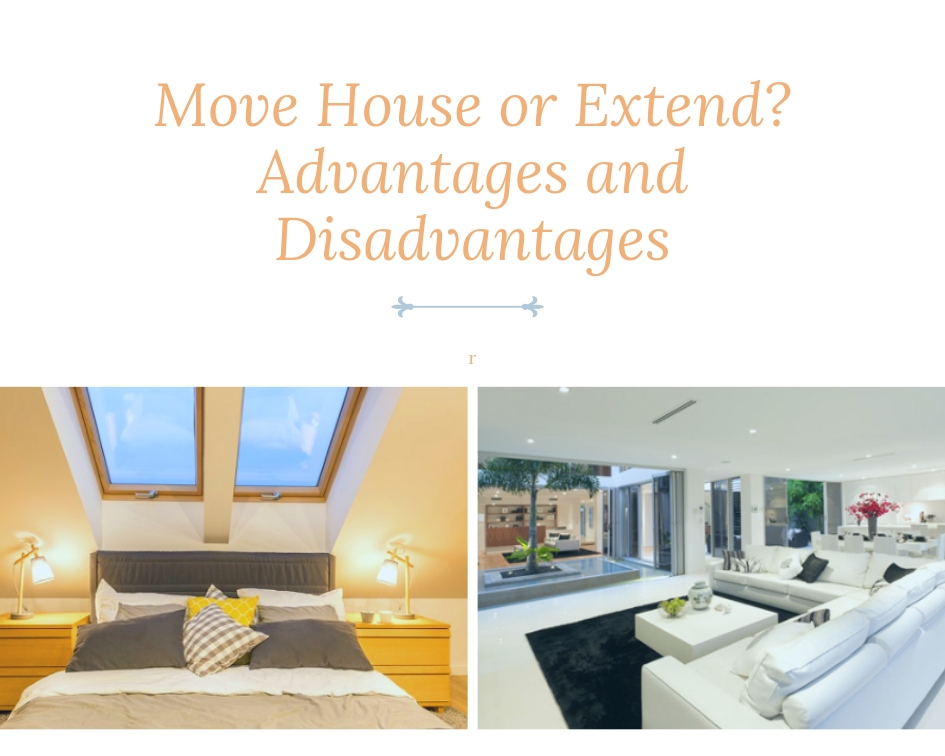 You're running out of space in your home. Another bedroom is needed, a larger kitchen would be great, a shower room would be extremely handy and more storage wouldn't go astray either. Should you consider moving house or should you build an extension? Here are the advantages and disadvantages of both scenarios:-
Moving House – Advantages
The world is your oyster in that you have the freedom to find the right house for you – it just depends on it being available within your desired area and your budget.
It can be a fresh start and a blank canvas. It might even be perfect for your taste.
Moving House – Disadvantages
Moving house is expensive and the costs really mount up between stamp duty, estate agents fees, solicitors and the cost of physically moving everything.
It can be a stressful and drawn out procedure especially if your buyer and seller are in a chain.
Building an Extension – Advantages
You get to stay living in the area that you're accustomed to, where you know the neighbours and have friends.
The extension can be tailor made for you. You work with an architect and builder to create an extension of the right size and design for your family whether you need a larger kitchen, a living room, an office or bedrooms.
Depending on the size and style of your house, your extension could be upwards (an attic conversion), downwards (a basement), or the addition of a building to the side or rear of your home.
While there will be some disruption, much of the building can be completed before 'breaking' down the division between the extension and the rest of the house, thereby reducing the dust and noise.
You don't always need planning permission especially if the extension is to the rear of the house so it should be a straight-forward process.
Extensions with large windows or glass panels will let so much extra natural light into your home.
Many people add on a conservatory as a bright and airy extra room. They are cost effective and are relatively easy to install with a minimum of disruption.
You are increasing the value of your property.
Building an Extension – The Disadvantages
There will be some disruption while the extension is being built – it's inevitable.
The garden will be smaller.
Your house will have higher heating and electricity bills but that would be the case in a larger house anyway.
Taking out load-building walls will require a structural engineer as well as more expensive materials.
More articles:
What you need to know about building a house extension
House Extension Cost Survey 2017
12 Tips for Extending your Home
Attic Conversion Cost Survey 2019
Some home-owners are reporting that many builders are very busy so don't delay in booking them in. If you are having difficulty sourcing an architect, builder, interior designer or decorator, remember you can get quotes from registered and rated tradespeople on our website.