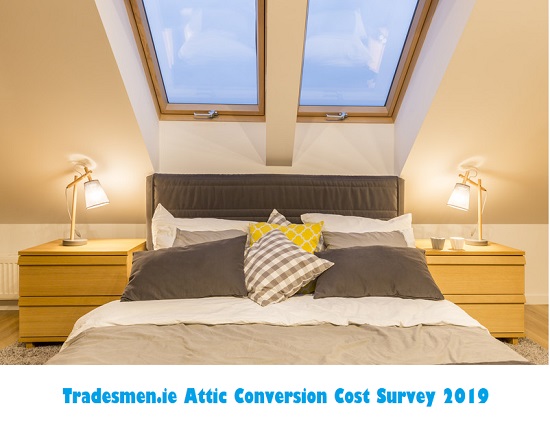 Hi folks,
recently we carried out a survey on attic conversion prices with some of our tradesmen across Ireland. The question we asked was the same as the one we asked in a similar survey in 2017, so it was interesting to compare the results. The question we asked was as follows:- How much would it cost, excluding vat, to add an extra bedroom in the attic and were there any tips they could give for getting the best job done. Here is a sample of the replies we received below:-
Stephen from Dublin:  It really depends on the house.Price wise the big ticket items are usually stairs,velux windows and insulation.  There are some things to keep in mind when it comes to recent building trends and regs, such as moving of solar panels and S. I.P timber beams. If I had to put a ballpark figure on it I'd say 20-25 thousand euro.
Alan from Dublin: Standard attic conversion including structural engineers fees 15,500e plus vat. Add a bathroom 5000e plus vat labour & first fix materials only.
William from Galway:   Around 22k plus vat for an average bedroom. Involving an engineer is must with attics.
Ger from Limerick:     Approx starting at €15k. There can be a lot of variables. Beefing up floor joists and rafters, different insulation types, dormer Windows or velux Windows,electric or oil heating, stairs leading up to attic, sacrificing some room to get in stairs. Adding an ensuite aswell could be an extra €5k. My top tip is to get a registered an experienced builder, as with these job types the roof structure normally has to be altered. By doing this the roof may need to have extra supports installed, ie steel beams, so it's imperative that this work is done
Paul from Offaly: Attic conversions can be a mine field, you have to be very carefully on pricing them. 1st you have to factor in inconveniences to clients as more times than not they will be living in dwelling while works are being carried out, you have to move quick to get in and out.
You would be advised to get an engineer on board to cert original attic roof timbers strengths, plus any timbers to be removed & new timbers/RSJ's to be added. Existing electrical cables will have to be moved to make way for new structural timber-work, watch out for proximity to original fuse board cables. Plumbing to attic water tank incl. pipework might have to be moved to make way for new attic space. Roof lighting to new attic room areas to have permission from neighbours agreed before any works start, keeps everyone onboard.
Cost of constructing a new 45sq.m. Attic conversion to a bungalow with raised roof to rear of dwelling & raised external rear wall to contain 2 bedroom, 1 bathroom, corridor, stairs case, roof lighting, engineer fees, turnkey finish;
€60,000 ex Vat.
Damian from Dublin:   At the current climate i would
be charging 15k for the basic conversion. The job would take 10 days to
complete. We as a company would just leave it for painting at the end.
Everything has to be build accordingly with regs. So id have my engineer or
architect sign off at the end . This goes with all projects we do. Any
other type of conversion would be more expense. As there would be drawings and planning required if building a dormer or build up the gable.
————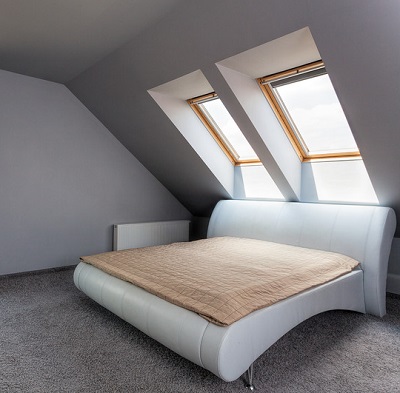 Prices for a one bedroom attic conversion in a semi D including ensuite ranged from €20,000 to 25,000 plus VAT.   The average price was just over €22,500 + VAT which would be €25,537 including VAT. This compares to an average price of €15,000 + VAT in our 2017 survey.  When getting prices for building work it may be tempting to go for the lowest price but since you usually only get one chance to do it right please try and put quality ahead of price as much as possible.
The tradesmen had some really good advice to give in their responses. When carrying out an attic conversion or most types of renovations that include structural works, make sure to do the following:- (a) get references, qualifications and insurance details from each contractor who quotes for the job, (b) make sure to hire an independent certifier from the outset and have them sign off on each stage of the build (c) only pay for each stage as it's signed off by the certifier (d) consider using an escrow payment facility to manage the payments and to safeguard both you and the contractor.  Check whether the price includes or excludes painting and second fix plumbing and electrics.
I hope this helps some of you who are considering an attic conversion in the near future. If you decide to go ahead with it be sure to post your attic conversion job here and get up to 4 quotes from rated tradesmen.
Cheers
Oliver Dempsey
6 March 2019
Here are some other articles that you might be interested in below:-
Attic Conversions: What You Need To Know
House Extension Cost Survey 2018
Attic Conversion Prices Survey 2017
Construction Work Safety in the Home
Safety Tips for Hiring a Tradesman
Considering An Attic Conversion? Read This First
7 Attic Conversion Ideas For Your Home
Do I need planning permission?
Will stricter building regulations improve building standards in Ireland?
Certifying my building or renovation
Construction Contracts, why are they needed?
Please note that the photo above is for illustration purposes only.