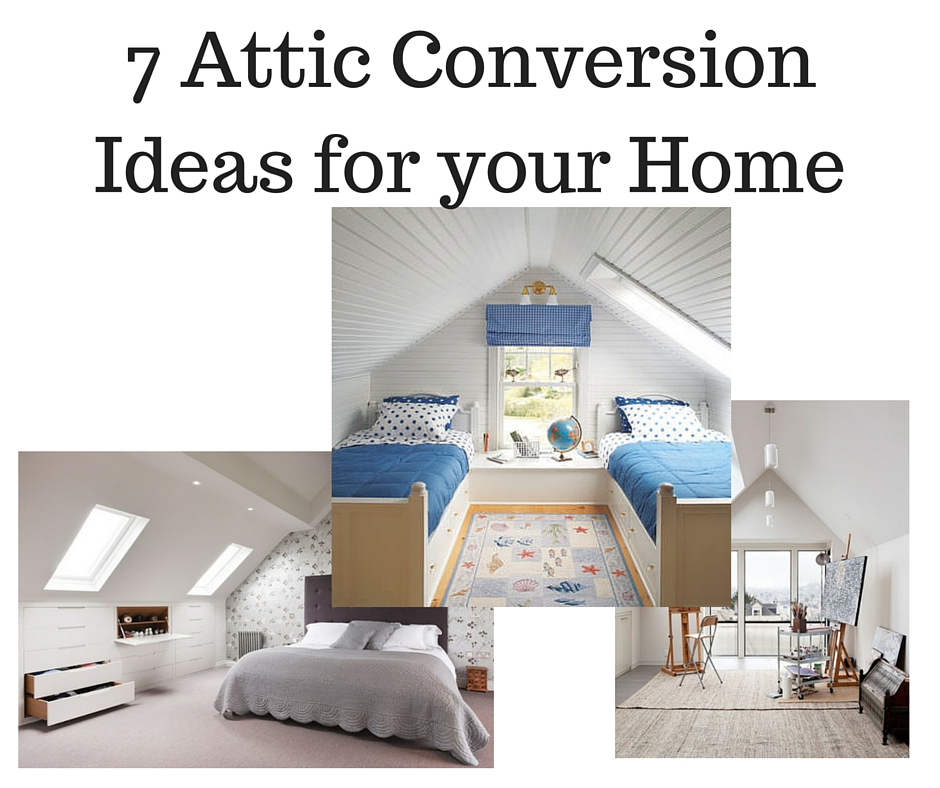 Would you like another room in your home? Perhaps you've decided to work from home and need an office? Perhaps you need another bedroom for a growing family? If you have sufficient space in your attic, it could be just what you need for that extra room. Next week, I will explain how to work out if your attic is suitable for a conversion and what is involved in the remodel. Today's post is about providing you with some ideas of gorgeous attic conversions to inspire you:-
Spare Bedroom
When designing the space for a bedroom, consideration needs to be given to the head height of the room and perhaps, more importantly, what will the space under the low parts of the ceiling be used for. In this guest bedroom, the bed in placed in the middle of the room which makes it look spacious but it means that tall guests might have to bend while walking either side of the bed.
Multi-Purpose Room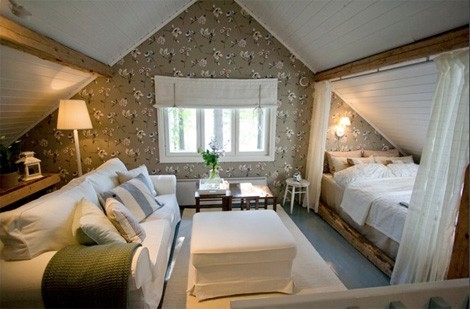 Source: Indulgy
Perfect as a bedroom cum sitting room, this attic conversion is ideal for a teenager or as a guest bedroom. The low space either side of the room is used well by placing a bed and a table at either side and the bed can even be shielded from the space with the gauze curtains.
Sufficient Storage
Source: A Dekker
This bedroom also has the bed in the centre of the room. Storage is built into the lowest parts and as it is a wide room, there's plenty of space to walk around without having to stoop. The storage is stylishly convenient with many wide drawers and low wardrobes could be included either.
Children's Bedroom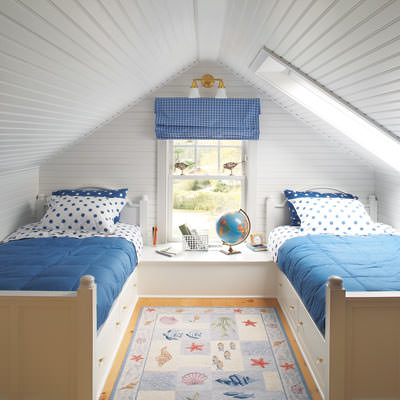 Source: Decorating Small Spaces
This attic conversion is so sweet, with its matching beds either side with a bedside table linking the two beds. The rug in the centre makes it warm and cosy, there's plenty of space for an adult to walk between the two beds and it just looks so inviting and cosy. Note the drawers under each bed too for extra storage.
Art Studio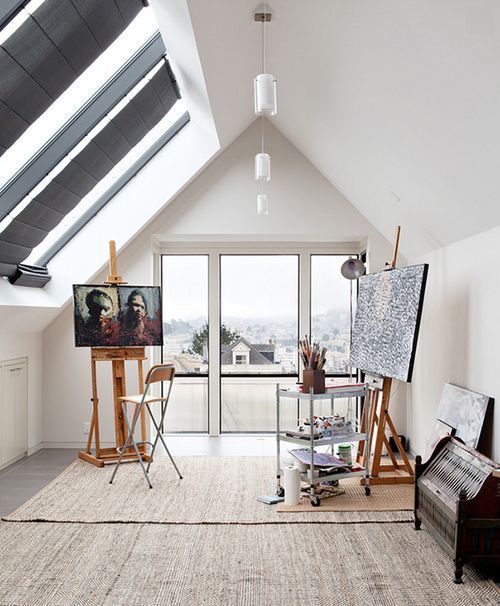 Source: Domino
If it gets lots of natural light, an attic can be the perfect space for an art studio or a writing room. Being away from the rest of the house means it will be quiet and there's less chances of being interrupted while the natural light makes it a perfectly inspiring space to work.
Playroom
Children love nooks and crannies and low spaces so attics make an ideal playroom from that point of view. The low spaces can be used for shelving or for reading nooks where they can sit or lie on a beanbag with their favourite book and have some quiet time. It's unlikely that many adult visitors will be popping up there either so if it does become strewn with lego, you don't have to worry too much about the mess.
Study / Home Office
Positioning the desks against the wall means that the full head height is available for walking around and as you can see in this example, "obstacles" such as a chimney breast become a feature in themselves.
If this has whetted your appetite and helped you to see some possibilities for your own attic, do tune in next week when we'll be telling you about some of the rules and regulations for converting your attic. As always, our rated builders can advise you and provide you with up to 4 quotes if you would like to learn more.