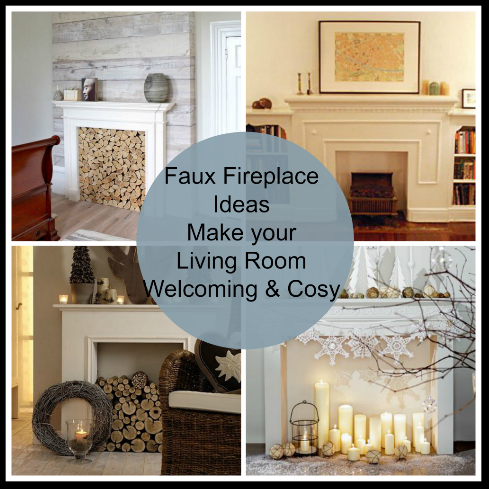 A fireplace, even if there isn't a fire lit in it, can warm up a room. They also provide a focal point within a room. Having chairs gathered around a fireplace is much more appealing that having them arranged in such a way that the television is the main focus. Fireplaces also bring character to the decor scheme. What if you don't have a fireplace? How do you create a false fireplace? Here are some ideas so you have time to get the job done by the time the evenings get chilly in the autumn.
Faux Fireplace No. 1
This is possibly the easiest and most effective way of creating a false fireplace. All you need is a wooden fire surround with mantel and affix it to the wall. Finish with paint or a woodstain and dress it just like a traditional fireplace. Don't forget to add a narrow hearth.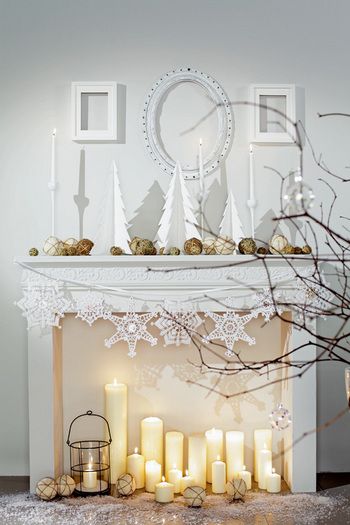 Source
Placing tall candles on the hearth will make it look very cosy, especially when they are lit on winter evenings.
Faux Fireplace No. 2
Wood stoves are recognised for providing heat more efficiently and many home owners are now using them instead of their traditional open fires, thereby placing the stove on the hearth in front of the fire opening. But what if your living room doesn't have a fireplace at all? Well, you can still create a traditional fireplace.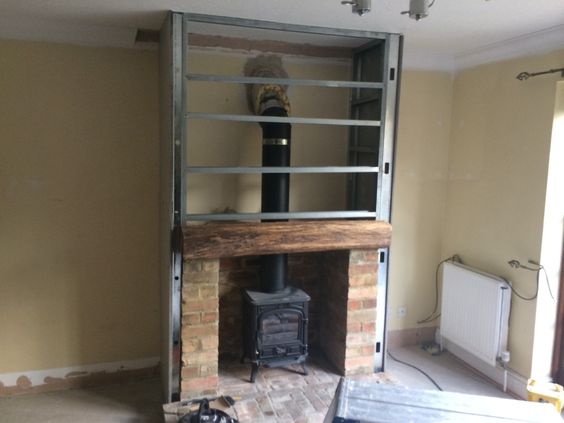 Source
As you can see from this image, the piping for the wood stove is going through an exterior wall. Rather than leaving it exposed, the whole stove is surrounded by a chimney breast, with the traditional opening to the front. Once the chimney breast is plastered and decorated, it will look like it has always been there. Don't forget to add a wooden mantel for more traditional appeal and cosiness.
Faux Fireplace No. 3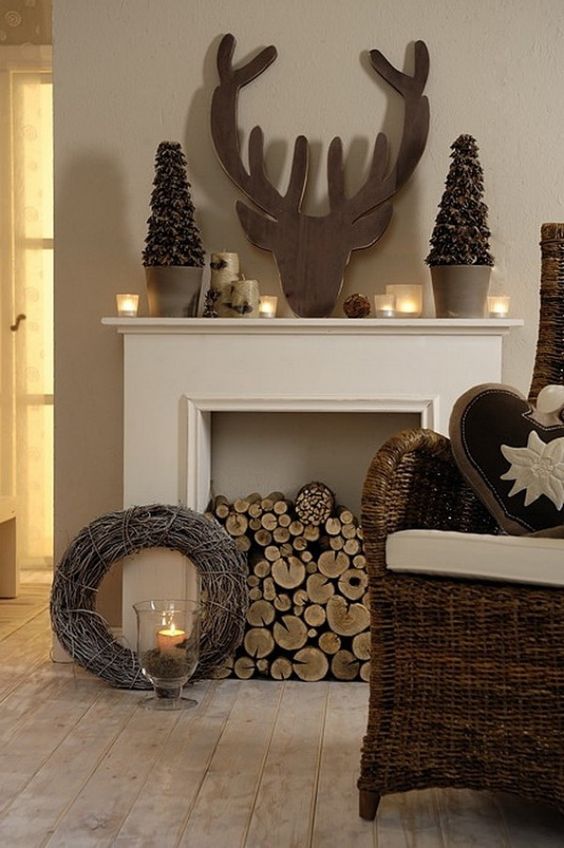 Source
Again, this design is very simple. Simply purchase a wooden fire surround, fix it to the wall, decorate and fill with logs. You'll have to trim the logs so they don't protrude and are all the same length. However, make them more interesting by using logs of different widths.
False Fireplace No. 4
Get a carpenter to create a shallow chimney breast (or if you are good at DIY, maybe you could do it yourself). In this example, it is wallpapered to make it look like a wooden planked chimney breast. Add a fire surround and fill with log ends or candles to dress it.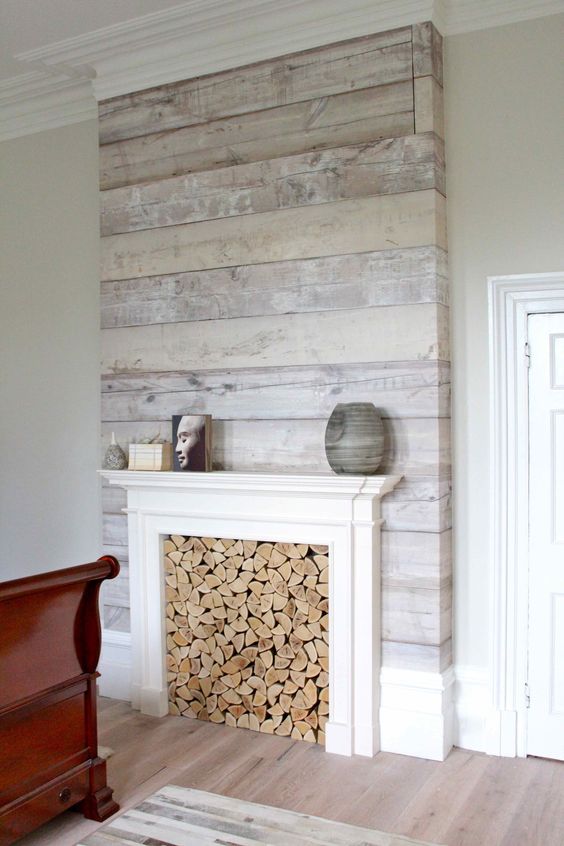 Source
What I particularly like about this room is the attention to detail. Note the way the coving at the ceiling curves around the chimney breast, making it look like the fireplace has always been there.
Faux Fireplace No. 5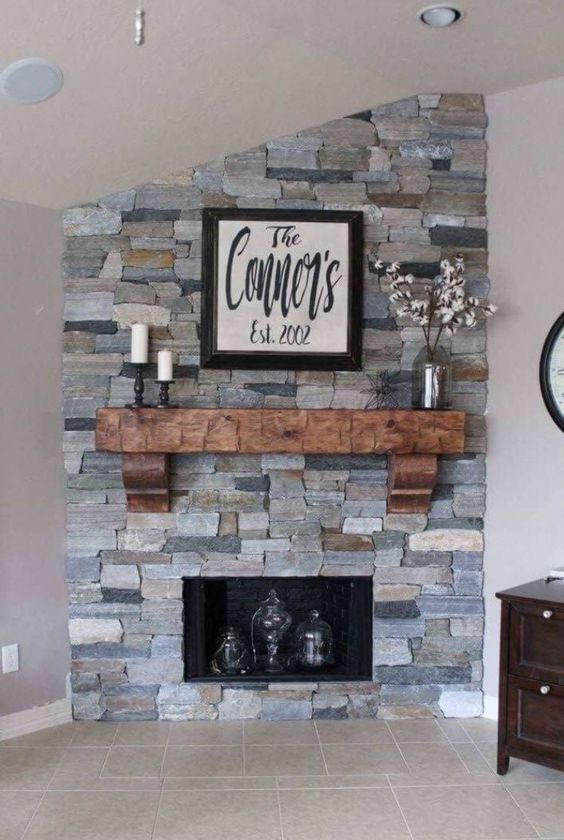 Source
These home owners have decided to make a narrow wall in their living room the focal point and achieved it very simply. By building out the wall with stone, they created a shallow area for the 'fireplace'. It could also be accessorised with plants in the summer and candles in the winter. A chunky wooden mantel completes the look.
Faux Fireplace No. 6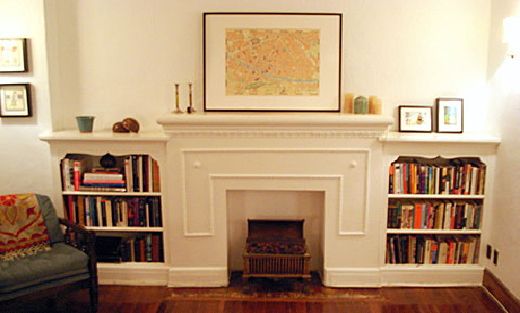 Source
While a wall of bookshelves is always interesting, a fireplace in the middle gives it a focus point and creates a cosy atmosphere as one imagines curling up in an armchair and reaching out for a favourite novel to reread in front of the fireplace.
If you require a builder or carpenter, we can provide you with up to four quotes from rated tradespeople once you provide us with the details.