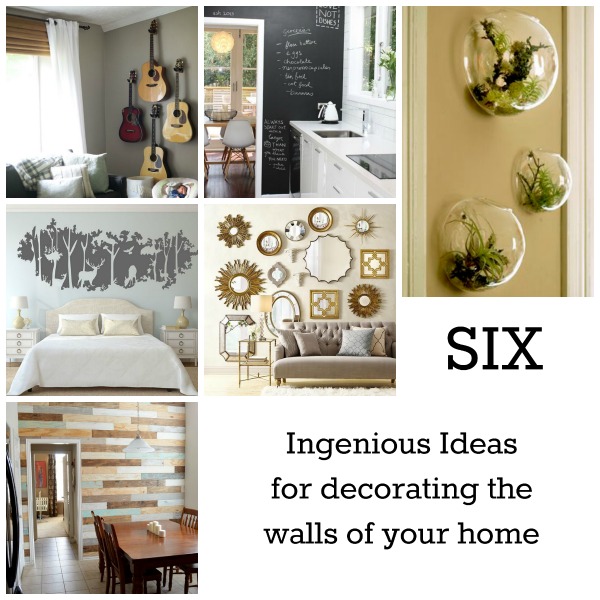 Would you like to redecorate your walls but don't want to use wallpaper or paintings? Are you looking for something different from the run of the mill designs? Yet you don't want to break the bank?
We have a number of different, interesting and perhaps even eccentric ideas here for you to decorate the walls of any room in your home.  See below:-
1. Planting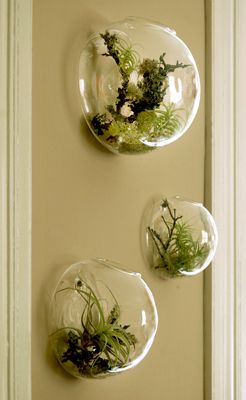 Plants aren't just for putting on windowsills, shelves or coffee tables. There's a growing move towards vertical gardening so why not put some plants on your wall?
These ones in bubble glass vases have the added advantage of the containers being really attractive too.
2. Hobby Items on Display
Whether your hobby is skateboarding or guitar playing, hanging items such as guitars, skateboards, tennis racquets or even your favourite single item of clothing on the walls means that they are stored safely, won't be taking up room elsewhere but also look well.
It's about making a feature of something you really enjoy too.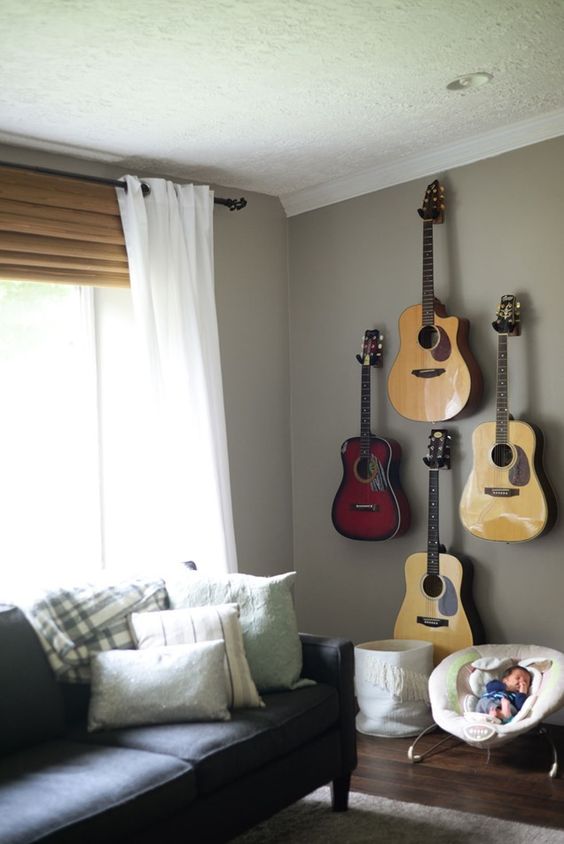 Source: Pinterest
3. Wall Stickers or Decals
Stickers / Decals come in a wide variety of designs now, and are often easily removable and replaceable too. They are often presumed to be of child-friendly designs, suitable for children's bedrooms or playrooms but you can get very sophisticated designs now – often large enough to create a significant wow factor on a statement wall.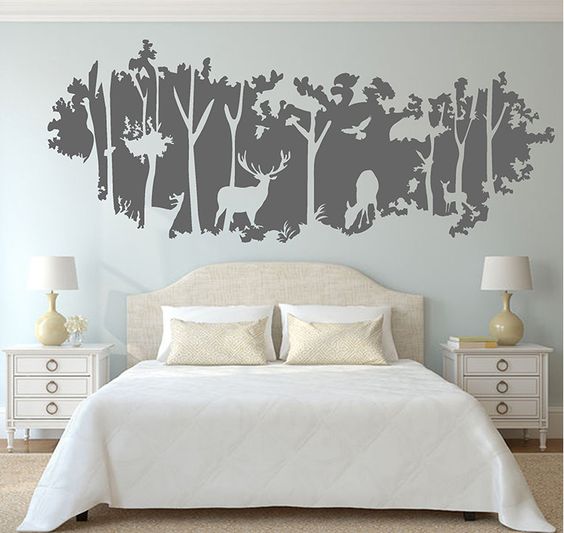 Source: Pinterest
4. Pallet Walls
Upcycling pallets into all sorts of things is very much on trend right now and you'll find ideas for projects from creating shelves to turning them into garden furniture but what about putting pallet boards on walls? As you can see from this example, when they are different shades, and perhaps even colourwashing some boards a particular colour, they create a calming feature wall in a very subtle way. I really like it. Do you?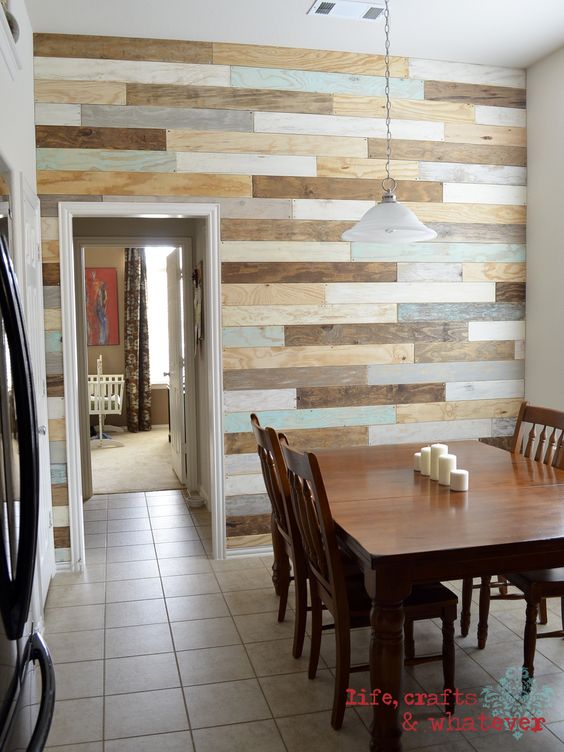 Source: Pinterest
5. Chalkboard Walls
Blackboard or chalkboard walls aren't just for playrooms. You can vary your decor by wiping off the chalk and using the blackboard to write lists, to let kids doodle on, write inspiring quotes or create a beautiful picture. The beauty is you can change it as often as you like.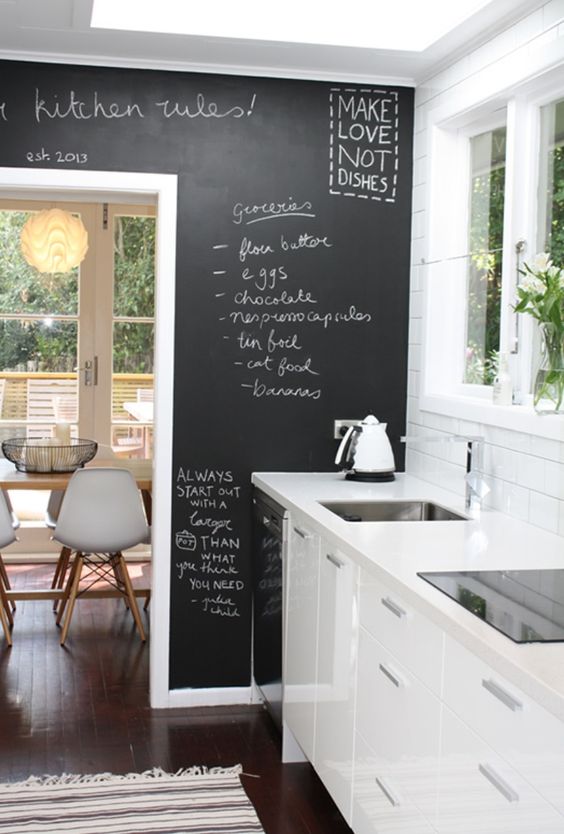 Source: Pinterest
6. Mirror, Mirror, On The Wall
An assortment of mirrors in terms of shape and size (but with a common element such as the gold / brass frames in most of mirrors in the photo below) will certainly create a statement.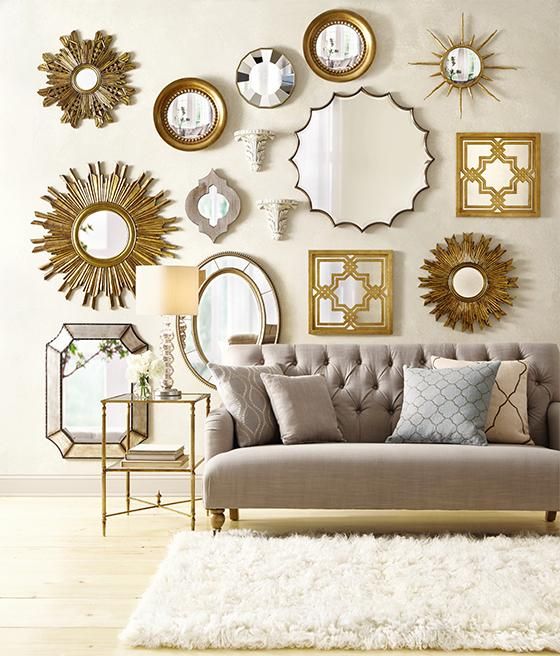 They have the added advantage of increasing the sense of space and light in the room too.
See our post "How to create a gallery wall in your home" for even more ideas.  And should you wish to hire any type of tradesmen, remember you can receive up to four quotes from rated tradesmen in your area by leaving details on our website.