Room to Improve is back on our TV screens every Sunday night. Now in its tenth series, it certainly has seen a number of changes over the years as Ireland went from boom to bust and back out again. Room to Improve doesn't provide a quick makeover whereby single rooms are transformed by a team of people working frantically to get it done inside the deadline of a couple of days. Dermot Bannon transforms whole houses and it's hugely interesting to see how a house can look so different, both inside and outside, when it is completed.
Programme 1: A renovation and extension in Malahide

Each programme follows a similar pattern. We travel with Dermot as he goes to meet the homeowners, as if he is seeing it for the first time too. Ideas, concepts, wish lists and budgets are discussed. As the work gets underway, conflict always crops up. The budget either has to be increased, or something highly desirable needs to be removed from the wish list. Alternatively, the home owners do something that Dermot isn't happy with or he does something that the home owners hate. By the end of the programme though, tempers are resolved and it's best friends all around. The home owners may have spent more but they love every inch of their new home, and Dermot is happy too.
Why do we, as viewers, love these programmes so much. I guess we all like seeing conflict or problems in someone else's life (makes us feel normal and perhaps reassured that it happens to other people too). A feel-good feeling is evoked when the problem is resolved. It's always interesting seeing what other people's homes are like, particularly when there's a transformation happening. We also enjoy them as we pick up tips for our own homes. Even if we're not planning a full make-over or an extension, it can help us make small improvements with more confidence as we feel we are benefiting from the knowledge of an expert.
9 Tips from Room To Improve
Watching Sunday night's programme, these are some of the tips that I picked up:
1. I really liked how a small cottage can be extended, not by changing its shape significantly but by adding a large extension to the back, while still keeping the shape and integrity of the original cottage. The cottage was in bad repair but was transformed so don't be put off by a lot of work. You will end up with your dream house in time.
2. Big house numbers on the wall are a good idea. Apparently the emergency services really like this as it makes it much easier for them to find the relevant house when on a call. I thought it looks quite stylish too.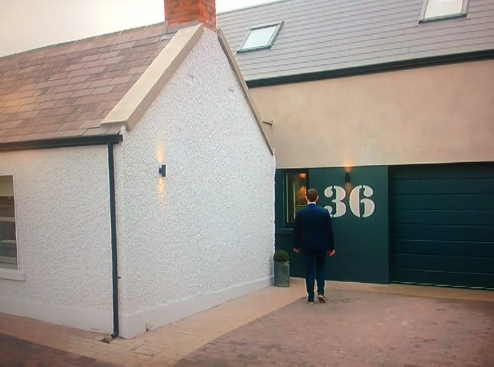 3. Natural light is so important in a house. We all know Dermot loves installing big windows but we have to agree, it does work well.
4. Using the colours on a shampoo bottle may not be the best method for inspiring your decor scheme for your kitchen (this happened in Sunday night's episode). Dermot wanted the couple to opt for a white kitchen and showed them a beautiful kitchen with some dramatic splashes of colour. The beauty of this, of course, is that you can remove or add as many splashes of colour in the accessories as you want.
5. Doors don't have to open in or out, they can slide. They incorporated a very wide door that slid back between the wall. Not only did it look good but it took up minimum space. As it was a wide doorway, it really opened up the two rooms when the door was pushed back.
6. This couple opted for a large  ensuite bathroom and it certainly did look like a 5 star hotel bathroom. I'm sure there were many viewers feeling jealous of the luxurious atmosphere provided by the tiles, the tub and the walk in shower. Although they had debated making the master bedroom bigger and the bathroom smaller, they were glad they opted for the larger bathroom in the end. I think the message here is to allow yourself some extra luxury and space in one room where you are going to feel special and be able to unwind.
7. Allow for contingencies in your budget to a tune of at least 10%  – so it's there whether something goes wrong or if you decide to spend more on your kitchen than originally envisaged.
8. Don't underestimate how long things will take. In the course of this programme, one of the owners broke his leg and yet we didn't see much of him limping around in plaster. It was well healed by the time the house was finished. Sometimes these programmes can give the impression that everything is done and dusted within a couple of months.
9. Remember that less is more in terms of accessorising your home. If you look at the photos above, you'll notice that accessories are few and far between which makes it feel more spacious. It also means that each painting, each lampshade, each cushion gets noticed and is effective in adding colour and interest.
Did you see that episode? Will you be watching the rest of the series? What do you learn from watching home improvement shows?
And remember, if you are planning any renovations, decorating or changes, we can provide you with up to four quotes from rated tradesmen. All you have to do is fill out this form on our website.