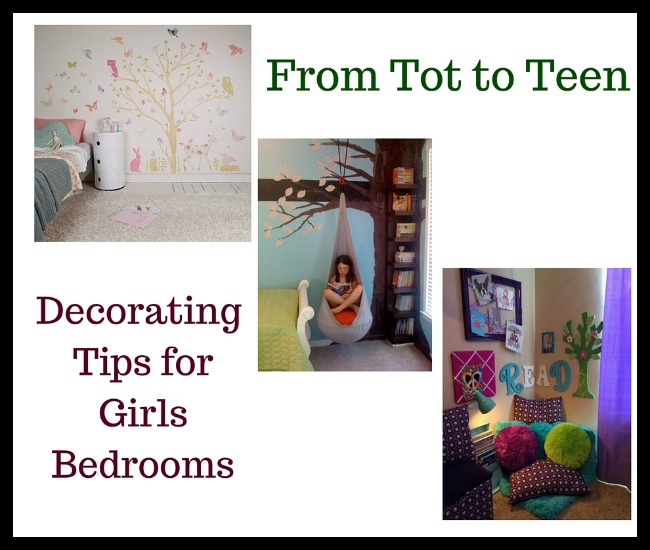 It's easy enough to decorate a girl's bedroom for a particular age but not so easy to decorate and furnish a bedroom in a style that lasts for a number of years, from when she is a baby or toddler until the early teen years. Years fly by quickly and it can feel that you only bought the bed / curtains / wallpaper  a couple of years ago when in reality it is six years and she is demanding something more appropriate to her age. Here are some tips to save you money and ensure that the furniture and soft furnishings last for many many years:-
Beds
There are a few things to consider with regard to purchasing a bed. One consideration is the length of the bed.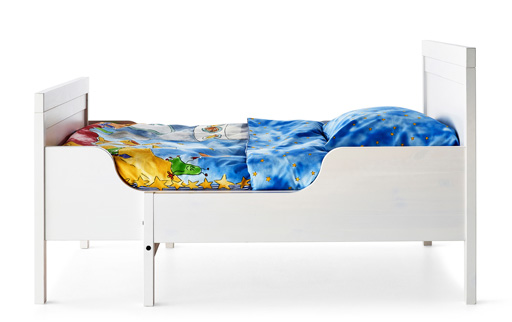 Source: Ikea Beds for Children
You can now purchase toddler beds which are extendable to the full normal length as they grow. However, do bear in mind that the mattress will need to be changed of course.
Another consideration is the height of the bed. Many companies sell 'semi-high' beds now which means that the bed is still low enough to make the bed easily and for them to climb up into yet it provides space underneath.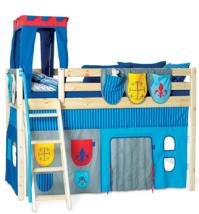 Source: Tots to Teen furniture
This is space that can be used for playing when they are little (many designs include curtains to make it look like a castle or fort for example), and for storage or study space as they get older. Additional kits can be purchased to raise the bed even higher and for matching desks or storage drawers. Having a desk becomes important as they move to becoming teenagers so a bed that goes 'further up' is ideal if the room size is on the small side.
The Walls
Wallpaper adds warmth and interest to a bedroom, there is no doubt about it. However, wallpapering all four walls in their favourite cartoon character wallpaper means that they will have outgrown it in a maximum of three or four years. If you (and they) really fall in love with the wallpaper design, wallpaper just one area in it, such as the wall behind the bed or the space between the built-in wardrobes.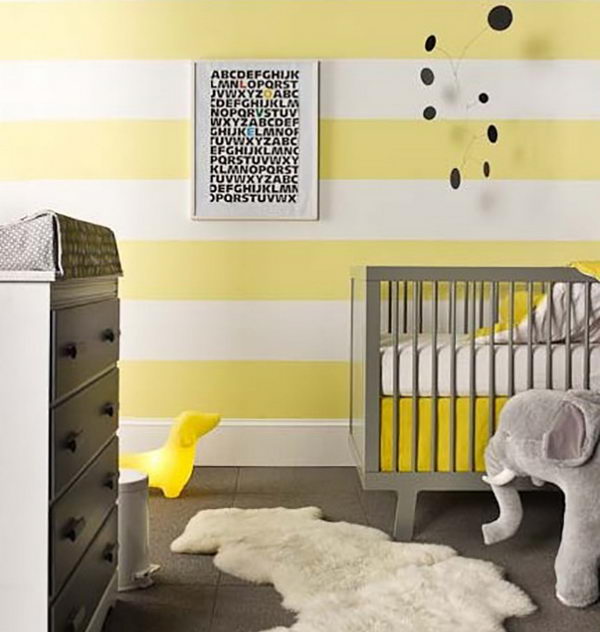 Source: Hative
Decorating with a 'grown up' wallpaper design such as these stripes are funky at whatever age and it's just a case of using pictures to accessorise as age appropriate. The only expense for updating the room then is changing the picture within the frame.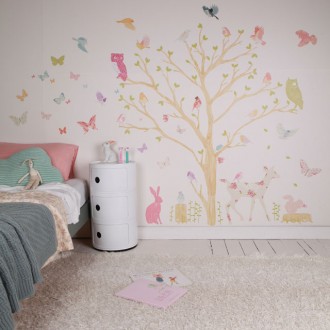 Source: Love Mae Stickers
Another option for decorating the walls is to use removable stickers. Not only can they be removed easily, with no damage to the walls, when the child has outgrown them, but they could be used in another room or given to a friend or cousin.
Fun Furniture
If your child loves reading or even having quiet space within a nook, these hanging seats are wonderful. Perfect for children from around the age of six and what adult wouldn't still like to snuggle up in here with a book, let alone a teenager?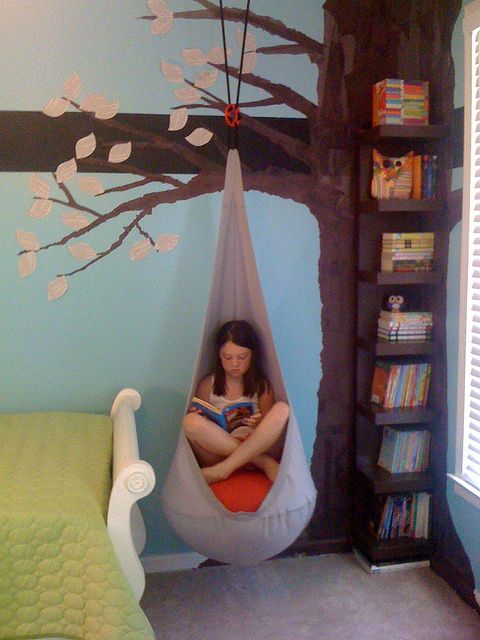 Source: Pinterest
They add individuality and fun to the bedroom design as well as providing a chair that doesn't take up floor space.
Curtains
Curtains in children's bedrooms can be expensive if you're opting for black-out lining. Getting this lining is well worth it if they wake up very easily and particularly if their room faces east – if you are ever to get a small lie-on on a Saturday or Sunday morning. It's also worth the extra expense if your child struggles to fall asleep at night as after all, it can stay light until past 11pm in the summer.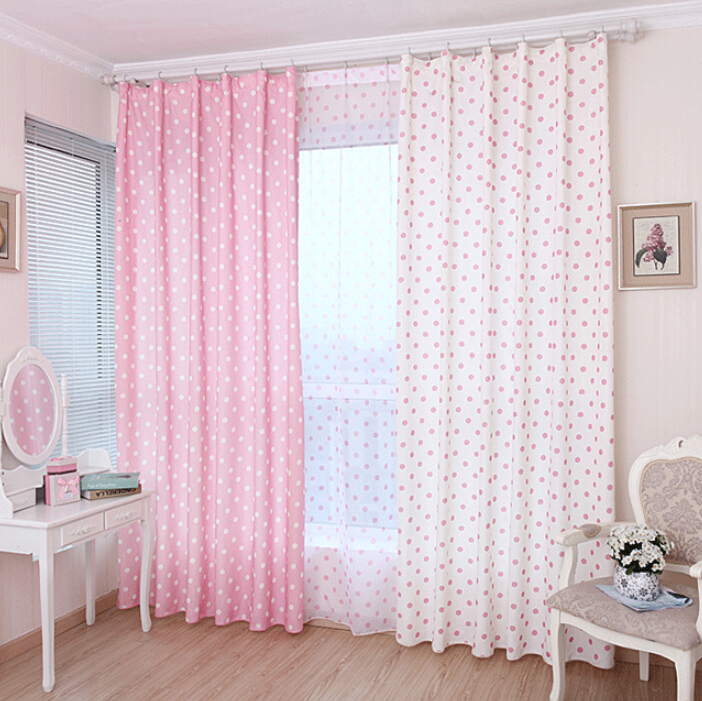 Polka Dot curtains with black-out lining
Therefore, you need curtains in a fabric design that will last for well over a decade. Don't opt for curtains in the latest cartoon design. Choose relatively plain curtains in a suitable colour scheme and accessorise the room with pictures and cushions in the latest craze.
Bedding
What if your daughter really loves Dora the Explorer and wants to see her everywhere? Items such as bedding and cushions don't last forever and can be relatively inexpensive, they are also much easier to replace than wallpaper or curtains. A duvet cover covers quite a bit of space within the bedroom so your daughter will get the full impact of her favourite Frozen character for not much more cost than a standard design bedding set.
Colours
Don't think that the colour scheme has to be pink or pastels. Decorating or accessorising in funky colours means that it transfers from being a bedroom for an 8 year old to a bedroom for a 14 year old very easily.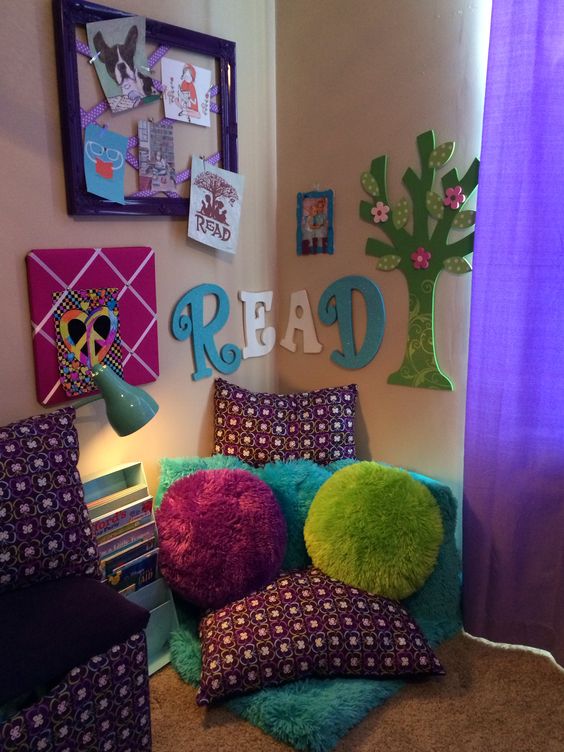 Source: Pinterest
All that needs to be done to make this 'reading corner' more suitable for an older child is remove the tree decoration perhaps.
To summarize, opt for plainer styles in the more expensive items such as wallpaper, curtains and large furniture items but let them express their own individuality or their love for a favourite character with items such as bedding, cushions and pictures.