Do you get fed up of falling over shoes as you walk into your hallway? Are there schoolbags, hurleys, footballs and trainers strewn around? Is it a nightmare trying to find matching shoes at times? If it's starting to get you down once you open the door to walk into the house, it really is time to do something about it.
While many of us will make more of an effort with our front hallway, after all, that's where visitors come in and we did a post a while ago on making the most of the space under your stairs for storage, but the mess can really accumulate in a utility or small hallway off the back or side door.
Hooks & Baskets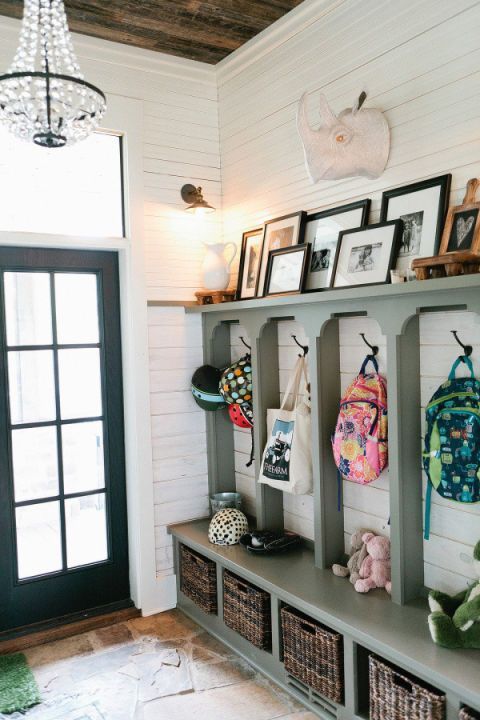 Source: Pinterest. This looks very stylish and yet is quite simply made, using wood to partition the different sections and it really looks like a piece of furniture in its own right. The baskets are handy for storing boots and shoes, and the footwear won't be spilling out all over the floor. Notice that the hooks are double hooks, one part of it can hold the schoolbag and the other part will take the coat. The bench effect means that there's a place for you to sit down briefly to put on a pair of shoes, important when children are learning how to lace their shoes. The narrow shelf at the top means that nice objects can be displayed which dresses up the hallway too.
If you don't want to create built-in storage, whether it's because you are renting or may move soon, two pieces of furniture like this will do a similar job.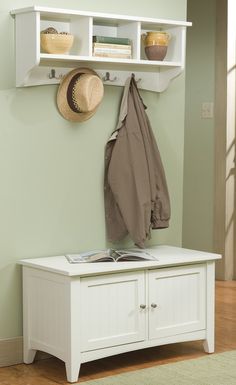 Source. The shelf, complete with hooks, provides storage for small items, coats and bags and the cupboard stores shoes and boots while providing a space to sit. Perfect.
Glove Storage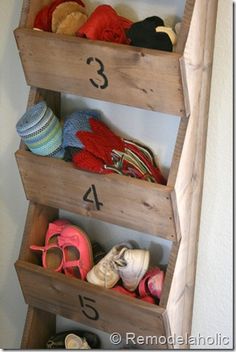 Source. Using slanted vegetable boxes to store all those things that fall down and get lost – gloves, scarves, mittens, spare socks, earmuffs and of course, children's shoes – means that they are easy to access and yet look tidy. If using something like this for shoes, you will probably need to protect the wall surface behind it with non yellowing varnish to prevent scuff marks.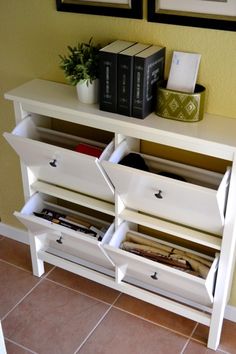 Source. This is similar but the contents can be hidden away and it serves as a display unit too. Slimline, this wouldn't take up much room in a narrow hallway.
Wellie Storage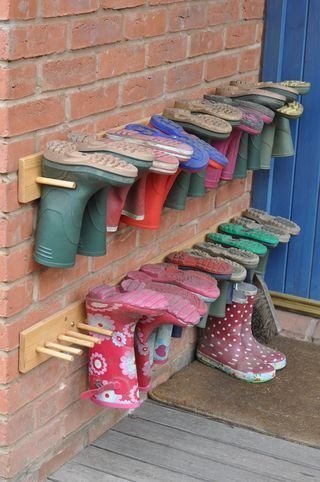 Source. And if you'd prefer not to bring wet and muddy wellies into the house, this is perfect for storage wellies outside. They will stay dry and won't be strewn around all over the place.
Pallet Shoe Storage
There's a move to upcycling pallets into furniture lately so this could be the perfect use for them if you have some lying around.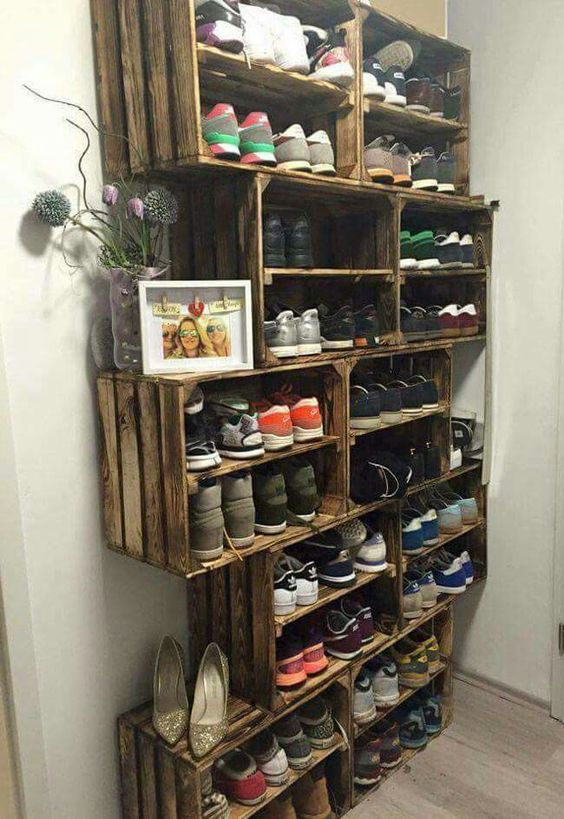 Source. This one almost looks quite like wine crates and I like the way they have left some open for displaying decorative objects too.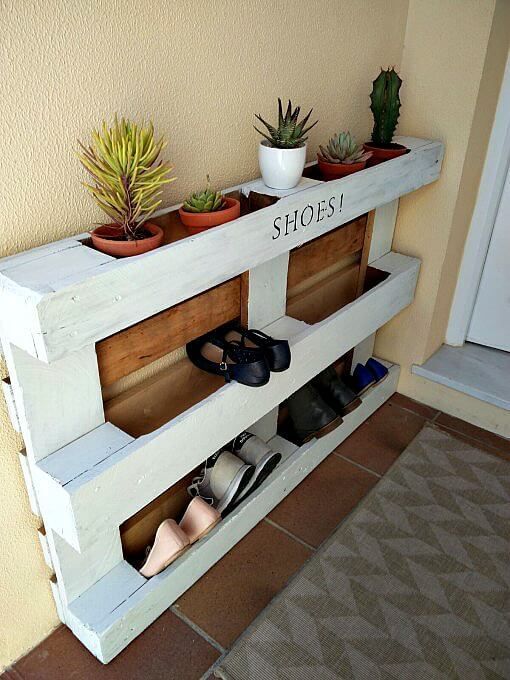 Source. This one is just a simple pallet that has been painted. I doubt adult sized shoes would stay on the pallet though, I think the pallet would be too shallow to support them but it's handy for children's shoes.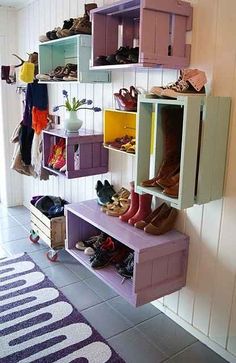 Source: These painted boxes made from pallets are great fun with their zingy colours and they serve to store shoes within the box and on top.
For Narrow Hallways
What if your hallway is very narrow? Building storage at the end can make the hallway appear shorter as the eye is drawn to the design of the storage or the accessories displayed. This piece could be used for storing shoes in the drawers, and bags and hats in the upper cupboard. There's no mess and some more accessories would make it more welcoming.
Hide It All Away
If you prefer a minimalist style, then hide it all away behind closed doors with storage like this.
The advantage in this particular setting is that the ceiling is sloped and the storage hides that as well as making use of every inch of space.
Storing Small Miscellaneous Items
You also need somewhere to store items like car keys, house keys, letters, bills, your work phone if you'd prefer to put it away when you get home and other small items. Something like this hallway organiser complete with a blackboard for messages for other members of the family would work well.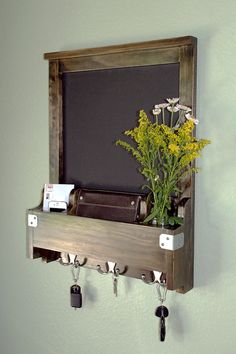 Source. It looks smart too.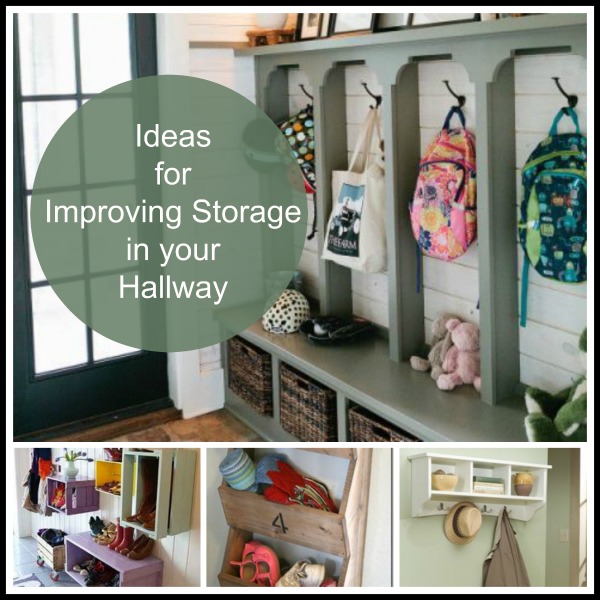 You'll need a carpenter for many of these projects so if you don't know who to contact, remember you can get up to four quotes from rated carpenters from our website, simply by inputting the details of the work required.