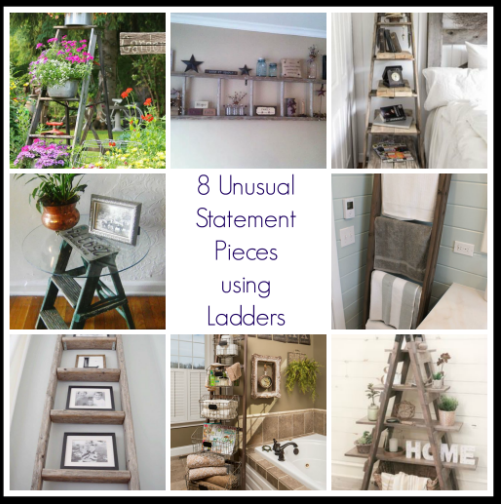 Geometric lines have been trendy for the last few years and the latest trends have shown the Instagram grid of nine even squares to be very popular, be it using a grid notice board, creating a square gallery wall of photographs or hanging a mirror divided into nine even squares. Personally, with the cold winter months coming, I find the grid to be a little bit cold, somewhat too stark. I think it needs warming up.
I love the shape and practicality of ladders. Many of us have cupboards in our kitchens or offices now that reach the ceiling so we need a weighted step or a ladder to reach those items stored up high and hardly ever used. They are also required for jobs such as changing light bulbs. But where do you store a ladder that you rarely use if you don't have a garage or shed? You could incorporate a ladder into your design scheme and then it's available for the rare occasion you need it.
Here are some ideas for including that so practical item, a ladder, into your design scheme.
1. Ladder as Display Unit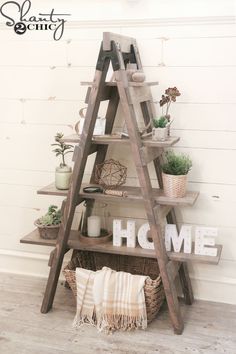 Using boards as shelves to stretch across from rung to rung on a stepladder, a ladder can become an attractive and useful display unit. A wooden ladder and shelving makes for more character than a metal one. The basket underneath ties in with the rustic theme.
2. Ladder as Bathroom Storage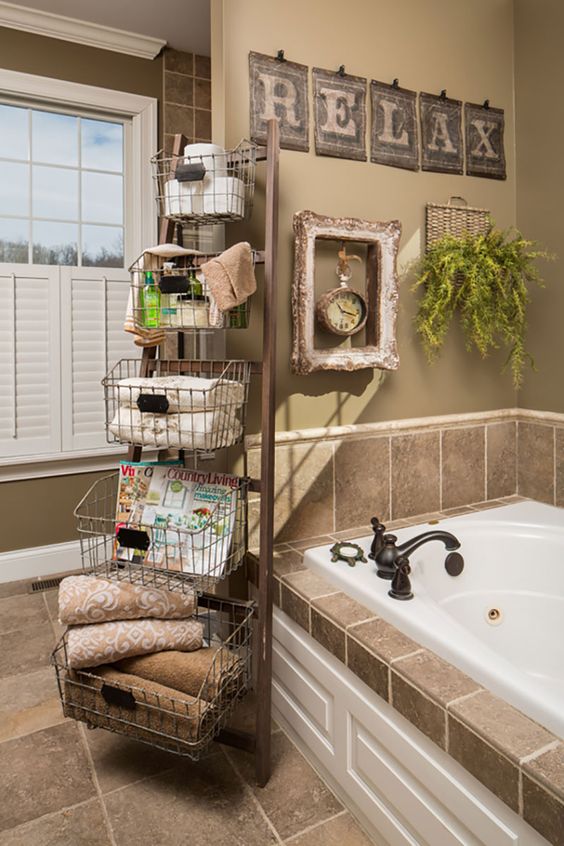 Clip wire baskets onto the steps of a wooden ladder for extra bathroom storage – and a very different and individual item of furniture.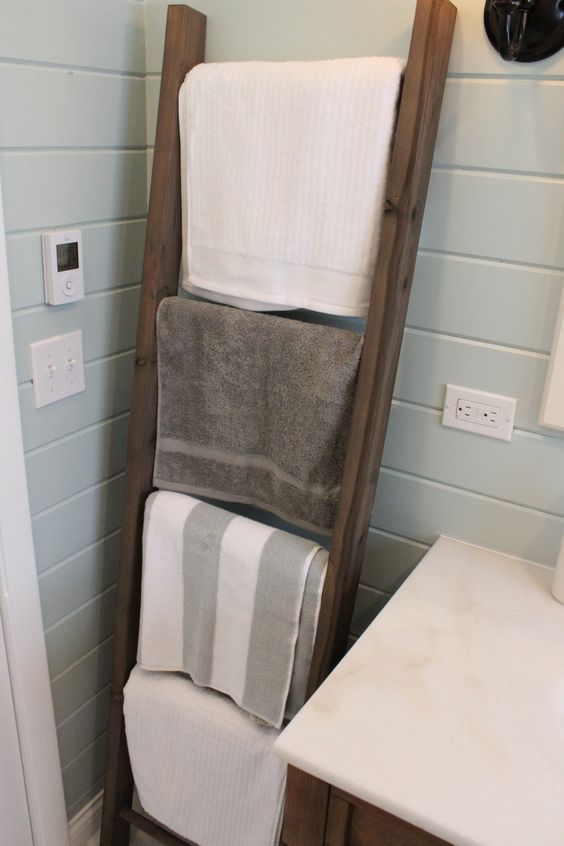 If the steps are narrow, the ladder can display and hold items like towels or blankets too.
3. Ladder as Frames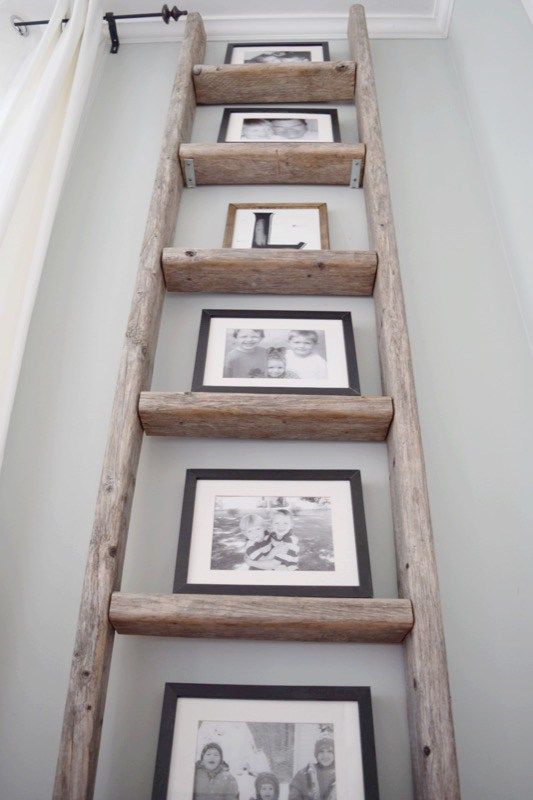 Create extra framing for photographs or pictures by securing the ladder to the wall and placing a framed picture between each of the rungs.
4. Ladder as Shelves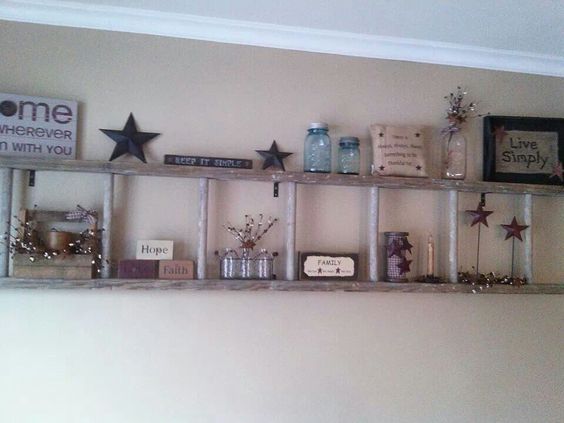 Fixing a wooden ladder (you're seeing the trend for rustic, attractive and wooden ladders here aren't you?) horizontally along the wall, it becomes a double shelving unit. Unusual, practical and stylish – this creates a statement piece on the wall.
5. Ladder as Bedside Table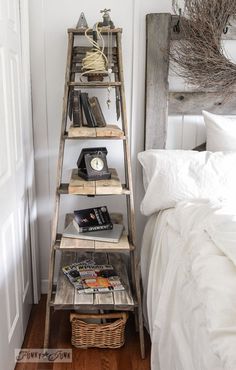 Adding some planks across the steps of a wooden stepladder creates an unusual bedside table with lots of storage for books, alarm clock, a glass of water, a telephone and anything else that suits the decor.
6. Ladder as a Coat Stand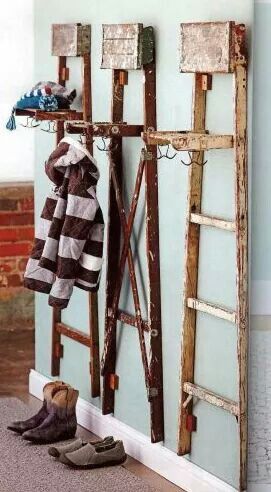 Putting three vintage ladders together in a hallway as three coat stands make a dramatic design statement – and whenever you need a ladder, it's just a case of removing one from the wall.
7. Ladder as Side Table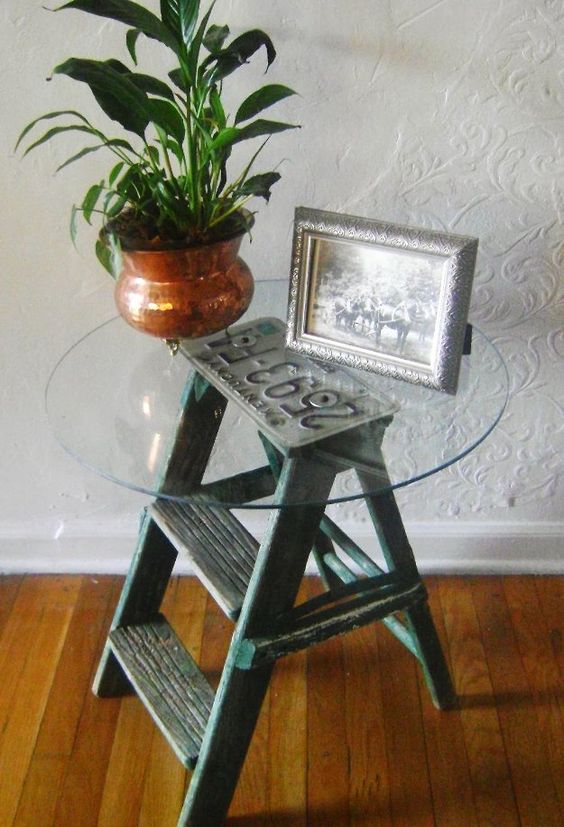 A small wooden stepladder can be used to support a tabletop for an unusual side table, again creating a talking point in your decor.
8. Ladder as Floral Display
A stepladder could be used outside or in a porch to display flowering plants in planters. It may not be a good idea to use a wooden ladder for this though as rainfall or water from watering the plants could cause it to rot over time.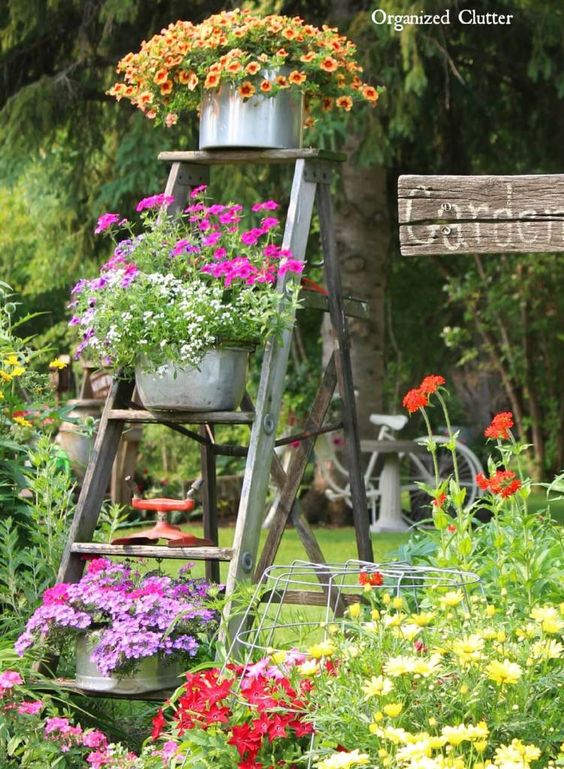 It makes for an attractive display though – providing height for displaying the plants and the ladder itself is a feature too.
There you have it, if you don't have room to store a ladder yet you need one, you can use an attractive wooden one as a piece of furniture and yet it is available for practical reasons on the rare occasion you need it. And if you have an old wooden ladder out in the shed, I hope these provide some inspiration for using it within your home.