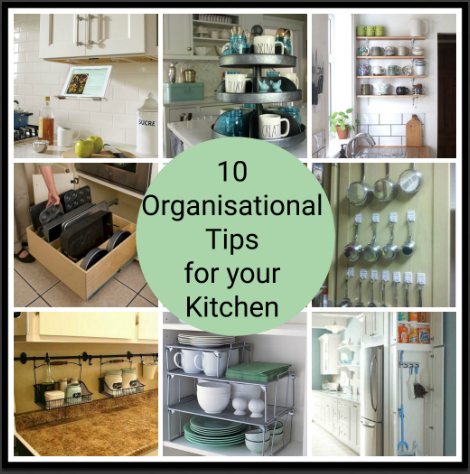 Is your kitchen as organised as you would like it to be? Is it working hard for you in making sure that items are easy to find, easy to store away, and make your kitchen a fairly serene place to sit, work and eat?
Here are ten organisation tips for your kitchen design. We hope you find them useful.
 1. Coffee Mug Display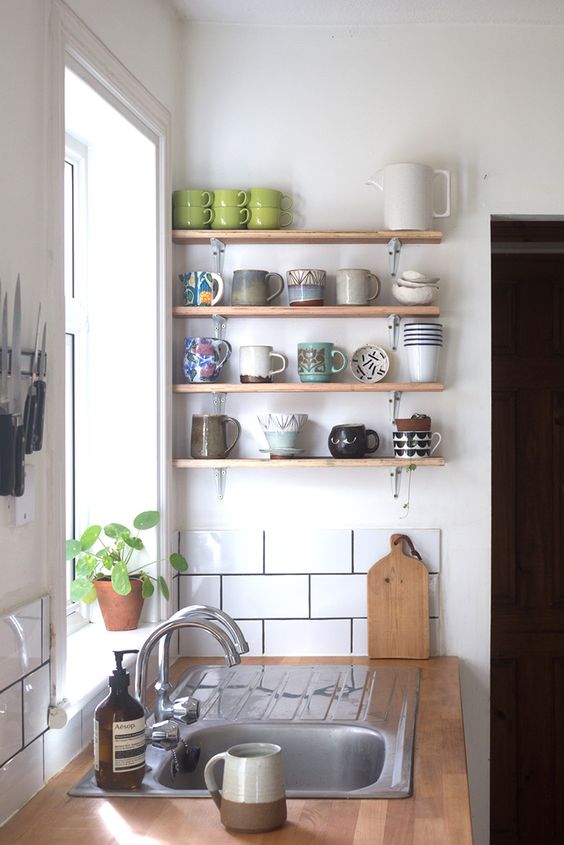 Narrow wall shelving for coffee mugs makes an attractive display and means your mugs won't be taking up space within cupboards.
2. Hanging Baskets with a Difference
If you love to keep your worktop clear and yet want to keep some items close to hand, storing them in small wire baskets hung from a hanging bar under the wall cabinets could be an ideal solution.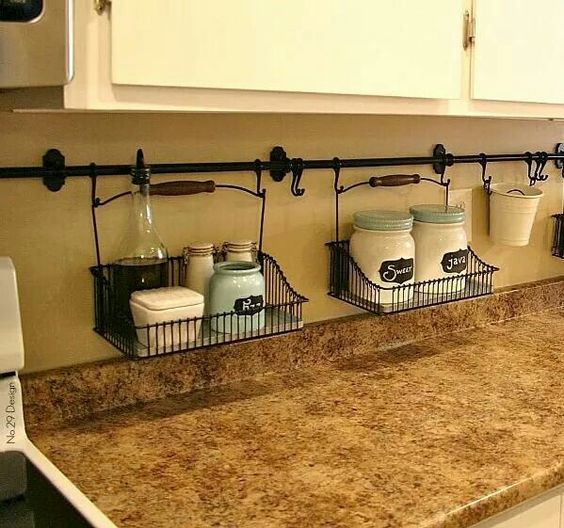 It's also a good storage solution for a small kitchen or if you don't have as much worktop space as you would like.
3. Make Lazy Susan Work for You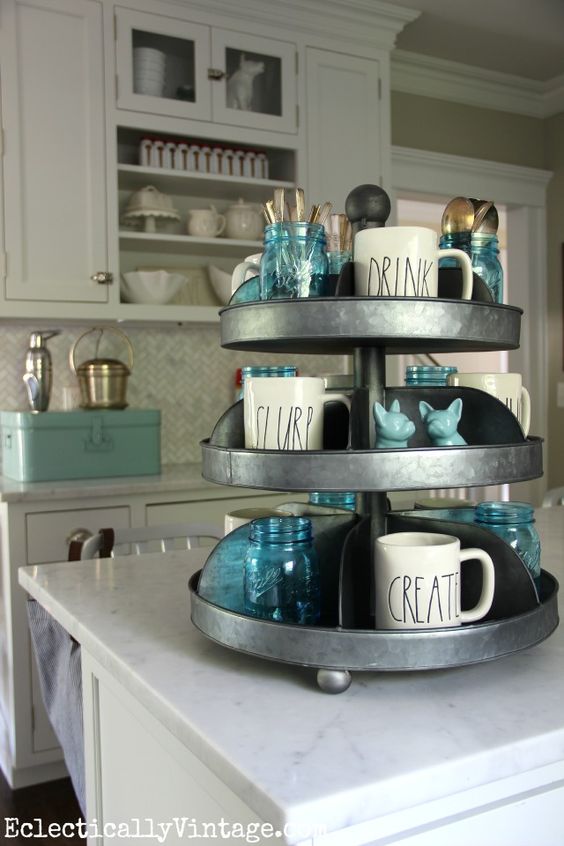 A tiered lazy susan is handy for displaying items and adding to a particular theme, but it's also useful for storing items that are used frequently.
4. Tiered Jugs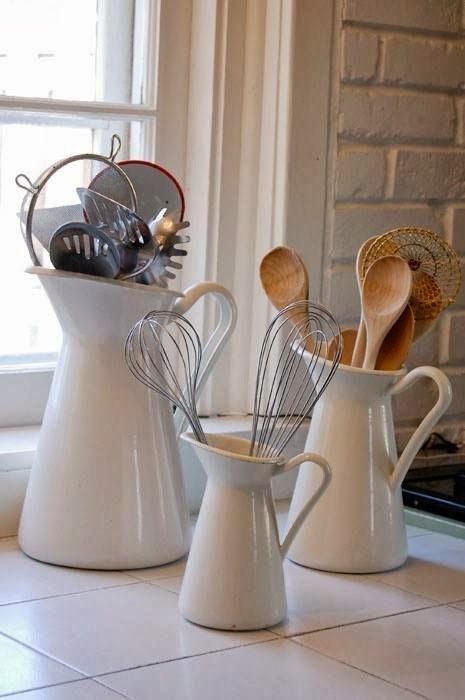 Jugs, either plain and patterned, provide storage for kitchen utensils and also look attractive. Jugs of different heights add interest. Grouping them in odd numbers create a nice informal symmetry as in this group of three white jugs.
5. Extra Shelves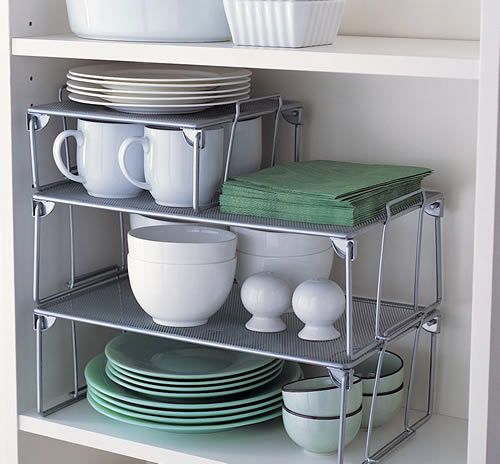 Is there a lot of unused space in your kitchen cupboards, empty space above plates or mugs? You can use that space by inserting extra interior shelves, thereby using all the space and making some items easier to reach.
6. Measuring Spoons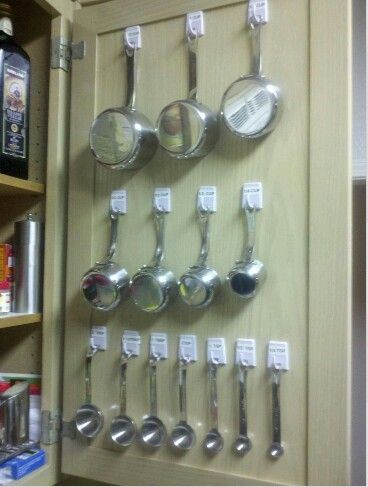 Do you find yourself searching for measuring spoons amongst other utensils in the kitchen drawer? By giving each one its specified place on the inside of a wall cupboard, you will always find the right one straight away. Store your baking ingredients in that cupboard for even more convenience.
7. Tall and Skinny Cupboards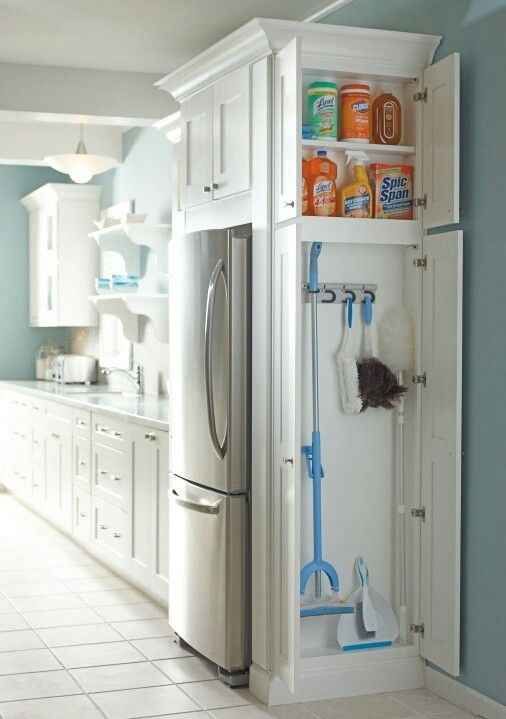 There are so many items that can become a nuisance if you don't have the right space to store them. Items like the ironing board, sweeping brush, floor mop and even the vacuum cleaner, could do with a tall, not necessarily deep, cupboard to store them in so remember to factor that into your kitchen design planning.
8. Inside the Doors
Don't forget the inside of the cupboard doors when it comes to storage. They could be used for hanging small items such as the measuring spoons as in the example above, or for larger items such as spice jars.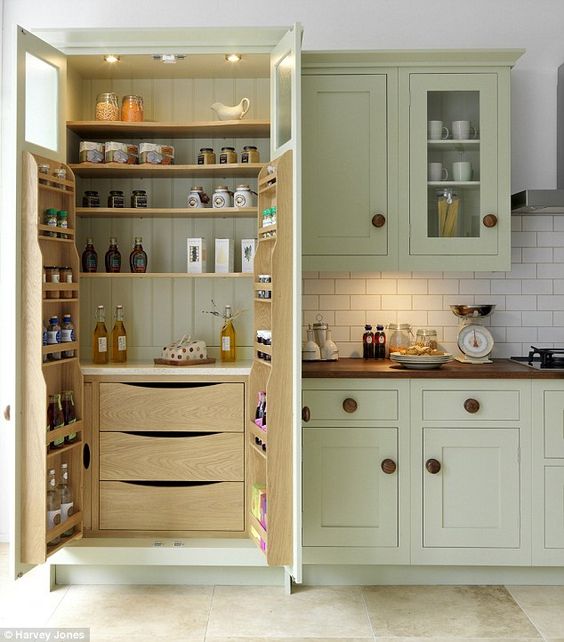 As you can see in this example of the larder, the space inside the door allows for the storage of bottles and larger jars too.
9. Recipe Display
Many of us access recipes online now. While it might have been okay if your recipe books became sprinkled with flour or liquid, it's not so good for your tablet.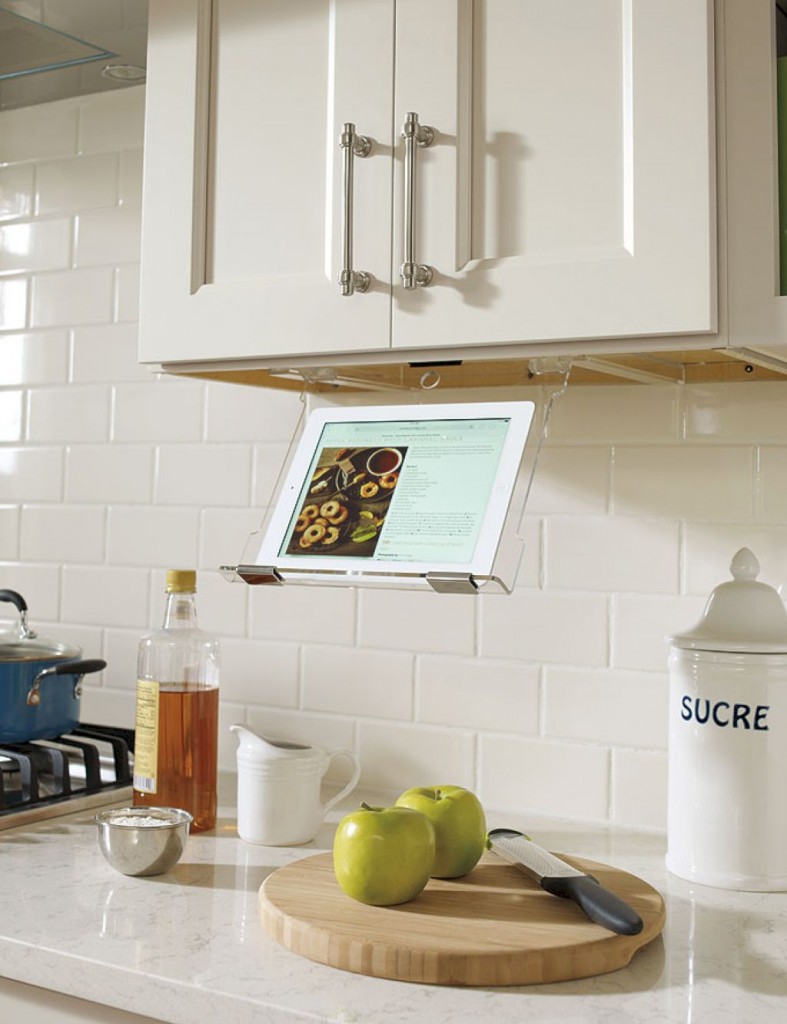 A pull down holder that fits under the wall cabinets is really handy. Your tablet is safe, it's viewed at eye level and it can be pushed back out of the way when not in use.
10. Kitchen Cupboard Dividers
I love this idea. If you bake and cook a lot, you'll have a variety of tins in many shapes and sizes and they all need to be stored. It can be annoying to store them inside each other as they don't fit together so well.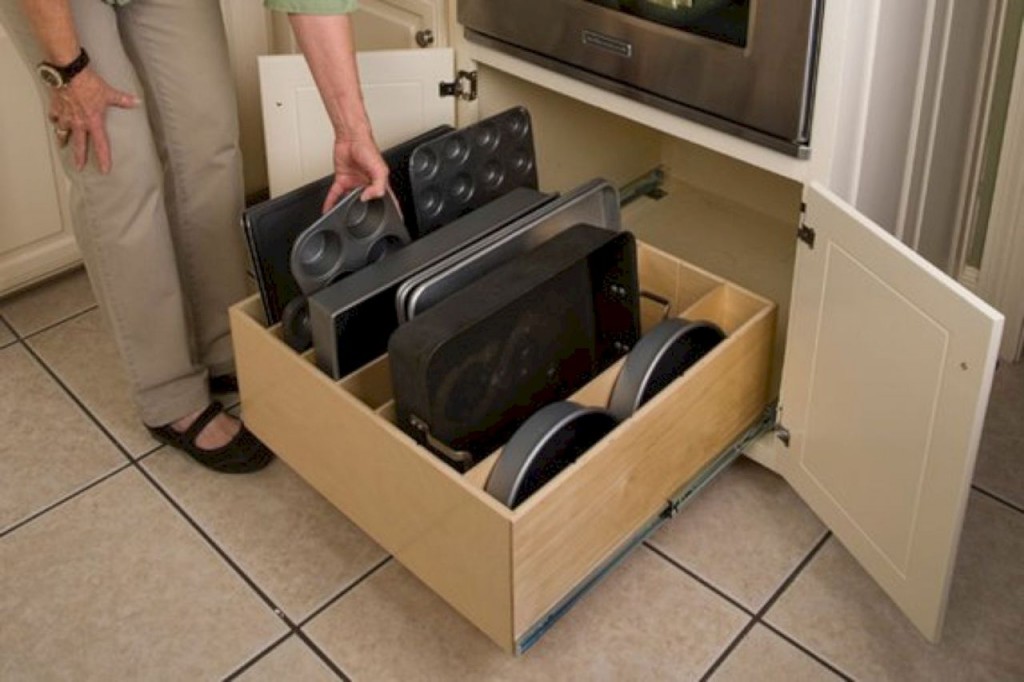 This idea for cabinet dividers means that they all fit snugly into their allocated space, don't fall around, and you know exactly where to find the right one when you need it.
We hope that has provided you with ideas, either for a new kitchen design, or to make changes to your existing kitchen.