Last week we focused on ways to bring summer into your home and I mentioned fabrics. This week I'm going to look at different fabrics for the kitchen. Be it fabric for roman blinds, curtains, cushions or chair seats, fabric warms the room as well as absorbing sound therefore making the kitchen a much more welcoming space to be.
Retro Kitchen Fabric
Fabrics designs containing utensils and crockery have a retro appeal now too and are making a comeback.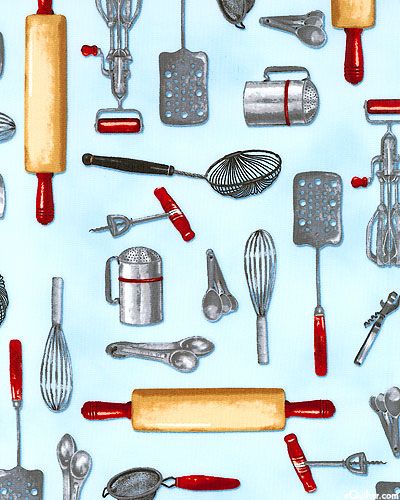 This fabric with utensils from the 1960s (or maybe even before that) would give a kitchen plenty of charisma if made into chair cushions.
Bringing Food In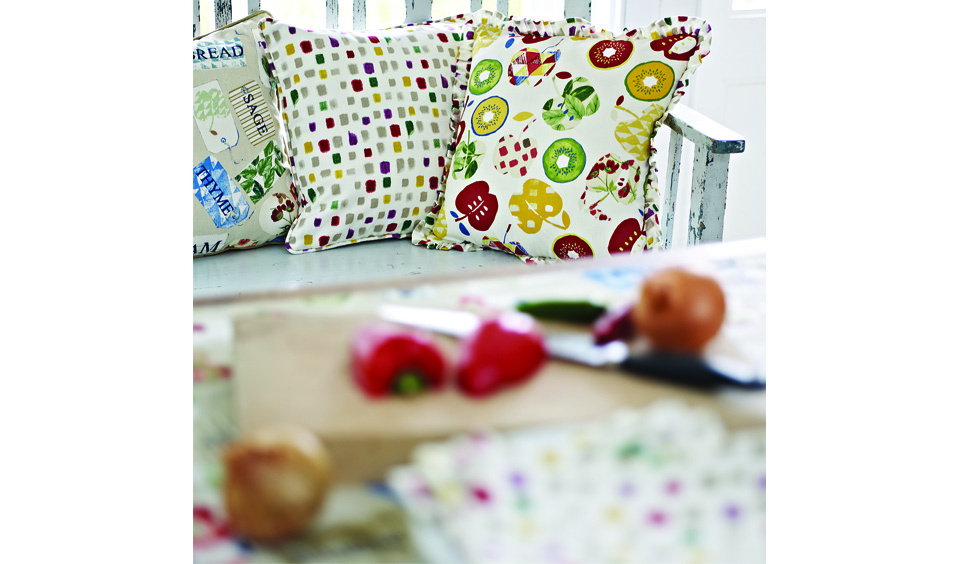 Prestigious brings zest and colour into your kitchen with reminders of the freshness of fruit, vegetables and herbs in its Pickle design. It's bound to get people talking as no one could be shy in this bright environment.
Bringing Nature In
What better way to bring nature in but with farm and woodland animals and these two designs will be charming in a country kitchen. Their muted colours mean the fabric carry an unstated elegance too.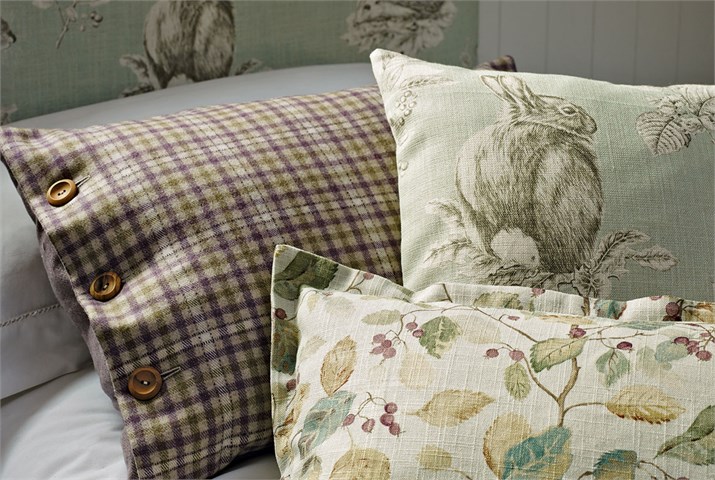 Sanderson's Woodland Walk collection includes hares, squirrels, woodland fruits, muted autumnal leaves and co-ordinating checks. Beautiful.
Vanessa Arbuthnott's Cockerel collection comes in a range of colourways and features chickens, feathers and different sized eggs. Perfect for a country kitchen.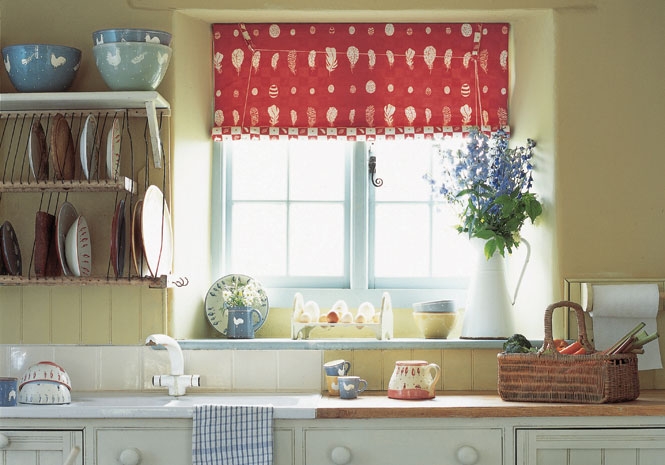 Traditional
Traditionally, kitchen dressers were often crammed with a variety of plates, jugs, mugs and other crockery and this "Dresser" fabric by Emma Bridgewater certainly manages to include all of those, many of them are her own crockery designs of course. Personally, while I love it in the roman blinds, I'm finding it a little busy for the curtains. What do you think?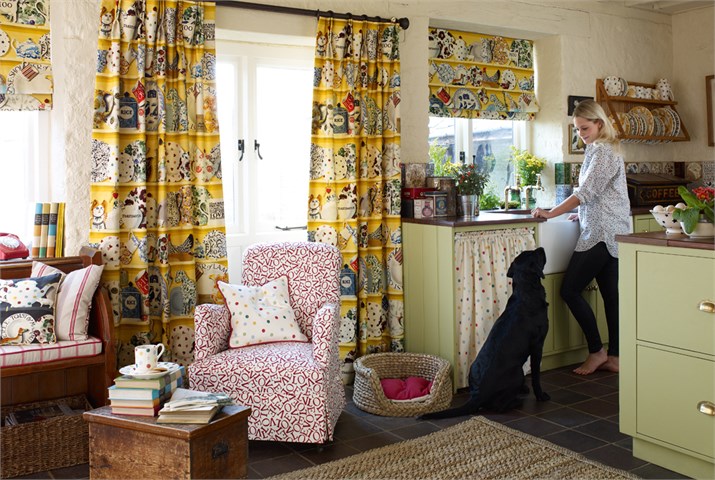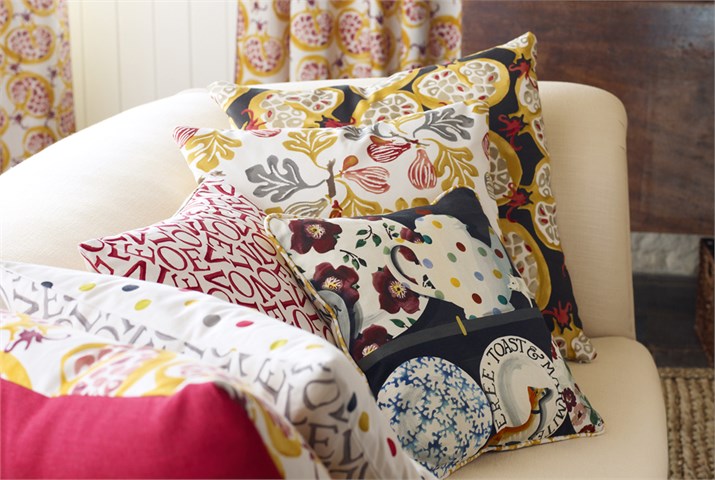 For me, it would be the roman blinds and the cushions. Less is more and I love it. Emma Bridgewater has such a following and is so synonymous with country kitchen designs, this is bound to be popular.
Stripes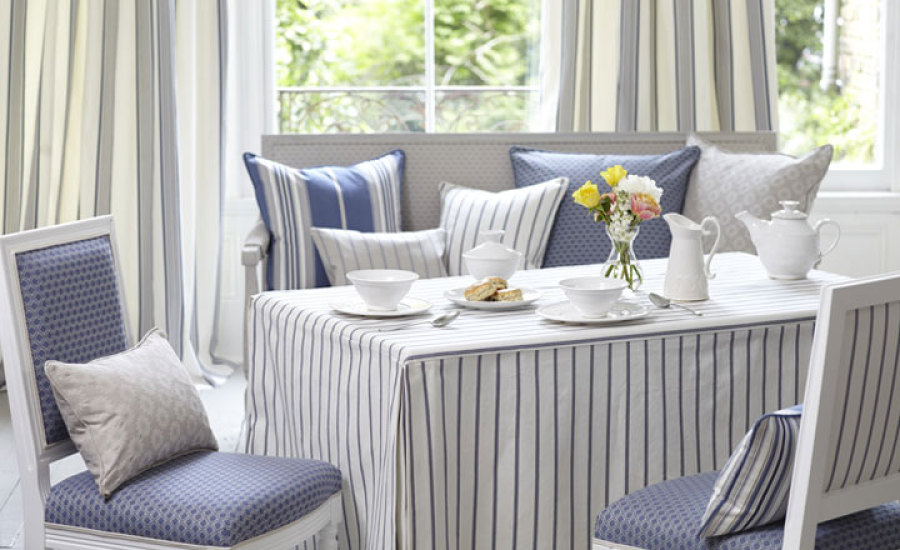 Striped fabric in muted colours, such as this ticking fabric by Romo, are beautifully classic in a kitchen and will work in country and contemporary kitchen settings. They are also very easy to co-ordinate with other fabrics.
Brighter Colours
If you're looking for more zest in your kitchen design, adding it via your fabrics means that you can increase it or decrease the brightness as much as you like. Yellow is a lovely summery colour for kitchens at all times of the year.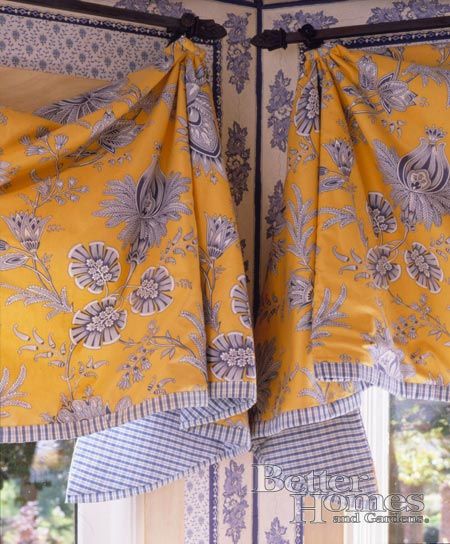 Source: BHG
Whether in a valence or a cafe curtain, this yellow and blue fabric window treatment is bright, tasteful and beautiful.
Which of the fabric designs is your favourite? Do tell us in a comment below.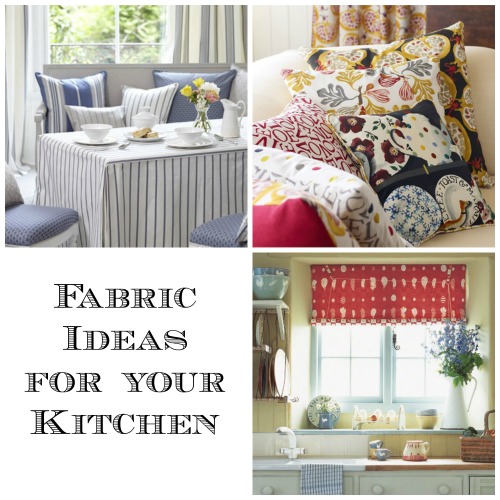 Whether you are looking for a tradesman, interior designer or a curtain maker, do apply on our website for up to four quotes for whatever work you need done around your home.