Well it's always hard to predict the weather in Ireland.  We don't have extremes which is a good thing.  And when the weather is nice it's absolutely fantastic but sometimes it rains just when we were planning a picnic or outdoor activity. This is Ireland after all and rain is never far away.
While we can enjoy al fresco dining when the weather is fine, what about when the weather breaks? How can we "summerise" our homes so we still feel in a good mood and summery even though there's an "April shower" happening outside?
1. Summer Colour
Inject some "summery" and bright colours into your home. You don't have to paint entire walls but provide pops of colour with smaller items such as pastel, bright or floral cushions on your sofa, a quirky yellow stool in the kitchen or colourful prints on the wall.
Source: Pinterest
You could either go pastel like in the photograph above, simply by changing the cushions on your sofa, or you could go strikingly hot with zingy vibrant colours.
Source: Pinterest
Fireplaces often look boring and unloved in the summer and painting the ends of these logs certainly turn them into a conversation topic as well as brightening up the fireplace.
2. Summer Curtains
Heavy curtains can dominate a room when the weather is warm. Many of us need interlined curtains in the winter as extra insulation and while they are useful for keeping rooms in the shade during very hot days, it's rare that we need them for those purposes. Having "winter" and "summer" curtains for a couple of rooms that are used frequently means you will welcome the changes and the room gets a whole new look twice a year.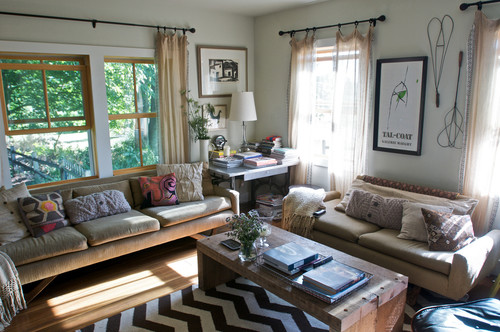 Do remember though that if putting a light fabric curtain in a bedroom, you should either be an early riser or be able to sleep through the strong sunlight that filters in through the fabric.
3. Summer Theme
Where does everyone want to go during the summer months? The beach! By adding some nautical accessories to a bathroom or a conservatory, you're bringing the beach (or at least memories of the seaside) into your home.
Source: Pinterest
The accessories don't have to be items like anchors and lighthouses. Take inspiration from this simple chair with its white and blue cushion and throw, all they need is the subtle ship accessory nearby to provide the connotations of a summer at the beach.
4. Summer Flowers
Get into the habit of purchasing flowers or picking flowers and greenery from your garden at least once a week and arranging them in a couple of floral displays. Place one where you can see it the second you walk in the door and another in your kitchen window. Even if it is a dull day outside, you have the scent of summer naturally within your home. They don't have to be large arrangments, a trio of colourful glass bottles with a large colourful stem like a gerbera in each would work wonderfully.
5. Paint Wooden Furniture
Give your wooden furniture a little bit of zest for life with some paint. Many companies run upcycling workshops now (try Eclectic Interiors in Castlecomer or Kyle Lane in Clonmel) and you can learn how to transform that tired chest of drawers or those kitchen chairs.
Source: Kyle Lane
6. Floral Crockery
Purchase a set of floral crockery and mix and match them with a plain set. You can use the plain set all year round and use the floral for four or five months of the year. Once you start using them in April or May, it will really feel like summer has arrived.
Source: Pinterest
The Greengate designs are one of my favourites, really charming and summery. Even one of their jugs on your kitchen windowsill will make a difference.
7. Lighting
Candles aren't just for creating a cosy atmosphere in winter. Use fairy lights or lanterns to dress a room and illuminate it at night, especially if you are sitting in a conservatory or sun room.
Source: Naps on the Porch
Like this example, you can add some nautical accessories to bring summer into your home.
Are you enjoying the wonderful weather? From all at Tradesmen.ie, we hope you have a fabulous summer and if you want a hand brightening up your home and bringing in a more Summery feel, you can get a number of quotes from rated tradesmen by posting your job here