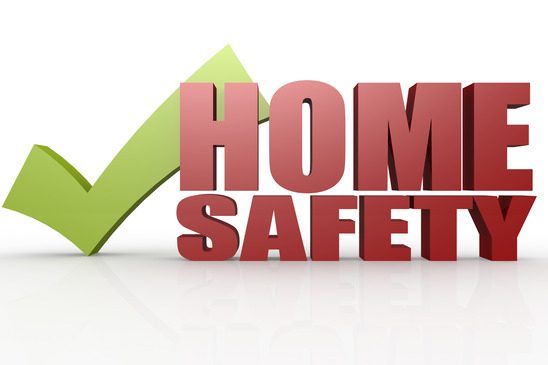 Building regulations now insist that new homes are built with safety features and the potential of wheelchair access being required. However, if yours is an older home or if those living in the house are very young or becoming old, the new year could be a good time of year to re-evaluate some aspects of your home to improve safety.  Here's a list of some things to look out for below, if you have any other suggestions please feel free to put them in the comments box at the bottom:-
Look outside your home first. Install sensor lights outside the front and back doors as there's nothing as irritating as trying to fit a key in the lock when it is dark. It should also prevent any accidents such as tripping over a step. The sensor lights will improve the security of your home too and will alert you to any visitors (or dare I say it, discourage any potential intruders).  Look out for the new LED lights which use only a fraction of the electricity that the older lights used.  Ensuring your external doors and windows have 5 lever locks will help to secure your home too.
The bathroom can be somewhat hazardous. Tile floors are a hard surface and can become slippery if wet. A non-slip mat by the shower or bath is a good idea. If there are older people in the household, a grab bar by the toilet and bath are a good addition. If changing the bathroom, consider a walk-in shower or bath (walk in baths have a sealable door) which is much easier than stepping over the side of a bath.
Dimmed lighting at night is also important. Recessed lighting along the stairs or plug in night lights along the hall will prevent having to switch on main lights but yet provide enough light to see by. It is also important that

there are light switches at the top and bottom of the stairs.

Ensure that every member of the family knows what to do in case of a fire and have small fire extinguishers available both upstairs and downstairs. Ensure stairways are kept clear in case someone trips over something if in a hurry to get out. As fires occur most often in kitchens, have a fire blanket in a drawer and never leave food on the hob unattended. If you are in the next room and think you might forget about it, do set a timer to remind you to check on it.
Ensure that there is at least one smoke alarm installed on each floor of your home and a heat alarm in the kitchen. Installing a carbon monoxide alarm is sensible too.
Any stairs of more than three steps need a handrail. Open tread wooden steps can be dangerous for young children and ensure that safety gates are kept closed at the top and bottom of stairs when young children are around.
Doorknobs can be slippery and difficult for young and old hands to open. Changing doorknobs to door levers make them easier to open. The same goes for taps – lever type mono block taps in kitchen and bathroom sinks are easier to turn on and off. The mono block taps also decrease the risk of scalding from very hot water too.
Loose rugs can be a hazard so either ensure they are well fixed or  eliminate.The same goes for any loose electrical wires or small pieces of furniture such as stools or low coffee tables, they can be surprisingly easy to trip over.
Put non-slip mats in the bathroom and in front of the sink and hob in the kitchen in case there's a water spillage that isn't noticed and could make tiles very slippery.
Get your gas boiler and any gas fires serviced annually by a certified professional.
Some of these steps can be easily done by yourself and others will require a professional. Some household tasks are often put on the long finger if you feel that it is too small a job to secure a professional tradesperson but remember that here at Tradesmen.ie, we can get you up to four quotes from tradesmen registered on our site – for any jobs, big or small.