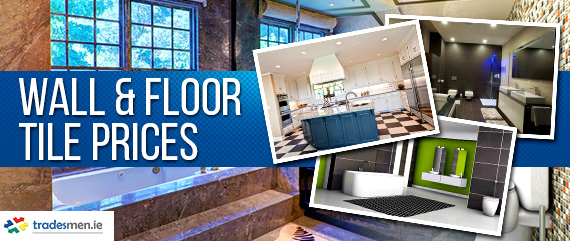 Hi folks,we did a quick wall & floor tiling price survey today with tilers on Tradesmen.ie.  We asked a selection of tilers what range of prices per square metre would you pay for tiling an average size bathroom for labour only . We have included a selection of the replies below excluding VAT:-
Richard from Dublin:    Realistically the price per sqm should be right around 20/sqm based on the work involved. However contractors are anywhere from 18-27/sqm. People should avoid the guys charging 15/sqm.  Always use mortar with anti mould agent and seal any joints or cracks in the plaster with silicone before tiling. Tips to get the job done right: Its all in the layout to avoid tiny cuts in the coners which looks bad. Do not use quick set mortar when possible.
Joe from Wicklow:    I dont do by the sq m. you have to see it first.  My average price for full bathroom 17 wall and 4 floor is around 750e all in.
Charles from Dublin:   My wall and floor tiling price is  16 euro/ M2.   However I would charge an additional sum of 60 euro to remove the toilet and basin. Tanking is something I would highly recommend as well as Ditra matting(or equivalent) on timber floors.  This would be extra, normally I'd supply and fit this.  Key to a good job is preparation.
Liam from Cork:    I charge by square yard. €15 per square yard.  Average bathroom is 21yards wall and 4 yards for the floor.  25 yards by €15 = €375. Top tip:  Remove all ware, leave only bath/shower tray.  Set out tiles first so u have a good cut at floor and ceiling.
John from Dublin:    For wall and floor tiling price for an average size bathroom would be between €15 and €20/m sq.
Mietek from Dublin:    My price for tiling is €20/m2.  Tips from me:  I always use spirit level I never go along the wall.  I Always make sure tiles are flush and straight.  When I setting up tiles on the wall I always make sure I don't have small cuts on the top bottom and corners.
Paul from Limerick:    An average size bathroom would cost 450 euro to tile floor and walls.
Ioan from Dublin:    We charge  around €20/ m2+ vat to tile an average bathroom floor and walls.
—————————-
As you can see there is a wide variation in prices which range from €15+VAT – €35+VAT per square metre.   However, the quality of the work is extremely important when it comes to tiling so make sure you go for quality rather than price when choosing a tiler for your job.  Make sure to look at previous work that tilers have done before you choose.
Many of the prices above don't include clearing out sanitary ware, stripping off old tiles, leveling uneven floor or walls, replacing damaged floorboards or plasterboard or damp proofing so this will be an extra cost on top of the tiling price if any of these jobs are required.   Tiling with mosaic tiles and patterns will also cost more as it takes more time to lay them.
So that's the labour part sorted.  Now for materials. For tiles you can pay anything from €10 per square metre to over €100 per square metre depending on the type of tile are you are looking for.  Tile stores that can buy in huge lots of one type of tile can sell tiles at a better rate so it's worth searching for these.
One word of warning, don't get caught out on the price of grout and adhesive.  Some stores will entice you with an excellent rate on the tiles.  Then when you go to pay for the tiles you realise you need the grout and adhesive.  You can get fleeced on these if you haven't priced around beforehand.  In fact it's as important to price the grout and adhesive as it is to price the tiles as the grout and adhesive can end up being more expensive than the tiles.  For example from some research I did for a previous article I found that you can pay anything from €20 for a 25kg bag of grout up to €80 per 25kg bag.  Try pricing your grout and adhesive in a hardware store and see can you get a better rate than in the tile shop.
One last thing to be careful about the VAT.  Ask is the VAT included in the price or does it have to be added on later.  If VAT is added on to the original price it's going to work out a lot more than you bargained for.  And get it in writing, if you get the price over the phone, send a follow up text message to confirm the price that you understand they have given you and whether it is inclusive or exclusive of VAT.  Mind you, not all tradesmen are registered for VAT as their turnover has to be over a certain limit in order to be registered for VAT but don't be afraid to ask.  That way there can be no misunderstanding.  Keep this in mind for any home improvements that you are getting done.
By the way here are some photos of tiling below that I hope will inspire you:-) :-
I hope this helps some of you who are planning to carry out some tiling in the near future.  Don't forget that you can get a number of quotes for tiling by posting your job on our website at http://www.tradesmen.ie/trade/tilers.  If you have any comments or suggestions please feel free to place them in the comments box below.
Cheers
Oliver Dempsey
Tradesmen.ie
16th May 2015
Other Tradesmen Price Surveys
Here are some other price surveys that you might be interested in below:-
Electric Gates Options and Prices – Survey
Driveway Surface Options and Prices
Conservatory and Sunroom Prices
Custom Kitchen and Custom Wardrobe Costs
Gutters Fascia & Soffit Replacement Cost Survey