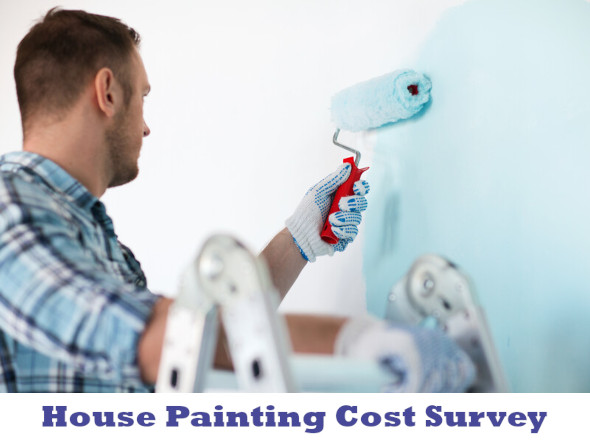 Breathing new life into your home can be as simple as applying a new coat of paint. There are several compelling reasons to invest in this home improvement task. Not only can it elevate your property's worth, but it also serves as a protective barrier for various surfaces, helps to minimize the accumulation of dust, dirt, and harmful bacteria, conceals unsightly marks and stains, and even contributes to nurturing a vibrant, positive energy within your living space.
Recently we carried out a house painting cost survey with some tradesmen from our website.   We asked them how much it would cost to paint the interior of an average 3 bed Semi detached house and if they had any tips for the customer on having a good experience with the tradesman.  We have included a sample of the replies below:-  
William from Kildare: To prepare and paint ceilings /walls /timberwork to interior of a 3 bed House.  Price €3850+vat.  As with all paint jobs preparation is key, no short cuts.  Customer to make sure contractor has el and pl insurance.  That the contractor looks clean himself will give client a fare idea how neat and tidy job will be.  Most important do not pay any moneys out until you are totally satisfied with job.   Before you commit to job make sure you get a starting date and a finishing date.  Please note the cheapest price may not be the best.  Make sure to ask what paints he is using and that is the product you make sure he is using.
Tony from Dublin: It's not easy to give a typical price for a 3 bed house as there are so many variables e.g. from how many coats are needed, condition of surfaces, is the house full of furniture, brand of paint requested etc etc.  Anyway, for a full painting job including woodwork, ceilings and walls you're looking at around €4,000 ex vat. 
Tips for the customer would be:
– make sure to get a detailed quotation so that both parties are clear on what the job entails.
– make sure you're happy with the job before making the final payment. If not, make a list of what you would like remedied and give it to the decorator.
Bill from Dublin: As that is a very broad question it is very hard to put an accurate price to it as every job is different. So I would say € 3500.00 including all labour and materials it makes a job much easier for clients and trades men if the  client  puts away as much small items  as possible, which will reduce time and therefore cost.
Nicky from Wexford:  Depending on what exactly is being painted you could be looking at between €1400 to €2500 plus vat with the top price being for all walls ceiling and timber work.  My top tips are for people to never go for the cheapest price and always ask for a detailed breakdown of what exactly is included in the price.  Equally as important is go for good quality paint not the cheap own brand stuff.
Patrick from Roscommon: The price of an interior 3 bedroom house would cost labour only €2000.. and labour and paint would be €2500.. then the price for the exterior of the same house would cost labour only €1000…. and labour & paint €1300…. I would recommend getting a good tradesmen for the job… and get some reviews about them. Just make sure you get good quality paint Dulux Weathershield… or Colour Trent these are the top quality paints.. The cheapest price isn't always the best.. I would recommend the medium price.
Ronan from Dublin:  We get asked by clients all the time such a question and tbh it can be hard to give just a set price. When you start off by saying that to a client they automatically come back with the reply …. 'well just give us a rough guide or estimate'.  I've been painting for near 30 yrs now and it wouldn't surprise me to see prices vary from a €1000 cash to €4-5000 ex VAT.
First thing we ask the client is what are their expectations and budget. If its a rental or a family owned home there may be big difference in the clients expectations and budget.  Leaving this aside there is also the question of material.  Does the client want a budget paint colour off the shelf or a good or even designer paint in all or part of the house?  Generally I ask these questions and meet the client or what's becoming more popular now send me a walk through video of the house.  I normally price for labour and say to the client I can provide the whites for the ceilings and woodwork throughout at a fixed price. This would normally come in at about €350 to include a good quality high opacity matt for ceilings and an undercoat and satinwood finish for all woodwork and radiators.
I would then give them the price of labour and ask them to let me know what type of paints (brand and finish) they would prefer.  I normally try and get them to use a good quality trade paint either Dulux or Crown as standard port of call but depending on budget we might push to use something like a Colourtrend or the more expensive designer and easyclean ranges of Dulux or Crown. This will be all factored in on price.
Finally and this is probably what you're looking for in this survey I would give my labour costs.  Generally speaking its €300 day rate per painter. A 3 bed fully furnished house top quality finish (electric dust free sanding of walls woodwork etc) 10 days  we would charge €3,300 labour as an average price.  A rental quick job turnaround we could probably do half the price €1500-2000.
Ronan's tips for the customer
Try and meet the tradesman and have the chat face to face I think it's always the best option.  Ask the questions such as what jobs do the customers need to do prior to work commencing. Most tradesmen will undertake to do everything but at a cost.  Customers can bring the price down if they are willing to put in a bit of work in terms of clearing out rooms etc.
Selection of paints etc can greatly effect price so customers should research costings and have a budget in mind before engaging a tradesmen.  Deposits are becoming more common now prior to work starting and need to be agreed upon.
---
I hope this helps some of you who are planning to paint your home and if you decide to go ahead with it you can get a number of painting quotes here .  To subscribe to our blog and be notified each time we publish an article, click here
Cheers
Oliver Dempsey
Tradesmen.ie
20 June 2023
General Tips for hiring a tradesman
Here are some tips to consider when hiring a tradesman:-
1. Ask for phone numbers of references so that you can check them out
2. Check insurance of the tradesman where insurance is required
3. Hire a suitably qualified architect, building surveyor or building engineer if the job is anything to do with a new build, building renovation or extension
4. Agree on some sort of stage payments for the job. Remember that full payment should not be made until the job is complete and has been inspected by you, and if necessary by a certifier.